I am always repeating myself, there is just not enough time in a day! That's why my favorite way to make dinner is using a Crock Pot! I hope to help you save time with this list of 18 Easy Crock Pot Recipes to help us save lots of time on those busy days without compromising taste.
All of these Crock Pot Recipes are easy to make and sure to save you time!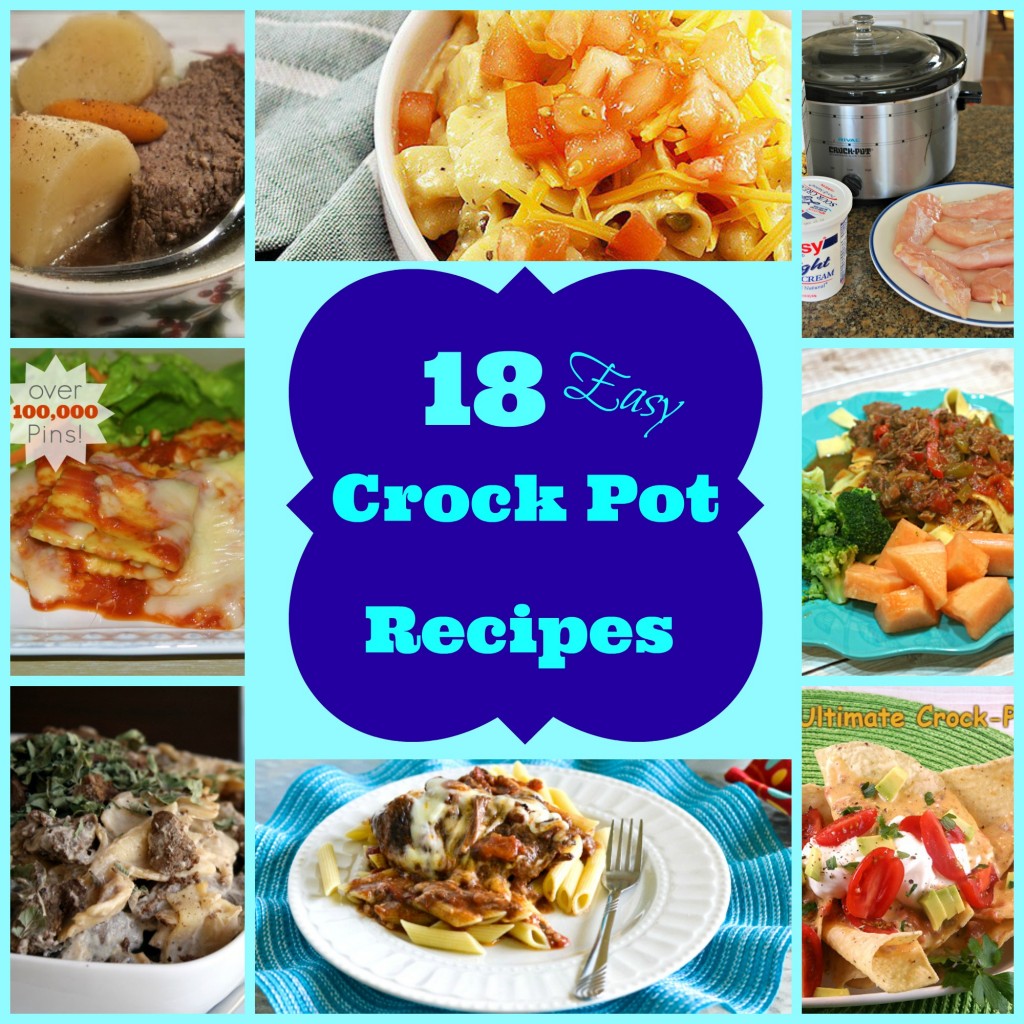 CROCK-POT ZESTY CORN DIP This recipe is perfect for those times you have company over and don't want to spend the whole time in the kitchen serving everyone. It's a great dish to share and is sure to be a hit!
For a hearty meal that will fill your family with not much fuss, this Crock Pot Italian Swiss Steak recipe is a great Crock Pot meal.
When making a list of Crock Pot Recipes, you have to include this easy and tasty recipe that has been pinned over 100 times.This  Crock pot Ravioli is the perfect crock pot low maintenance meal because all of the ingredients can be stored in your home for a really long time.
Do you need to prepare a lot of meals fast? Check out these 4 Freezer to Crock pot meals perfect for busy lifestyles.
When you are in the mood for something Creamy and delicious this Creamy Crock Pot Chicken Recipe will hit the spot.
Getting my family to eat their vegetables has never been an easy task so whenever I have the chance to throw in some vegetables when making a meal I do. This Crock Pot Roast with Garlic Vegetables is the perfect way to incorporate veggies without anyone putting up a fuss.
Sometimes I am in the mood for a gooey cheesy dip with a spicy kick to it. This Ultimate Crock Pot Queso Recipe is exactly what I had in mind. This recipe is simple to follow but full of flavor!
When you are looking for the ultimate comfort food, this Crock Pot Beef Noodle Recipe is sure to please.
Lemon Chicken has always been a favorite of my husbands but it has seemed like a lot of work to me! That was until I found this Easy Crock Pot Lemon Chicken Recipe. 
I was thrilled to find a Crock Pot Breakfast Casserole because I love my Crock Pot so much I want to use it throughout the whole day. Now I know I am not the only one who feels this way!
When I was a little girl my grandmother use to make a Pepper Steak Recipe that I loved. It took so much time and effort to make that I never get to enjoy it but when I found a Crock Pot Pepper Steak Recipe I knew we would eat it more often.
When we lived in the Chicago area, Italian Beefs were available at every restaurant but that just isn't the case here in Iowa. The newest recipe to add to our rotation is this Crock Pot Italian Beef Recipe and we are loving it!
I know red meat is bad for you and I always hear that we should all be eating a lot more chicken! Now that I have an Easy Crock Pot Chicken Recipe I think we will be able to eat less red meat and a little more chicken.
I have always loved Beef Stroganoff but have never had a clue on how to make it. Thankfully this Crock Pot Beef Stroganoff Recipe makes it easy and quick for my family to enjoy this tasty dish.
Who knew that you could make bread in your Crock Pot? This is life changing!  Check out this bloggers tricks to Baking Quick Breads in your Crock Pot.
Don't you just love a good Crock Pot Recipe? Which one is your favorite easy crock pot recipe?
This post contains affiliate links, I receive a small portion if any purchase is made.
My must have items to master these Crock Pot Recipes are:
6 Quart Programmable Crock Pot