This easy slow cooker chicken parmesan recipe contains affiliate links which means that if you make a purchase after clicking a link, I will receive a small portion of the sale at no additional cost to you.
This slow cooker chicken parmesan recipe is low-carb, gluten-free, and keto friendly since it doesn't have the bread crumbs or bread crumb mixture you would normally find in a chicken parmesan recipe.
Plus this low-carb version allows you to make a crock pot chicken parmesan sub sandwich that is perfect for keto when served on the right rolls.
You may want to pick up these keto rolls for a great way to take this recipe to the next level or make this grain-free bread for a homemade way to serve up this tender chicken breast.
I love the ease of making slow cooker recipes, so when a craving for traditional chicken parmesan hit I decided to create a slow cooker version.
Now I can easily serve up a delicious dinner of crockpot chicken parmesan and enjoy the perfect comfort food on a busy night.
Variations on this Slow Cooker Chicken Parmesan Recipe
This will be one of your favorite crockpot chicken recipes because it is quick to prepare and it can be served in a variety of ways.
If you aren't following a low-carb diet or counting carbs, you could serve this recipe with penne pasta. The only thing I would suggest is to add a little tomato sauce to the top of the chicken if you decide to serve this easy recipe this way.
Add some tangy marinara to the boneless skinless chicken breasts to make a spaghetti sauce with chunks of cooked chicken.
Serve with al dente pasta to make a flavorful parmesan pasta recipe that can be thrown together in minutes after the slow cooking has been completed.
This recipe is also really good when prepared with extra cheese on top and served in a shallow bowl alongside a small bowl of chips on game day.
Add a block of cream cheese in a single layer along with mozzarella cheese to create a cheese melt that will coat chicken at the bottom of the slow cooker.
Add some homemade pasta sauce, tomato paste, or your favorite marinara sauce to this juicy chicken along with chicken broth and heavy cream to create a chicken parmesan soup that is sure to be a family favorite.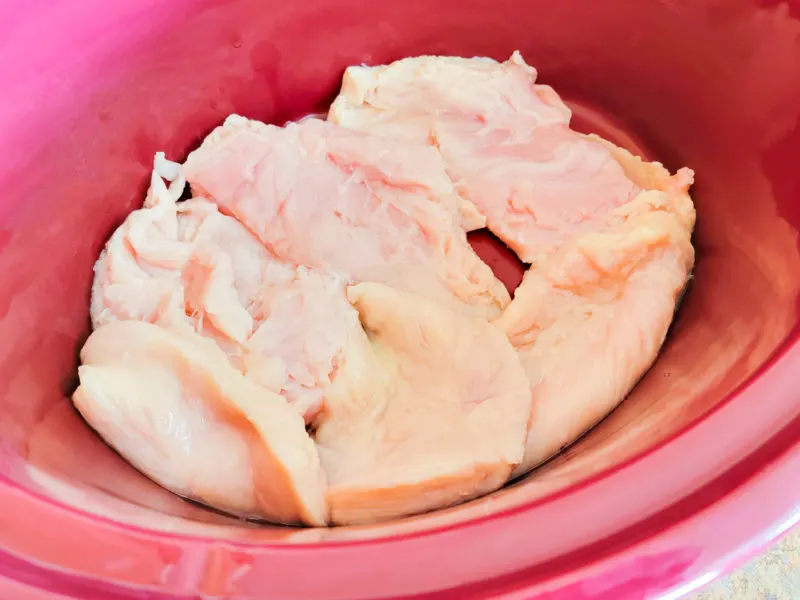 ​Ingredients Needed to Make this Slow Cooker Chicken Parmesan Recipe
When you hit the grocery store to prepare to make this slow-cooking recipe, you will need the following items:
Boneless Skinless Chicken Breast
Crushed Tomatoes
Bulb of Garlic (Garlic Powder Works Too)
Mozzarella Cheese
Basil (Fresh Basil Works)
Oregano
Teaspoon Salt
Teaspoon Pepper
Grated Parmesan Cheese
All of the seasonings, cheese, tomatoes, and flavors of decadent chicken come together to create a slow-cooking meal that is perfect for busy nights.
You can substitute the oregano and basil with Italian seasoning if that's what you have on hand, it will deliver a similar taste.
How to Make Chicken Parmesan in an Instant Pot
If you are looking for a fast way to cook this slow-cooker chicken parmesan recipe, you can make it in an Instant Pot.
This is an easy and quick way to enjoy a delicious meal without waiting for the slow cooker to reach the right internal temperature.
Add the raw chicken to the instant pot. Sprinkle seasoning on top. Add the crushed tomatoes and a 1/4 cup of water to the top of the instant pot chicken parmesan.
Close the lid and set the vent to sealing.
Press the pressure cooker/manual setting and cook on high pressure for about 3 minutes.
The instant pot will start cooking chicken in about 7 minutes.
When the entire cooking time comes to an end, release the steam.
Remove the lid and sprinkle the cheese on top of the sauce-covered chicken. You can choose to use half of the parmesan cheese at the beginning of this recipe and sprinkle the rest on at the end if you choose.
Pop the lid back on top, select the saute setting, and allow the cheese to melt for a few minutes. You may not have to turn the Instant Pot back on if the inside is still at a high enough temperature to melt the cheese.
How to Store this Slow Cooker Recipe
This recipe is just as good when served the next day! You can warm leftovers up in a large skillet on medium-high heat with a little bit of olive oil or heat them up in the microwave for a quick meal.
Just be sure to store this recipe in an airtight container so it stays fresh the next time you want to heat it up. This is one of those crockpot meals that will stay good for a long time if stored properly.
If you want to make your meal plans in advance, double up this recipe and freeze the leftovers to serve for up to 3 months. Just be sure to pull it out and allow it to thaw out overnight before heating it up again.
New Recipes for You to Try
If you love making crockpot recipes, you will enjoy this CrockPot Mexican Food :Shredded Chicken that can be made in as little as 3-4 hours.
If you enjoy super nachos from your favorite Mexican restaurant, this is the perfect dip chicken to include. It shreds while cooking and is perfect for serving on game days.
You may also enjoy making this easy keto crockpot dump meal of Keto Chicken & Rice Soup. Slow-cooking low-carb meals has never been easier!
For those paying attention to the daily value of carbs that they are taking in you may enjoy all of my low-carb recipes like this recipe for Cheesy Keto Crockpot Chicken with a Kick.
You can prepare this Keto Stuffed Bell Pepper Soup Crockpot in less than a half hour and cook in as little as 4-6 hours.
Be sure to visit the entire low carb and keto recipe page for a full list of quick links to all of my low carb recipes.
You may also want to check the recipe card at the bottom of each post to get all of the nutritional information.
This should include how much g fat, g total fat, g carbohydrates, and g protein. If you do not see this information listed below, be sure to comment and let me know.
Don't forget to sign up for the free newsletter and follow along on social media such as my youtube channel, Instagram, and Facebook so that you never miss a post again.
I will never use your information for anything other than sharing my latest posts. Read the full privacy policy if you would like more information on how this site handles your information.
Is this the first time you have tried this recipe? Leave me a comment letting me know what you think!
Slow Cooker Chicken Parmesan Recipe for Subs
Total Time:
6 hours
5 minutes
Ingredients
1 & 1/2 - 2 lbs Boneless Skinless Chicken Breast
1-2 Large Cans Crushed Tomato
1 Bulb of Garlic skinned and chopped
1 Lb. Bag of Mozzarella Cheese
2 Tablespoons of Basil
1 Tablespoons of Oregano
1 Teaspoon of Salt
1 Teaspoon of Pepper
1 Cup of Parmesan Cheese
Instructions
Add all ingredients except the mozzarella to the crockpot.
Cook for 2-4 hours or until chicken is tender and falling apart.
Add mozzarella cheese and stir right before serving.
Serve with low-carb rolls.
Recommended Products
As an Amazon Associate and member of other affiliate programs, I earn from qualifying purchases.