This salsa recipe is the easiest & fastest salsa recipe because all you have to do is dump your ingredients in the blender to enjoy restaurant-style salsa.
Simple and delicious is the best way to describe this easy-to-make salsa recipe.
I love salsa and my favorite kind of recipes are the ones that require little work and very little cleanup.
It really is amazing what you can do with a garden and a blender.
All you will need to make this recipe is tomato, cilantro, white onion, garlic, jalapeno, lime, salt, and cumin.
This salsa recipe is easy to make that I didn't even get out a good camera or lighting to take photos.
It seemed silly to have such a big setup for something that would be over so quickly, so you will have to excuse the low-quality photos, I just used my phone to document the process for this post.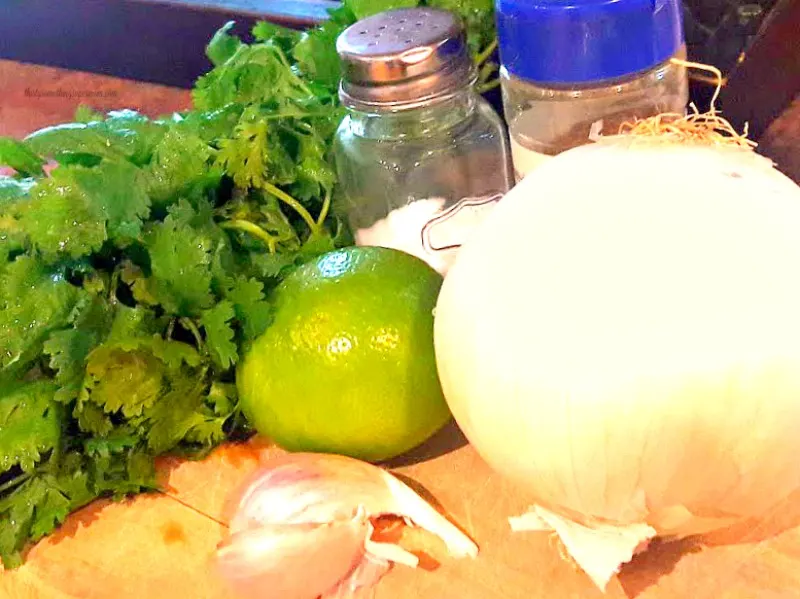 I also didn't bother to add tomatoes to the photo above although they are a big part of this salsa recipe.
I was not even sure if I was going to share this recipe because of the simplicity but it is too good not to share.
The first thing I added to the blender was a couple of cloves of garlic, the order really doesn't matter but for the sake of showing you the process, I added each thing one at a time.
You can throw it all in at once, juggle your ingredients before adding them, do a magic trick to make them disappear then add them, whatever does it for you.
Add in some cilantro, don't skip this step because in my opinion, no salsa recipe is complete without the addition of cilantro.
It's super cheap and easy to grow yourself so there is no reason to omit this salsa essential.
Plus it's fun to confuse the guys at Walmart when they ring it up, they never seem to know what the heck cilantro is so be careful when they charge you because they will most likely think it is parsley which costs more.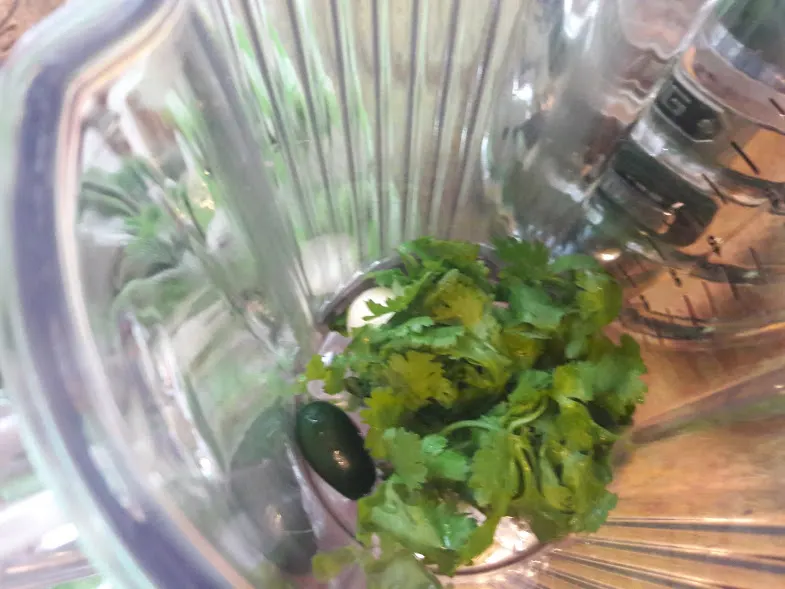 Next, you can drop in a jalapeno, use a small one, or even de-seed it if you are not a fan of spicy salsa recipes. Just one little pepper is not going to make a lot of heat and only adds a good flavor to this salsa recipe.
If you are really into crazy heat in your salsa, like my husband, you can add in a ghost pepper instead.
He likes spice so much that he actually grows ghost peppers and then dehydrates them to make a powder.
He adds it to chili, pizza, and anything he wants to add a bit of a kick to.
He is desperately trying to get an ulcer, he may have a couple as of right now but not enough to slow down on the heat just yet but I will be sure to keep you updated on that.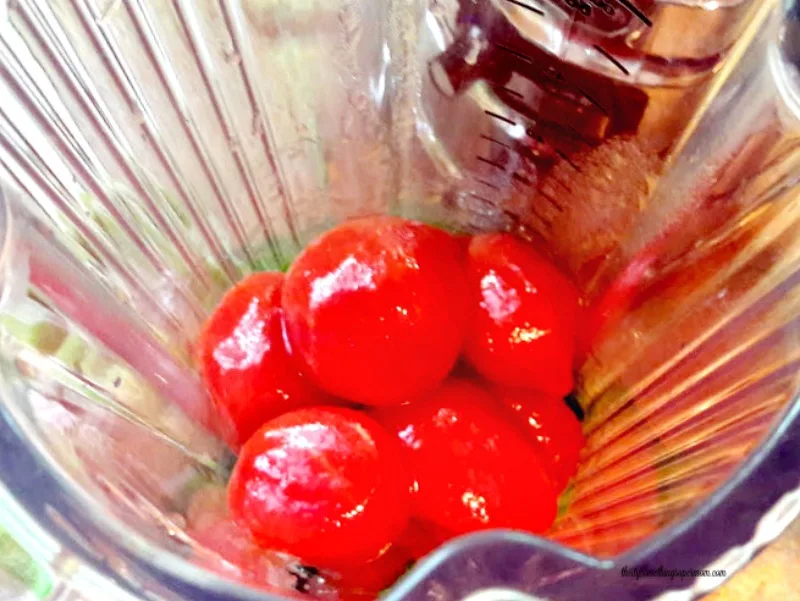 Add in your tomatoes, you can use a can of plum tomatoes or make your salsa recipe with fresh tomatoes that have been peeled.
Next, you can add chunks of white onion.
Depending on how good your blender is you may want to chop these down unless you enjoy chunky salsa.
My blender works amazingly well so I don't have that problem but as someone who has had many ghetto blenders in my past, I can relate to the weak motor with a funny smell when being used and suggest chopping before adding in if you are worried about your blenders ability to chop.
Add in your cumin seasoning.
Sprinkle some salt on top and blend it all together until your salsa recipe has reached the consistency that you want.
I like to use the pulse motion because this prevents my salsa from becoming too runny, I like a good healthy chunk here and there in my salsa.
Serve with tortilla chips or scoop onto tacos and enjoy this easy salsa recipe!
You may also enjoy these other recipes:
Be sure to share this Easy Salsa Recipe and pin it for later!
Tell me your thoughts on this recipe, did you make any adjustments or did you enjoy this easy salsa recipe the same way I do?
Quick & Easy Blender Salsa Recipe
Ingredients
Can of Plum Tomatoes or Fresh Tomatoes with Skin Removed
About a 1/2 cup of cilantro
One Small White Onion
2 Cloves of garlic
1 Small Jalapeno or Ghost Pepper if you like it hot
Juice of 1/2 of a Lime
1/4 Teaspoon of salt
1/4 teaspoon of cumin
Instructions
Add all ingredients to a blender and pulse until it reaches your desired consistency.