Growing up in Chicago, my husband frequented all of the Mexican restaurants that you could find on practically every corner. Each establishment had its own version of salsa verde, all of them with their own top-secret ingredients giving their salsa verde a distinct flavor. When I moved to the Chicago area, I also fell in love with Mexican food, especially the salsa verde and have been on a quest ever since to make my own homemade version. Unfortunately, it has taken me about 16 years to figure this out.
This Salsa Verde recipe is one of my favorite recipes, of all time. That is mainly because I have been working on perfecting it for years and at times have given up on it completely. I have attempted to make a tomatillo salsa more times than I could count, only to end up throwing away all of the ingredients when the finished product came out tasting a bit off.
When we would eat at the local Mexican restaurants in Chicago, I would even ask the people working if they could tell me what was in the salsa verde, knowing that they may not want to give me all of the ingredients but maybe just a little info to get me started. It usually ended with a lot of confusion, a language barrier was most often the issue and eventually, I stopped asking.
I even toyed with the idea of learning Spanish so I could generally get to the bottom of things but it never really panned out. Thankfully there is no need to learn Spanish now because I have figured out how to make the salsa verde recipe and it's so easy that I feel silly that it has taken me sixteen years to perfect but I am so happy to share it with you.
It's hard to say what part really tripped me up the most when trying to make my own salsa verde in the past but I think it may be trying to use limes and cilantro, it turns out neither of those ingredients are required to make the best salsa verde. If you love those flavors you are more than welcome to add them in, like every good Mexican restaurant in Chicago, each salsa verde is a little bit different, feel free to change it up a bit.
The base of this or any good salsa verde recipe is a bunch of bright green tomatillos.
Another important part of this salsa verde recipe is using the correct pepper, and knowing how much to put in as well. I have tried making salsa verde with a bunch of different peppers from jalapeno to habanero, and even a mixture of some but I have recently come to the conclusion that the best salsa verde recipe uses serrano peppers, for sure.
How many peppers you use completely depends upon how much spice you like and keep in mind that these peppers vary in size so you may want to check the weight rather than the number of peppers one you find out the perfect heat level that you enjoy.
Remove skins from the tomatillos, roughly chop your onion into pieces small enough to fit in a blender, and prepare garlic cloves. Pop all of these ingredients into a pot filled with water and boil until completely cooked. You can tell when they are done by the changing of colors and the softened skins on the vegetables. This can take anywhere from five to ten minutes.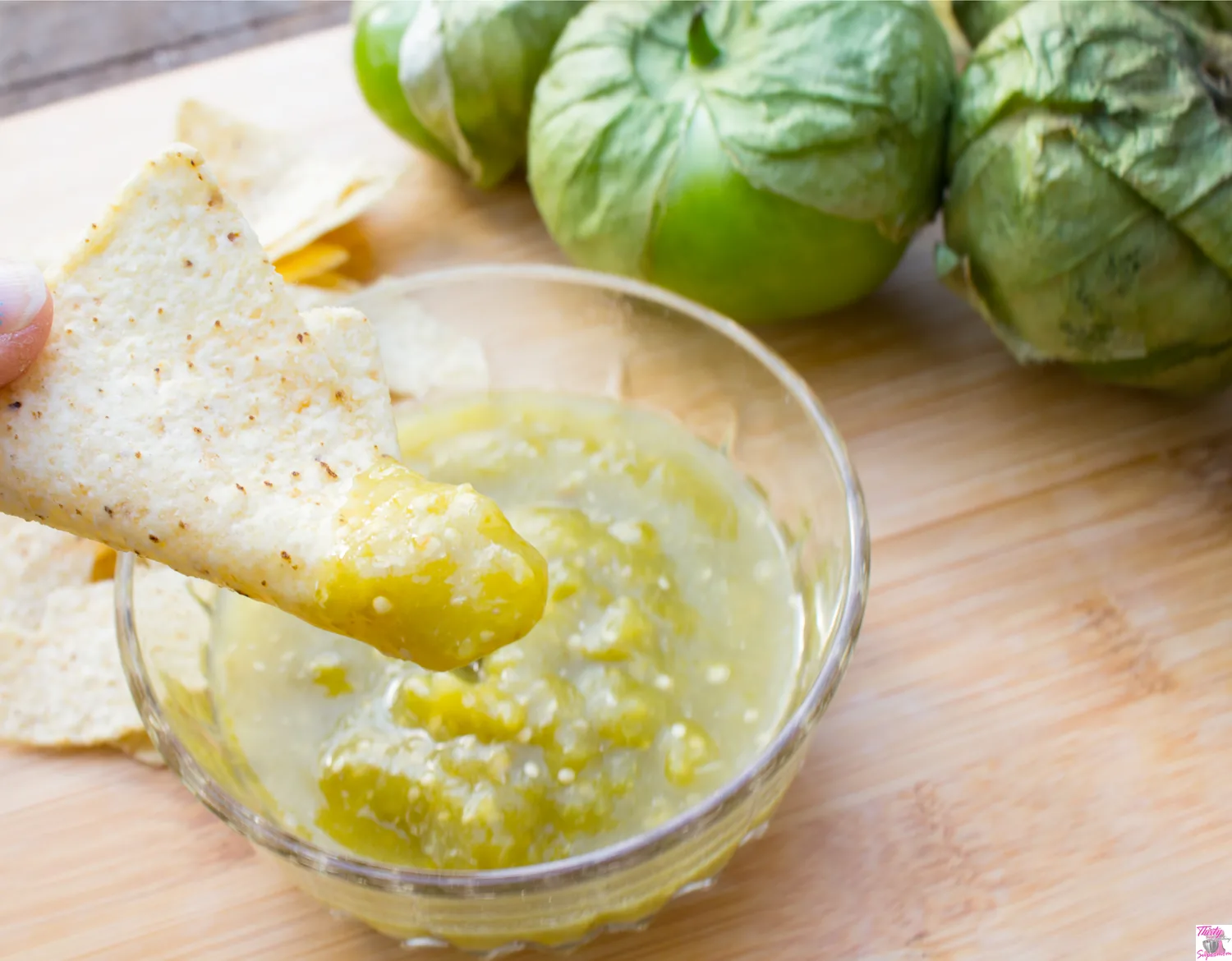 Drain the water then pour the contents of the pot into a blender. Pulse until the ingredients become salsa, leave it chunky if you prefer it that way but I like to add some salsa to a bottle for squirting on tacos and burritos so I even add a little bit of water to make mine thinner, it's your salsa do what you like best. Add in extra peppers if you like it really spicy and a dash of salt to suit your tastebuds.
That's it, so simple, I can't believe it has taken me sixteen years to figure out the perfect salsa verde recipe!
16 Year Salsa Verde Recipe (Tomatillo Salsa)
Ingredients
6-8 medium to large sized Tomatillos
6 small to medium sized Serrano Peppers
1 Onion
1 Garlic
Dash of Salt
Instructions
Peel tomatillos, peel an chop and onion into about 4 chunks, remove stems from peppers and peel garlic.
Place all of the ingredients in a pot of water.
Boil for about 5-10 minutes or until everything is soft.
Drain the water and pour ingredients into a blender.
Blend everything together and add salt to taste.
Chill for at least 2-3 hours and serve once the salsa is completely cool.
Add in more peppers to make this salsa verde more spicy or add in less to make it more mild.