This post sharing the 15 Best Low Carb Chips to Buy Or Make for a Keto Diet contains affiliate links which means that if you make a purchase after clicking a link, I will receive a small portion of the sale at no additional cost to you.
When starting a ketogenic diet or any low-carb diet, it can be hard to find a great option to satisfy that chip craving.
The good news is that there are many keto-friendly chips in a variety of flavors available that can be picked up at the grocery store and online.
Stocking up on the best keto chips in a variety of different flavors is a good way to keep you on track while not feeling like you are missing out!
Keto Tortilla Chips
These low-carb tortilla chips are great for snacking and dipping in salsa or your favorite keto dip.
They are also the perfect way to make walking tacos keto friendly.
Using Quest chips makes it easy to have a great snack that is perfect for a low carb diet. You can pick up a bag of Quest Nutrition Tortilla Style Protein Chips here.
Or make your own at home using low carb tortillas which is a great alternative to regular tortilla chips, even if you aren't following a keto diet.
Pile on the sour cream, ground chicken breast or beef, and your favorite taco fillings to enjoy an easy keto nacho recipe!
How to Make Low Carb Tortilla Chips at Home
To make your own using low-carb tortillas, the easiest ways to do this are in the air fryer.
Start with these low carb tortillas and cut them into the shape you want.
I usually use a pizza cutter and do a pizza cut, leaving me with 8 chips.
Spray them with an olive oil cooking spray and bake at 400 degrees in the air fryer for about 3-5 minutes on each side.
I like to salt them before and after cooking, because I enjoy salty snacks but you can add whatever amount you'd like, that's the best part of making your own tortilla-style chips at home.
Genius Gourmet Protein Keto Chips
When the craving hits for low carb barbecue chips, it's a good idea to have some Genius Gourmet Protein Keto Chips on hand.
This low-carb snack goes well with this air fryer burger recipe and tastes like these homemade bbq chips but without all of the carbs.
How to Make BBQ Chips for the Keto Diet
You can create your own keto BBQ chips at home with just two ingredients!
Start by laying out pre-sliced cheddar cheese on a baking sheet, generously coat each slice with this sugar-free barbecue sauce, and bake at 400 degrees for 10-12 minutes.
This is the easiest way to enjoy crispy, low-carb chips that are a perfect alternative to store-bought options.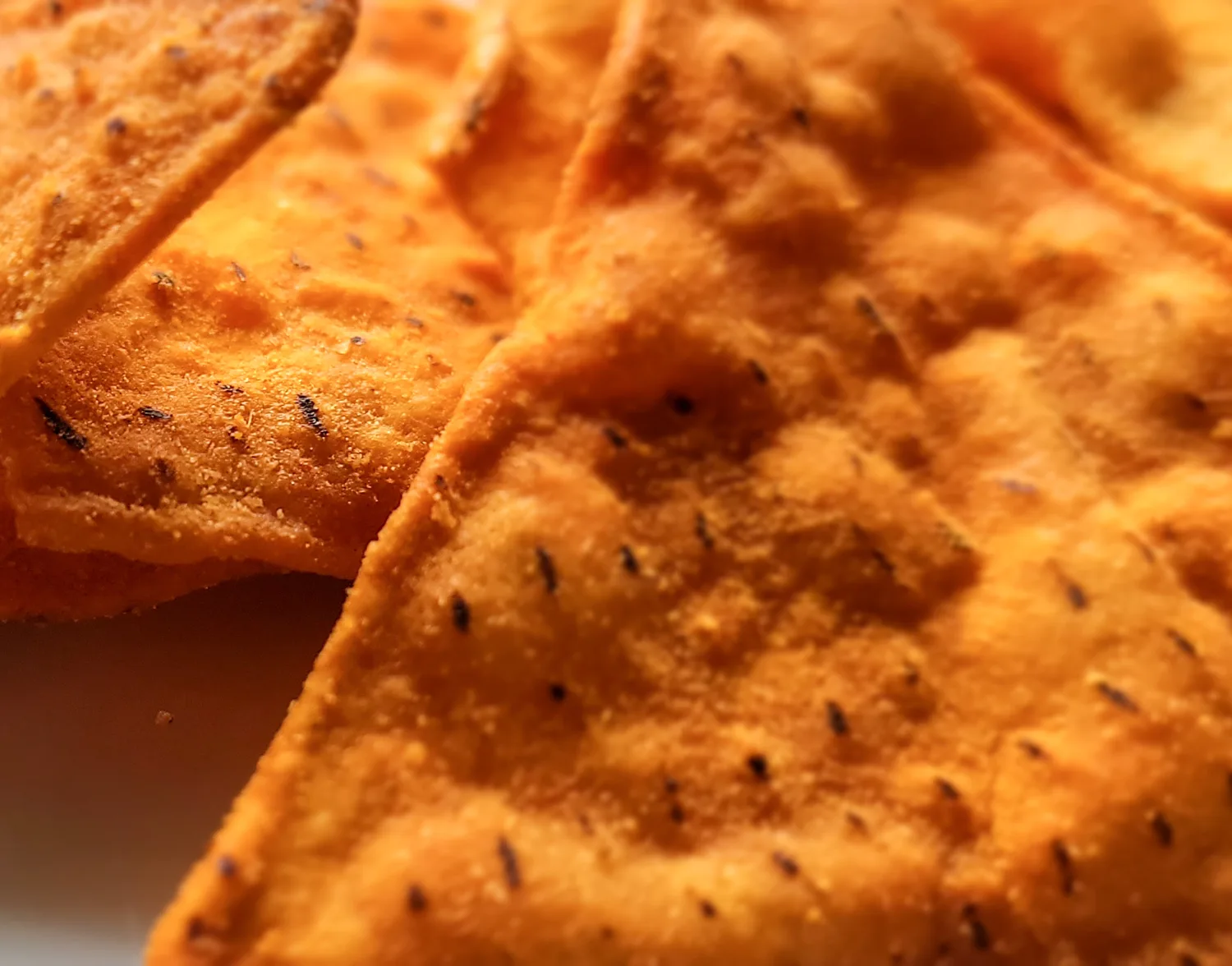 Nacho Cheese Chips
For an easy high protein nacho cheese chip with only 4 grams of net carbs, you can pick up these Quest Nutrition Tortilla Style Protein Chips.
The nutrition facts can be difficult to find for these Quest low protein chips so I have added them below from a helpful review I found on Amazon.
Each serving has 140 calories per bag and 18 g protein, 1 g fiber, 6 g fat, 4 g net carbs, and 5 g carbs total.
This protein blend is a good option for those who are counting grams of carbs and are trying to increase their grams of protein.
How to Make Keto Nacho Cheese Chips
You can make a homemade version of these quest protein chips fairly easily using cheese as the main ingredient.
To make delicious keto cheddar chips, spread around 2 cups of cheddar or Mexican blend cheese on a lined baking sheet.
Mix in half a teaspoon each of sea salt, onion powder, and garlic powder, along with a quarter teaspoon each of cumin, paprika, and chili powder.
Bake at 400F for 20 minutes until crispy and golden.
After cooling briefly, cut into triangles with a pizza cutter.
Enjoy your homemade crispy and flavorful chips!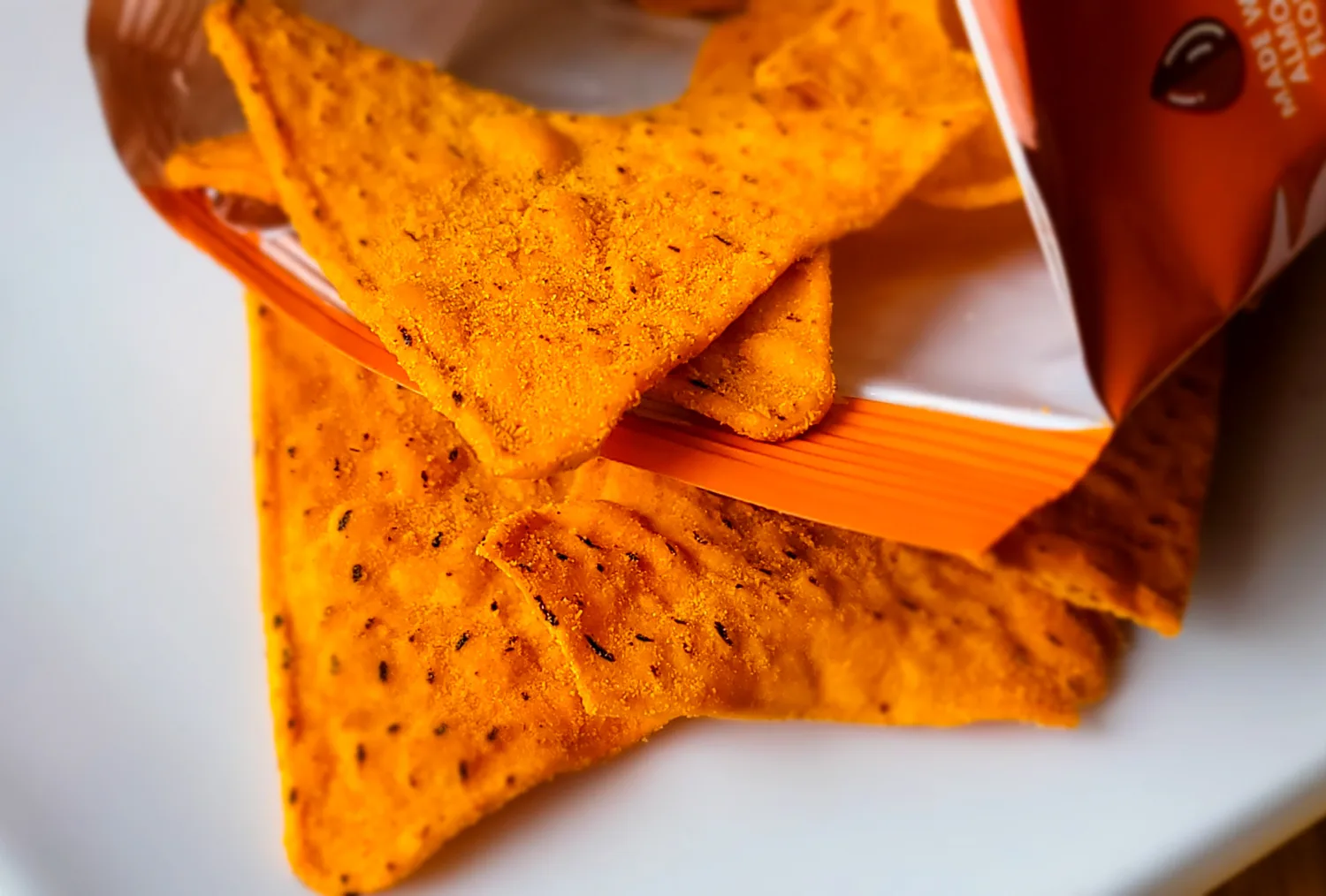 Ranch Atkins Protein Chips
When ranch chip cravings hit, you can easily grab low-carb chip options on Amazon or pick them up at your local grocery store.
These keto-friendly Atkins Protein Chips are a great way to enjoy a crunchy snack bursting with that ranch flavor you crave.
Baked with sunflower oil and created with simple ingredients like corn starch, these chips have a corn chips flavor without the high carb amount of traditional chips.
How to Make Ranch Chips
Get ready for some mouthwatering cheddar cheese triangles with a tangy ranch twist! Preheat your oven to 350 degrees.
Slice cheddar cheese into thin slices and arrange them on a baking tray lined with parchment paper. Bake for about 10 minutes, or until the cheese melts.
Ensure they're nice and crispy before removing them from the oven.
Let the triangles cool for a few minutes, then transfer them to a paper towel to absorb any excess grease.
Once they've cooled completely, place them in a ziploc bag along with this ranch dressing powder.
Shake the bag vigorously until the triangles are coated in that irresistible ranch flavor.
Voila!
Enjoy these delectable cheddar cheese triangles with a delightful hint of ranch goodness.
Whisps Cheese Crisps
Whisps Cheese Crisps are perfect for snack time because they are readily available at almost every grocery store, dollar store, and even online.
They come in a variety of flavors and use low carb ingredients to create the perfect snack alternative to classic potato chips.
These are great for anyone watching their blood sugar or trying to keep their carb count low.
Choose from a variety of flavors or pick up a variety pack of Whisps here.
How to Make Cheese Crisps
This recipe comes together so easily and can be made with a variety of cheeses. You can use mozzarella cheese, parmesan cheese, shredded cheese, or any combination you prefer.
To make these low carb crackers be sure to visit this page for my full recipe for homemade super easy low carb crackers.
No need for almond flour, tapioca starch, egg whites, wheat flour, or coconut flour, this is one of the easiest keto recipes for chips that you will ever try.
How to Make Low-Carb Pepperoni Chips at Home
Alright, let's get started on making some tasty crispy pepperoni slices! Preheat your oven to 400 degrees F and grab a large baking sheet.
Take about 5 ounces of pepperoni slices and arrange them neatly on the rack.
Now, pop the tray into the preheated oven and let them bake for approximately 5 to 7 minutes. Keep an eye on them and take them out when they're nice and crispy.
Once they're out of the oven, allow them to cool down a bit to get even crispier. And there you have it, delicious crispy pepperoni slices ready to be enjoyed!
Make the Best Low Carb Chips Using Kale
Kale chips are my favorite alternative to regular chips made with potatoes and in my opinion, these are the best healthy low carb potato chips because they taste very similar to the real thing and are completely healthy.
Kale is not only incredibly low in carbs but also packed with essential nutrients which makes it your best bet for a healthy snack.
According to the USDA, in just one cup of raw kale, you'll find a generous amount of vitamin A (51 mcg), vitamin C (19.6 mg), and calcium (53 mg).
When it comes to macros, that same portion size contains only 0.9 grams of total carbs, but don't let that scare you away, although kale isn't zero carbs it is zero net carbs, 0.3 grams of fat, and 0.6 grams of protein.
Line a baking sheet with parchment paper and preheat your oven to 300 degrees.
Remove rinsed and dried kale leaves from stems and arrange them on the baking sheet.
Drizzle with your favorite healthy fats, I use olive oil but you can use avocado oil if you prefer.
Sprinkle with salt and bake until brown, this usually takes anywhere from 20-30 minutes depending on the thickness of the kale pieces.
You could also add your favorite seasonings like garlic, paprika, chili lime, or cajun seasoning for a little bit of a different flavor.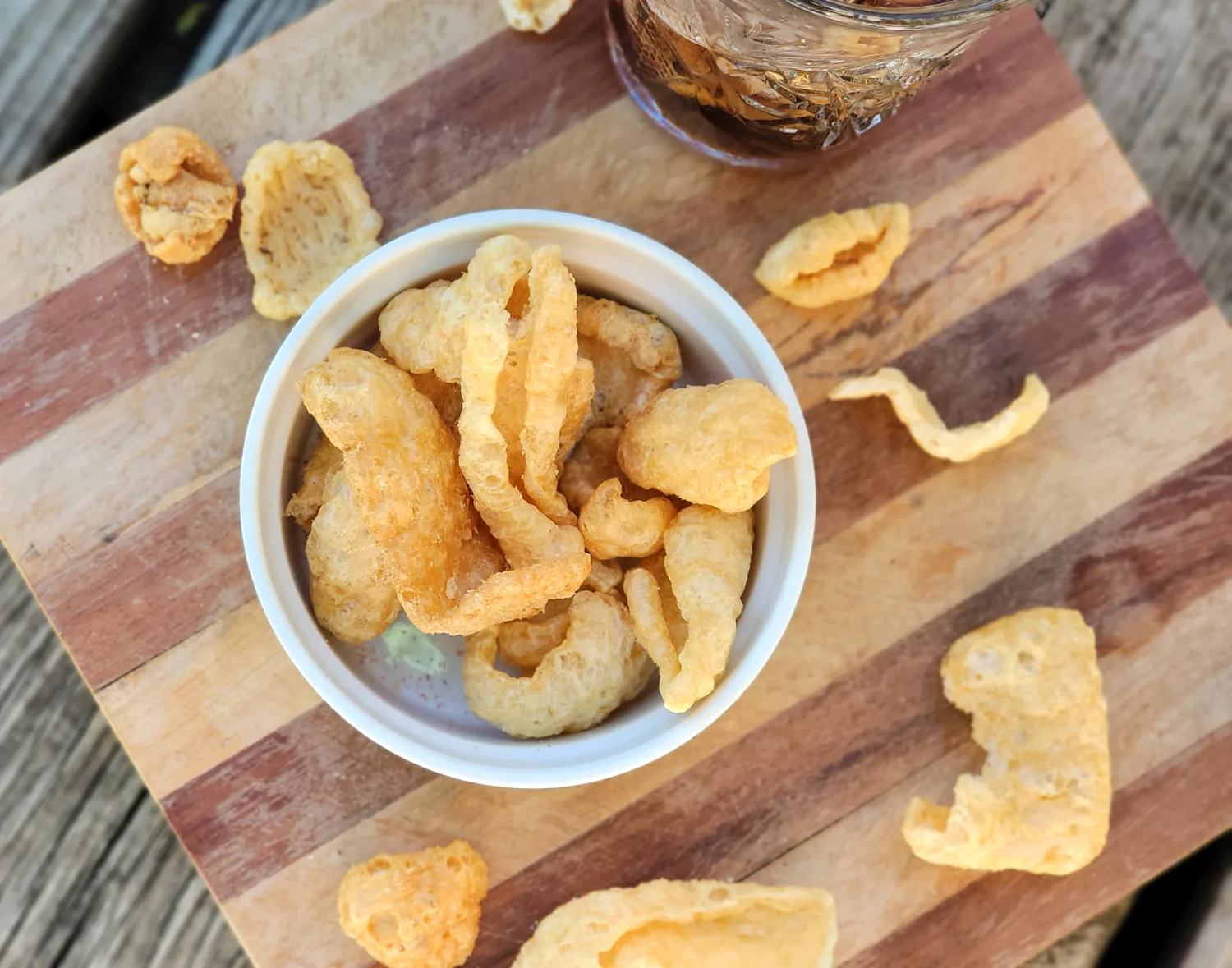 Pork Rinds
For those of us that are trying to find a keto-friendly snack that replaces potato chips, finding the best pork rinds can be life-changing.
Unfortunately, when choosing products made with pork skin, they aren't all created equally.
While most of these brands use common ingredients to create their product, many of us just do not enjoy the flavor of pork rinds.
Although that may change when you find the right brand, this post shares the Best Keto Pork Rinds voted by users, you won't want to miss these recommendations.
Hilo Life Spicy Salsa Chips
Hilo Life's low-carb keto-friendly chips in a spicy salsa flavor are a delicious keto-friendly snack option.
This is usually my go-to low-carb wrap side dish because they are the perfect flavor, right out of the bag.
These chips make me feel like I am not missing out on the real thing. Plus, they are easy to find at my local grocery store.
The amazing flavor and ease of access to them make them the best low carb chips you can buy in my opinion.
If you haven't tried these chips yet, I highly recommend picking some up now!
Keto Chicken Skin Chips
If you want a low-carb, high-protein keto snack, chicken skins may be the convenience food you are looking for!
These chicken skin chips taste just like the fried skin you peel off of a piece of chicken, without all of the work!
With zero carbs and 13 grams of protein, this snack is perfect for low-carb dieters.
While they are a bit pricey, they sure hit the spot and sometimes paying a little more is worth it.
If you would rather save some money and make your own, check out this low carb fried chicken recipe without pork rinds.
This recipe uses vegetable oil to deep fry chicken breasts coated in a keto-friendly breading that tastes better than traditional fried chicken. You will not want to miss this one!
I hope you enjoyed this post sharing the 15 Best Low Carb Chips to Buy Or Make for Keto Diet.
If you want to get more keto food suggestions and recipes right to your inbox, sign up for the free newsletter and follow along on social media so you never miss another post again.