While in the area my family decided to make a stop at Oakland Cemetery to visit The Black Angel of Death in Iowa City, Iowa.
I first heard about this grave marker from my daughter who learned of the 8-foot tall statue from a book written by a local Iowa City author she enjoys. When she first told me about The Black Angel of Death and the history of the cemetery, we made a trip to Iowa City to see it for ourselves and ever since then, when we are in the area we visit the statue.
Learning about the history of The Black Angel of Death may tempt you to make a trip to Iowa City so you can see the haunted monument for yourself.
When headed to Oakland Cemetery, every time I visit no matter the weather, the sky looks somber and overcast.
This could be a coincidence of course but paired with the gloomy neighborhood surrounding the cemetery, it is enough to set the mood needed to question the factuality of The Black Angel of Death.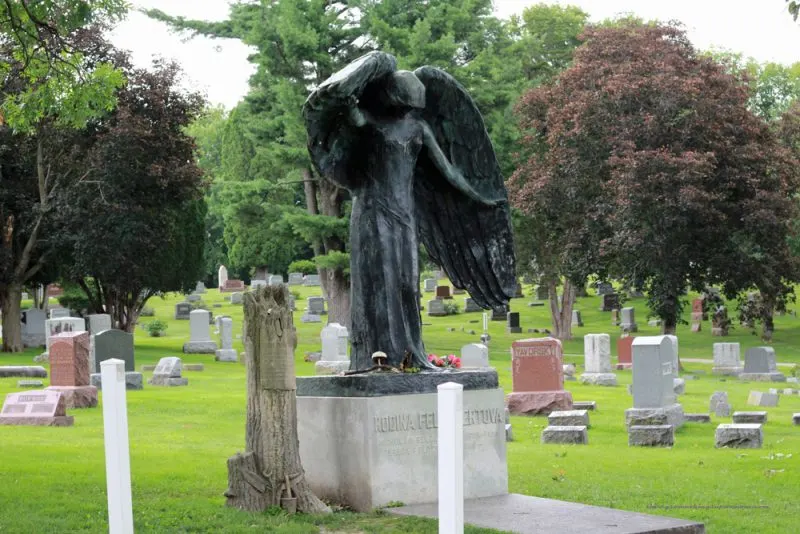 Upon cresting the steep hill at the entrance of Oakland Cemetery you start to see The Black Angel of Death in the distance. It towers over everything surrounding it and its bold color sticks out enough to catch anyone's eye in that space.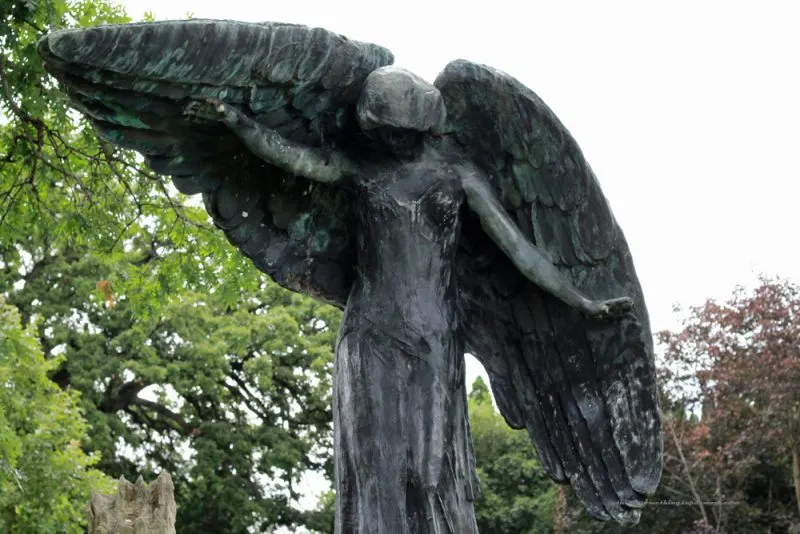 According to the legend that surrounds this supposed haunted statue you will be cursed if you dare to touch or even worse defile this beautiful sculpture.
You can see by the severed fingers that not everyone is afraid of the supposed curse and some even try their best to tempt The Black Angel.
Teresa Feldevert, her son Eddie Dolezel, and her second husband, Nicholas Feldevert were laid to rest here at Oakland Cemetery.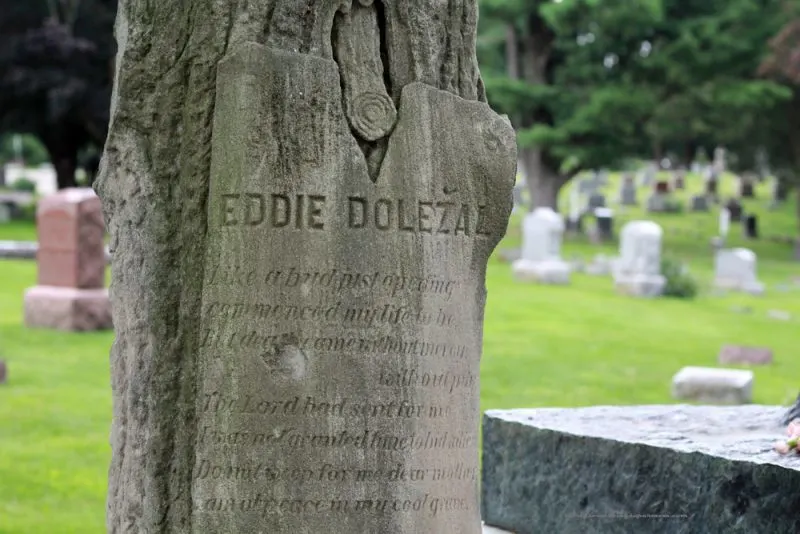 Her son died at the young age of eighteen and her husband died another twenty years later.
Teresa decided to have a statue sculpted out of bronze, a monument for her family and a few years after having the sculpture placed, Teresa also died.
The sculpture does not have a death date listed for Teresa although there is a birthdate listed and her family's dates are intact.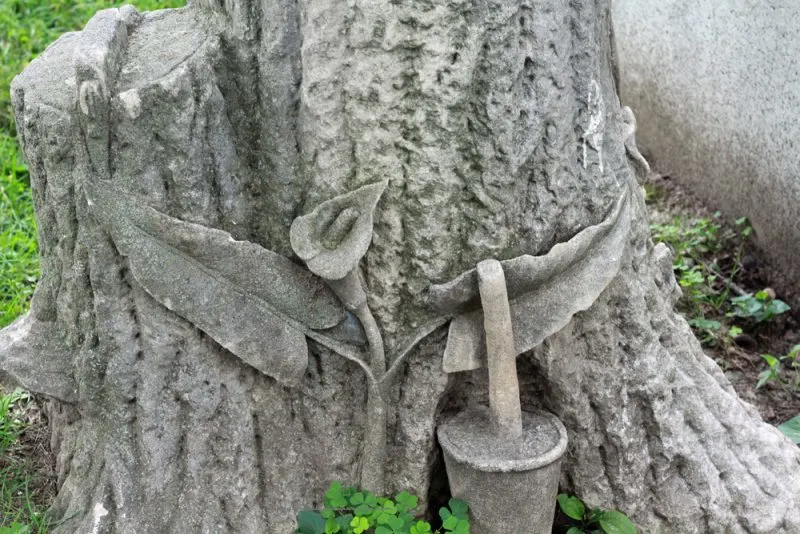 Another odd fact worth noting is that the statue became black in color over time even after many failed attempts to restore it back to its original look, it just gets darker over time.
Some claim that this is due to oxidation occurring naturally while others believe that this is just another part of the curse of The Black Angel of Death.
Now, this information would surely give anyone pause which is why Oakland Cemetery has been visited by several paranormal investigators with many reports of strange anomalies.
Some of these unexplainable anomolies were captured on camera and other equiptment used to record thermal levels or ghostly activity as well as audio recordings of ghostly sounds.
That kind of information seems to draw in a lot of visitors hoping to catch a glimpse of something paranormal happening during their visit to The Black Angel of Death.
Another interesting thing to observe when visiting Iowa City on occasion like I do is to see the different things people leave behind for the Black Angel.
I wonder how the caretaker feels about collecting all of these trinkets and clearing the area regularly, after all, this would require touching the statue.
According to legend, kissing, touching, defiling, or even staring at the black angel has resulted in incurable disease, car accidents, miscarriages, and even death.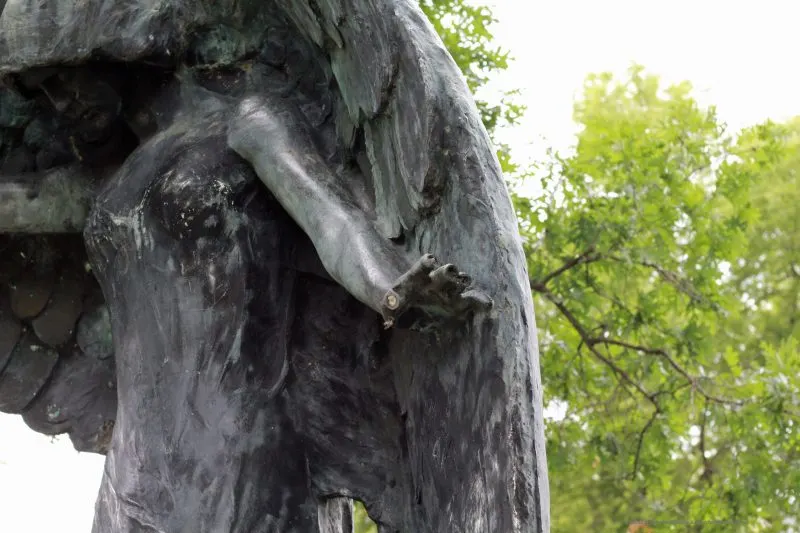 It's obvious that someone has defiled this statue and chopped the fingers off but what is not so obvious is the outcome of the offender.
According to the legend of the Black Angel, a man cut off one of the statues thumbs and carried it out of the cemetery as a trophy. He was later reported to have gone insane and his body was supposedly found in The Chicago River although his cause of death was reported as strangulation.
The legend also claims that there was one black thumbprint lifted off of his body by the local coroner. A few days later, the thumb was found at the base of the statue.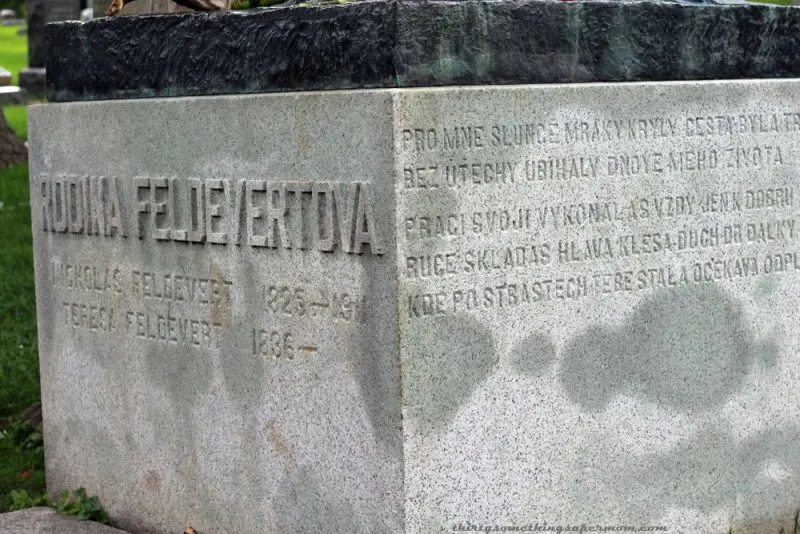 With a few google searches for The Black Angel of Death or reading about Oakland Cemetery in Iowa City, you will find legends upon legends that claim all kinds of spooky things, some more believeable than others.
If you are interested in visiting haunted places and digging deeper into the paranormal, visiting The Black Angel of Death in Iowa City needs to be on your bucketlist.