Tips for Creating a Bucket List for Dogs
With the fresh start that the new year provides I am going to take advantage and do something that will not only benefit myself but it will benefit my dog as well. I am making a bucket list for dogs and I encourage you to do the same for your dog as well.
I love being able to do things for my dog, Mugsy but as ashamed as I am to admit it, I take him for granted often. Life can get pretty busy and with constant errands to run, meals to cook, and work to do, there have been days where I barely say hi to Mugsy, let alone give him the attention he deserves.
I have been a vet tech, a pet groomer, and worked in animal rescue for most of my life so I have come in contact with many pets and their owners. I have learned from my experience that I am not alone when I say I take my pet for granted. Unfortunately this is really easy to do and that is the inspiration behind the Bucket List for Dogs.
Make this the year that you bond with your dog, spoil them like they deserve, take the best care of them that you can, and enjoy each moment with them as you never know when the last one will sneak up on you.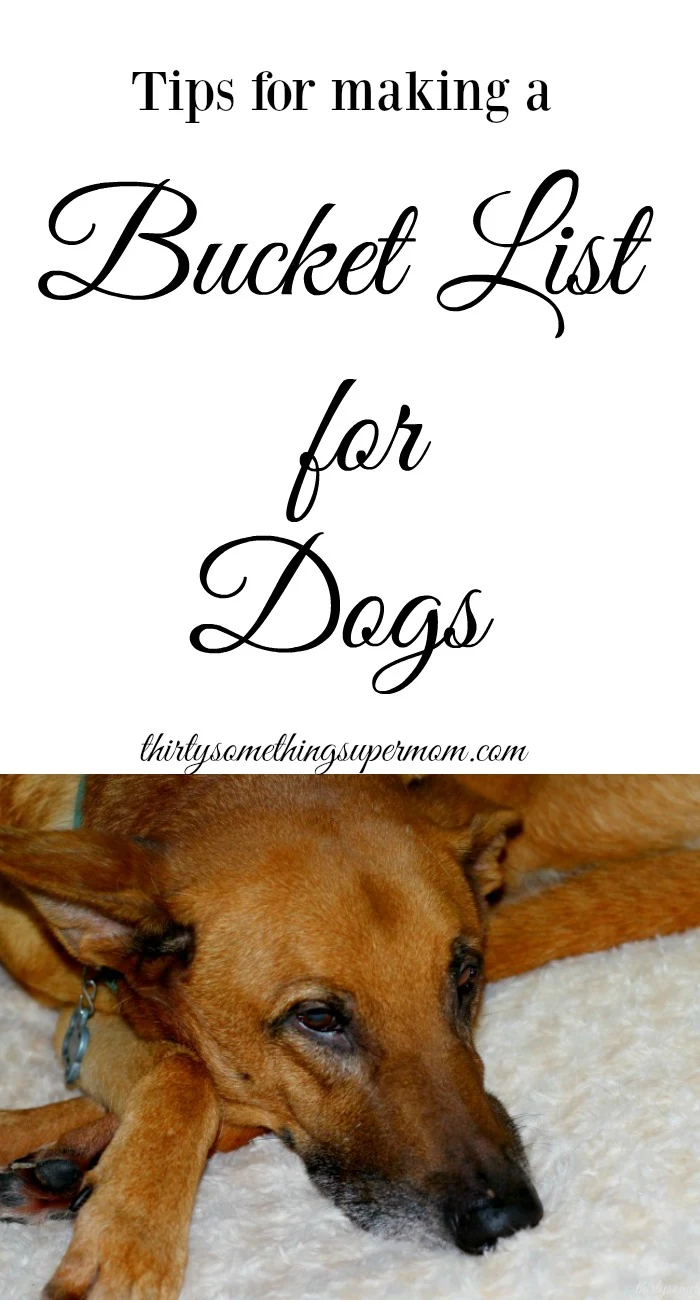 When creating your Bucket List for Dogs keep in mind what your pet enjoys doing but also remember to not set yourself up for failure. If you make unrealistic promises, although your pet may not be aware it will only lead to you giving up on your bucket list for dogs altogether and put you back into the same old routine again before you know it.
Creating the Bucket list is only the beginning, so be sure to set goals you can actually reach, plus remember this is supposed to be a fun experience for you and your pet!
Regular Grooming– Dogs do not require daily baths like humans do but they can get pretty stinky in between their grooming appointments or at home spa days. You can pick up a dry shampoo to keep your pet smelling fresh and when your pet could really use a good clean, use these tips from a pet groomer to make sure you are doing a thorough job.
Watch a Movie- Obviously the movie part is more for the owner than the dog but this activity does benefit your pet as well. This is a good chance for your pet to get some much needed snuggles and attention. Sit next to your dog and pet him throughout the movie, they won't mind that you are sharing your focus with a movie, they will appreciate the snuggle time. You can even pick a movie that may prompt your dog to interact due to the animal noises, if your dog is anything like Mugsy the movies Underdog, Homeward Bound, and Marmaduke will have him looking at the television too.
I hope these tips for creating a Bucket List for Dogs help you spend more time with your dog this year. One thing I can promise is that you will never regret spending time with your dog, it will always be cathartic to both you and your pet. Let me know what some of your favorite ways to spend time with your dog are by commenting below.