These Caramel Frosted Chocolate Chip Brownie Bars are the perfect dessert bar for on the go snacking or for a delicious after-dinner treat.
There is nothing quite like a homemade caramel sauce and this one is not only easy to make but it really compliments the flavors in these Chocolate Chip Brownie Bars and can be used to top other desserts like cupcakes or even for coating apples.
The inspiration for these Caramel Frosted Chocolate Chip Brownie Bars struck when I stumbled upon a half a bag of chocolate chips in my pantry that were left over from a dessert experiment earlier in the month.
It's a lot of fun to look through the cabinets and see what kinds of ingredients you have on hand so you can get creative and make something new.
I love incorporating my daughter in these experiments and together we have come up with some delicious treats in the past.
When brainstorming ideas with my ingredients the only help she was willing to give me this time was that she definitely wanted brownies of some kind so that was my starting point.
I then decided to incorporate a delicious caramel topping to these brownie bars and to also fill them with a little crunch from the chocolate chips.
It turns out this mixture was meant to be and these Caramel Frosted Chocolate Chip Brownie Bars are a new family favorite.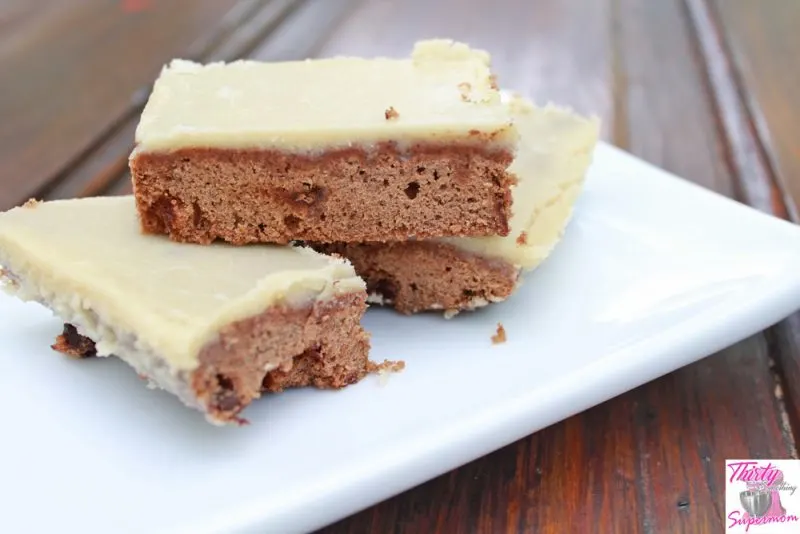 I am also excited that I now have a delicious caramel frosting recipe to use for the Fall when we want to coat our apples and make caramel chews.
This caramel frosting recipe is the perfect one for all of our caramel needs and I can not wait to try it out on top of cupcakes and drizzled on homemade ice cream.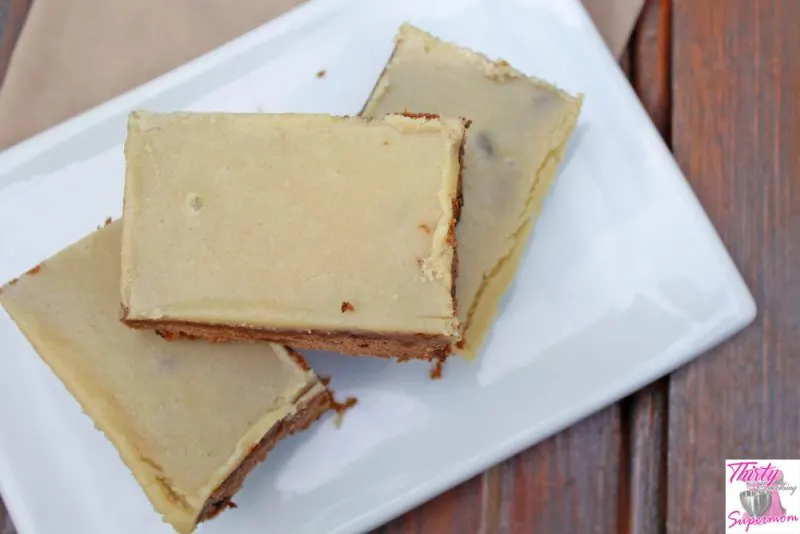 When you are looking for an easy dessert bar recipe that is made from scratch, these Caramel Frosted Chocolate Chip Brownie Bars are the perfect go-to dessert recipe!
If you really want to get fancy, sprinkle some sea salt on top for an extra delicious crunch.
Caramel Frosted Chocolate Chip Brownie Bars
Ingredients
Caramel Sauce
1 Cup White Sugar
1/4 Cup of Brown Sugar
1/8 Cup of Water
1/8 Teaspoon of Vanilla
4 Tablespoons of Butter
1/4 Cup of Heavy Whipping Cream
Brownie Bars
1 Tablespoon of Vanilla
1 Cup of Butter
1/2 Cup of Sugar
3 Eggs
1 1/2 Cups of Flour
1/3 Cup of Cocoa Powder
1/2 Teaspoon of Salt
1/2 Cup of Chocolate Chips
Instructions
For the Caramel Sauce
Heat water and sugar on medium.
Whisk until sugar dissolves.
On high heat bring to a boil and continue to boil until caramel turns to an Amber color.
Remove from heat and whisk in cream, butter while stirring after each addition.
Add in vanilla.
Brownie Bars
Start by mixing butter, eggs, and sugar.
Add in flour, cocoa, salt, and then fold in chocolate chips.
Pour into a greased 13 x 9 baking dish and bake for about 30-35 minutes.
When cooled add the caramel sauce on top and refrigerate before serving.
Nutrition Information
Serving Size
1
Amount Per Serving
Calories

4809
Total Fat

284g
Saturated Fat

177g
Cholesterol

698mg
Sodium

3244mg
Carbohydrates

544g
Sugar

381g
Protein

49g