Chocolate Caramel Brownie Recipe
Everyone loves a good brownie recipe but with the millions of brownie recipes online it's hard to choose which one to try.
I was trying to think of a funny catchy name for these brownies to help convey how delicious they were like kick you in the face brownie recipe, but I just couldn't find words to describe how yummy they actually are.
So I went with a descriptive title to let all chocolate and caramel lovers know that these are the brownies to try.
I have made many different kinds of brownies over the years, everything from an easy simple brownie recipe to the most complex brownie recipe that can take an entire day to make.
This is by far my favorite brownie recipe I have ever whipped up in the kitchen and I think my family agrees.
The best part is that this recipe is pretty simple to make, like most of my recipes I like to just dump all of the ingredients into the mixer and then pour the batter into a baking dish that gets popped in the oven until finished baking.
I can't stand those recipes that say add this ingredient and whip for 2 minutes then add this ingredient while doing this, then do these three things while doing these other four things…..that is way too complicated for a brownie recipe in my opinion.
Usually when I come up with a tasty dessert it is about 9:00 at night and my husband is falling asleep while trying to watch a little television after a really long day of work. He usually needs a little treat to keep him awake because he gets up at the butt crack of dawn everyday and works non stop all day. I feel like he deserves a little TV time so making him a treat to keep him awake is my pleasure.
The first step in making this brownie recipe is to preheat the oven then to drop all of the ingredients except the caramel bits and chocolate chunks into the mixer.
After mixing the ingredients, pour half of the batter into a baking dish then add the caramel bits as well as the chocolate chunks.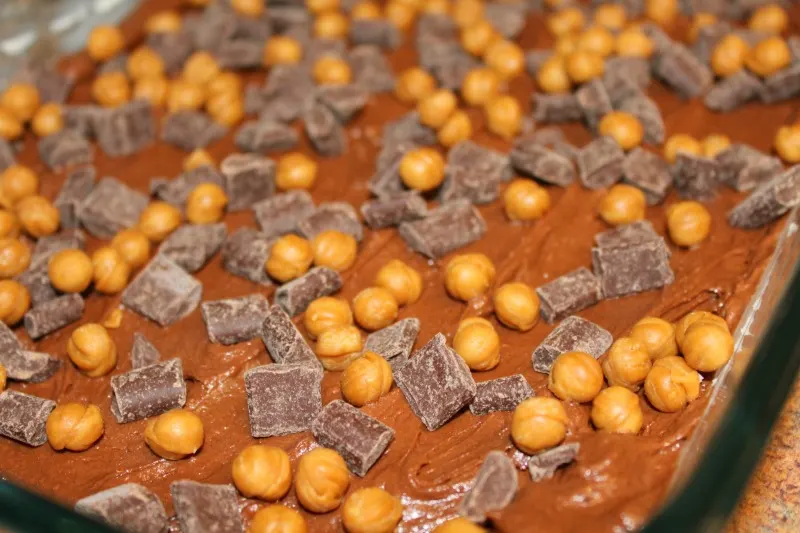 Add the rest of the batter on top of the caramel bits and chocolate chunks covering as much as possible. Don't worry if it leaves a few pieces poking out, that will work itself out in the baking process.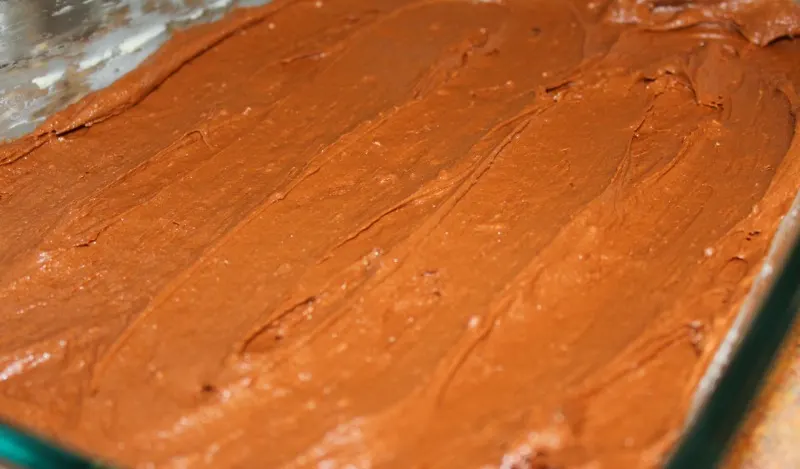 Bake in the oven for about 30 minutes. Make the frosting while the brownies are baking and set aside until the brownies are cooled and ready to be frosted.
To make the frosting all you will need to do is mix butter, powdered sugar, cocoa, vanilla, and milk in a mixer. Refrigerate until you are ready to frost the brownies. Check for the full recipe below.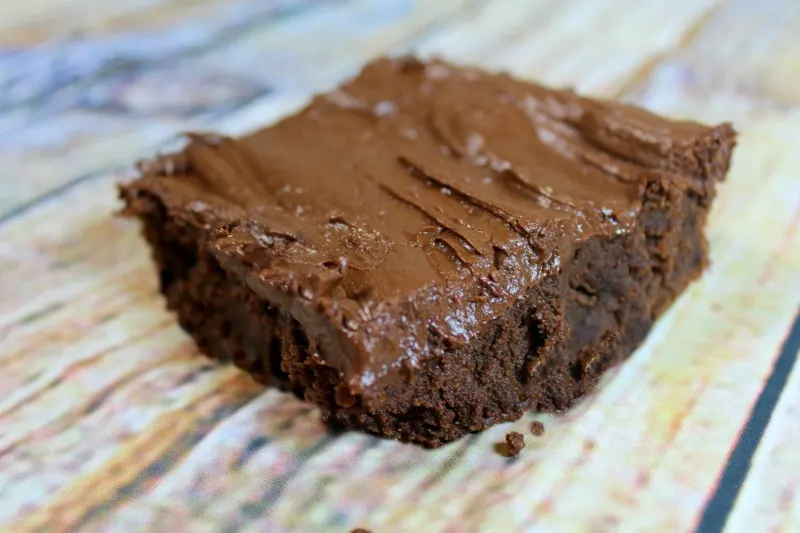 Does the name Chocolate Caramel Brownie Recipe pull you in or would a crazy name like kick you in the face brownies be more interesting?
Chocolate Caramel Brownie Recipe
Ingredients
1 1/2 Sticks of Butter
3/4 Cup of Sugar
3/4 Cup Brown Sugar
3 Eggs
1 Cup of Cocoa
2 Tablespoons of Vanilla
1/2 Cup of Flour
5 & 1/2 Ounces of Chocolate Chunks
5 & 1/2 Ounces of Caramel Bits
For the Frosting
6 Tablespoons of Butter
1 & 1/2 Cups of Powdered Sugar
3/4 Cup of Cocoa
3 Tablespoons of Milk
2 Teaspoons of Vanilla
Instructions
Preheat oven to 350 degrees
Mix all of the brownie recipe ingredients in a mixer except the chocolate chunks and caramel bits.
Pour half of the batter into a baking dish and then add the chocolate chunks & caramel bits.
Spread the rest of the batter on top.
Bake for about 30 minutes at 350 degrees.
For the frosting...
Mix all ingredients together in a mixer and then place in refrigerator until ready to spread on cooled brownies.
Nutrition Information
Amount Per Serving
Calories

243
Total Fat

18g
Carbohydrates

15g
Protein

5g