This shop has been compensated by Collective Bias, Inc. and its advertiser. All opinions are mine alone. #ShareTheHoliday #CollectiveBias
The gift giving season is upon us and there is nothing like making a homemade gift and sharing tasty recipes with all of the people in your life that give you so much throughout the year like military, teachers, garbagemen, and mailmen.
These chocolate marshmallow ornaments are the perfect DIY food gift to give this holiday season and I am making plenty so I can spread the cheer this holiday season with all of the people I want to thank for helping me throughout the year.
My daughter has several teachers that we want to send a food gift to and our friend Bob who is single veteran that loves home cooking, is sure to enjoy these chocolate marshmallow ornaments. I have found the perfect way to package them for gifting as well as the best way to keep them fresh, by using Rubbermaid TakeAlongs.
I'm not the only one who loves this brand because Rubbermaid has been a trusted name for over 80 years and they have been helping make the holidays a success for just as long. Plus they come in a variety of colors and shapes that are sure to make the perfect gift this holiday season no matter what you are whipping up!
The first step in creating these DIY food gifts is picking up your supplies from Walmart. I headed to the baking aisle to get the marshmallows, decorative icings & sugars, white chocolate, and food coloring. While I was shopping I found the Rubbermaid TakeAlongs in several places throughout the store. They were in a bin in the middle of the grocery section, on an endcap in the housewares department and on a shelf in the seasonal section as well.
Once you have your supplies, it's time to get into the spirit of creating DIY food gifts and seasonal treats for your loved ones.
The first step is to color your chocolate. Begin by melting your chocolate in the microwave for about 45 seconds and then carefully adding drops of the desired colors to the bowl.
Once you have your colors added stir the chocolate until well blended making sure to get out any dark spots. If it begins to thicken and become chalky, add a few drops of water to the chocolate and stir, this will thin it enough to dip marshmallows in but only add a little at a time because you don't want to dilute the flavor.
Dip your marshmallows into the chocolate and swirl it around to ensure it is fully covered. Set on parchment paper until it hardens but add any sprinkles or sugar glitter before it dries.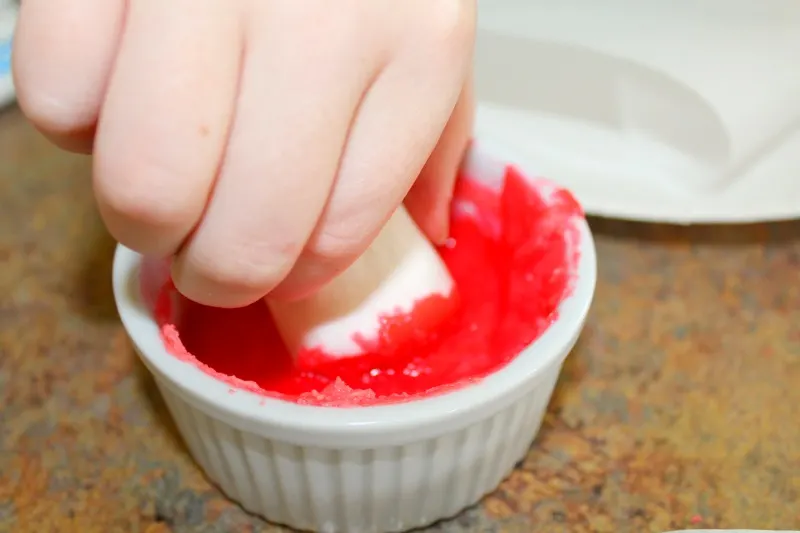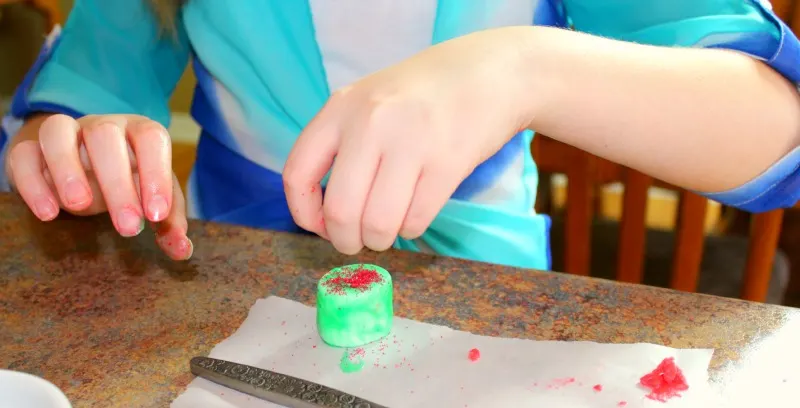 Once it has been sprinkled and has begun to dry, you can being to decorate with your choice of icing.
We dipped our marshmallows into the colored chocolate then sprinkled red and green glitters on top. We left some chocolate white because it really made the blue icing and the silver glitter pop.
After the icing dries you can being packaging these in your Rubbermaid TakeAlongs. I picked up the TakeAlongs Rectangles, and the TakeAlongs Deep Squares because this recipe fit perfectly in these shapes but there are so many varieties you can find the perfect size and shape for every food gift you make this holiday season.
Plus since they are microwave, freezer, and dishwasher safe, this is the gift that keeps on giving.
You can even add colorful tissue paper to the bottom for an extra pop of color but since these TakeAlongs come in holiday colors, they are pretty festive by themselves.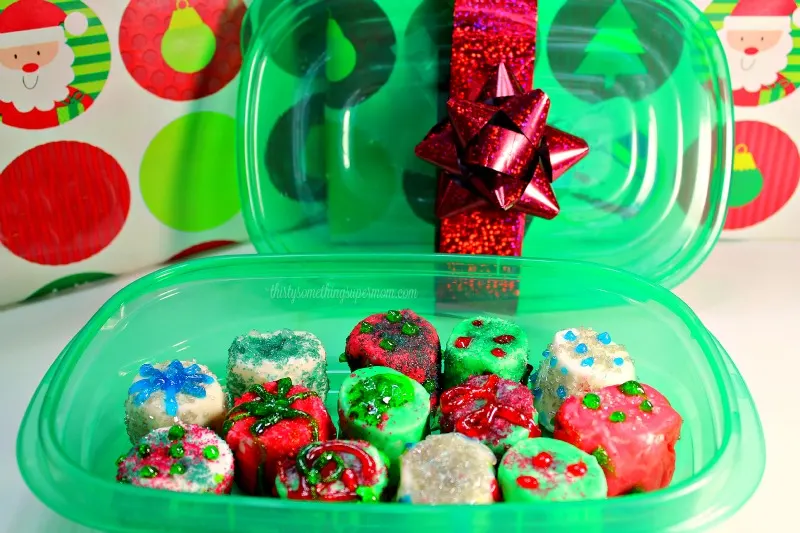 To help you spread the joy of food gifts this holiday season, starting on 11/25 you can receive $1 Off Of
Will you be giving DIY Food Gifts to your service providers like your mailman, teachers, veterans, and garbagemen this year?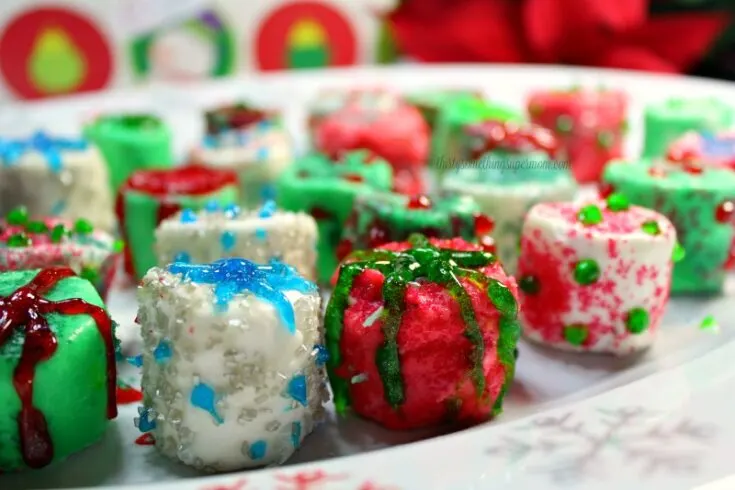 DIY Food Gifts Chocolate Marshmallow Ornaments
Ingredients
1 Package of white chocolate morsels or white almond bark
1 Package of food coloring
1 Package of colorful icing
Colorful Glitter Sugar in colors of your choice
1 Bag of Marshmallows
Instructions
Melt chocolate in microwave for about 45 seconds. It is a good idea to melt for 30 seconds, check it then, heat for another 15 until melted. Added desired colors of food coloring to chocolate and stir. Add water a little bit at a time if needed to think the chocolate.
Cover marshmallows in chocolate and add decorations of your choice!
Package in colorful Rubbermaid TakeAlongs and give these easy DIY food gifts to friends this holiday season.