Some of the most memorable gifts I have ever received were homemade, that is why I want to inspire everyone to create DIY Gifts for their loved ones this year with these 50+ DIY Gifts that everyone will love!
I have added in some affiliate links to Amazon products to help you get started creating your DIY projects with the supplies you need at the best prices. If you decide to make a purchase, I will recieve a small portion of the sale at no cost to you. Happy Crafting!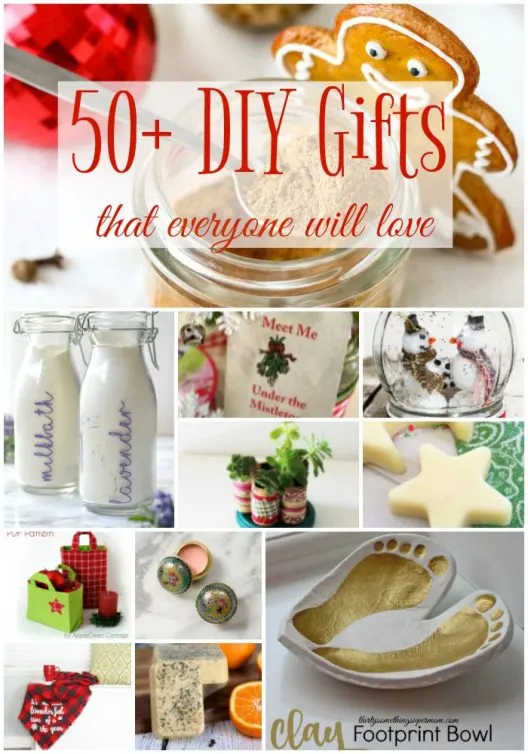 I love a good food gift and when my recipient is on a special diet it can be hard to make the perfect gift but these Vegan Cashew Chocolate Truffles are great for anyone following a vegan diet.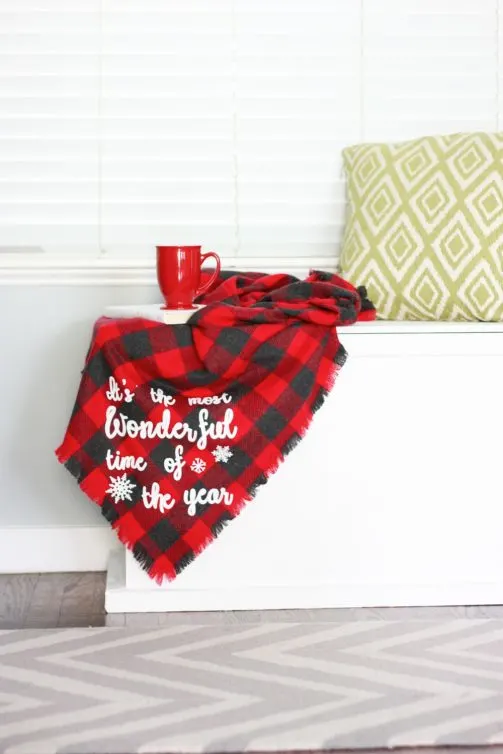 I love recieving gifts that help me to pamper myself like this Chai Vanilla Sugar Scrub and any coffee lover on your list would be lucky to get this Coffee Lovers Gift Basket filled with these adorable color changing heat senstive mugs!

Give a cozy gift by making this Flannel No Sew Blanket and help decorate any space with this Christmas Flag!
Another great food gift to give is Spiced Almonds or this Gingerbread Biscotti with Chocolate Sea Salt, they both pair great with a pop up Christmas card.

Succulents have been populay recently and these Miniature Cork Planters for Succulents make the perfect gift for anyone who has a greenthumb.
Another way to bring the holiday spirit and smell to your loved ones is with Peppermint Sugar Scrubs and you can keep them warm with these Decorated Ladies Winter Gloves.
Any food gift would pair perfectly with this Cake Plate Stand, and it can serve as a decoration for the holidays, too!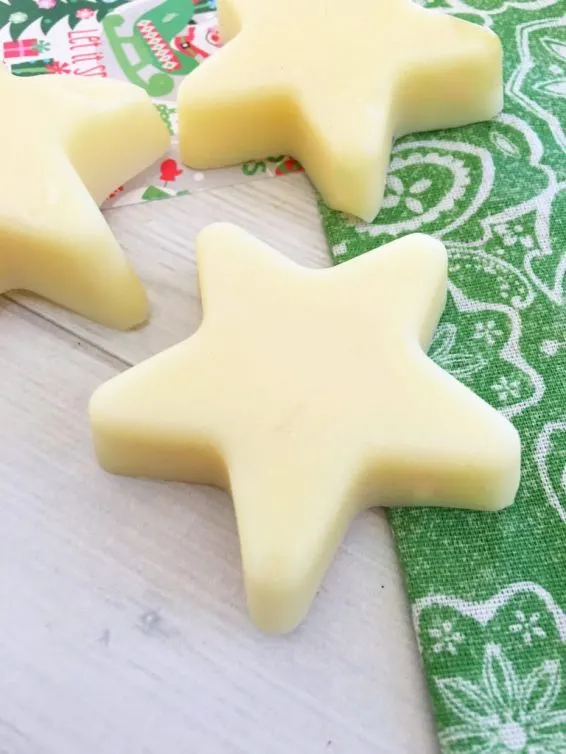 Homemade Lotion Bars are a great idea for teachers and so are these Mason Jar Christmas Kisses, Easiest Holiday Chocolate Bark , and this Rudolph the Reindeer Ornament.

Jewelry is always a nice gift and when you make a Tile Pendant Necklace, it becomes the gift that keeps on giving because your recipiemnt can enjoy it all year! The same goes for this Crochet Dream Catcher, Vintage Teapot Sewing Caddy , and this Year of Dates Gift!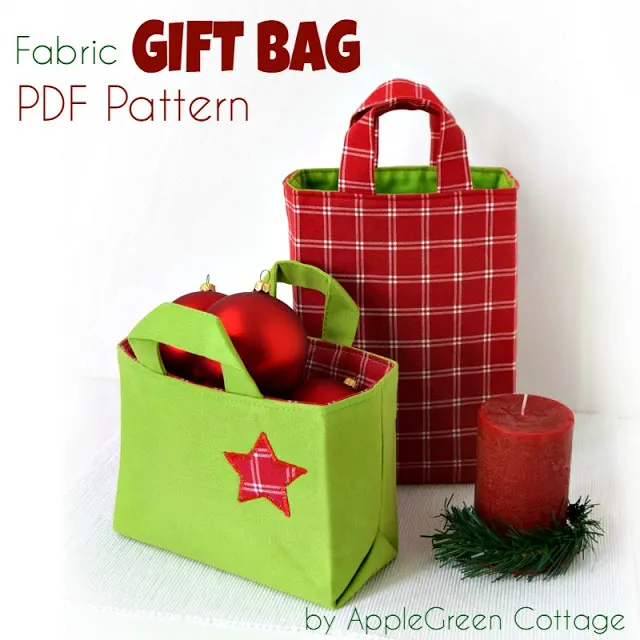 You can put all of your DIY Gifts into this Fabric Gift Bag or even present it in this Fabric Bin.
Another great idea that the kids can help make is this Shrinky Dinks Child Drawing Keyring and these Lego Shaped Rainbow Crayons!

Mom would love to receive this Clay Footprint Bowl, a Manicure Jar, some Homemade Fruit Baskets, or even this
Chocolate Chip Cookie in a Mason Jar!

Just the picture of this Lavender Milk Bath has me feeling relaxed, I bet it smells amazing!
Another great idea for that person that is hard to shop for are these Hidden Gift Jars, this Candy Cane Chocolate Bark , or these Marbled Nail Polish Mugs.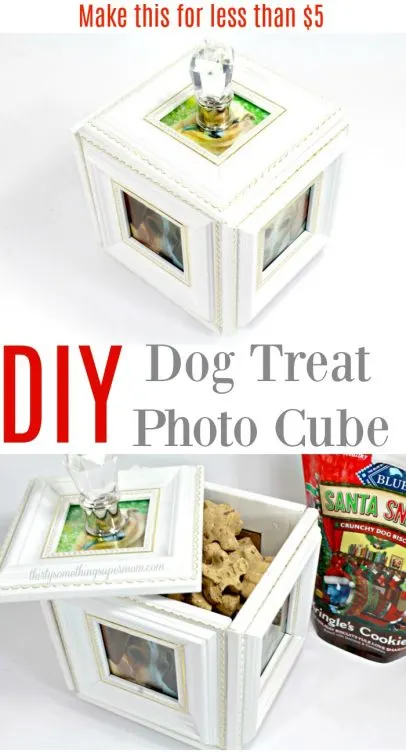 Any pet lover would love to receive this Dog Treat Photo Cube! You can stuff it full of Christmas Dog Treats that smell like the holidays!
Another scent that reminds me of the holidays is mint and this Mint Sugar Scrub would be a great way to get into the holiday spirit.
Kids and adults alike would love to receive these Honey Lollipops and these Easy Elastic Hair Ties!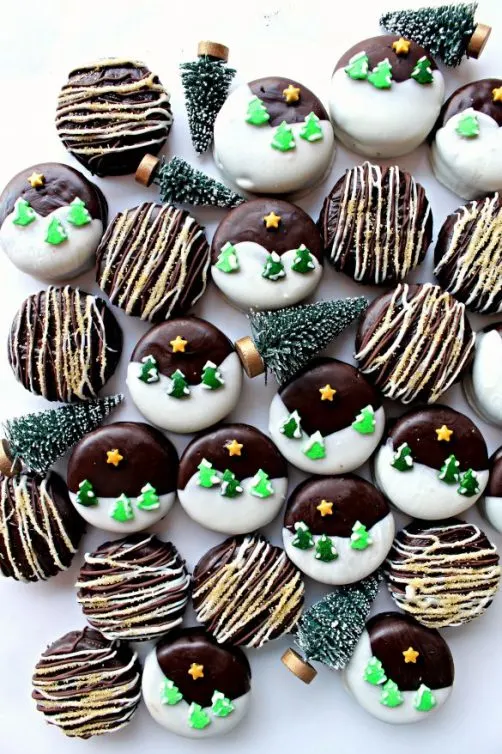 Give your postal carrier these Winter Wonderland Chocolate Dipped Oreos and make a couple extra for yourself to enjoy, they look amazing!
Another great teacher gift idea is Orange Bath Bombs or get the kids involved and make some Homemade Cinnamon Ornaments.
If your little one enjoys helping out in the kitchen this Girls Apron would make a great DIY Gift idea!
Tis the season for dry lips, this Homemade Lip Balm is the perfect solution.

Take advantage of this wine glass bulk deal and create some Hand Painted Wine Glasses or grab this killer deal on polka dot coffee mugs.

Everyone needs soap, why not make some Orange Clove Soap for everyone on your list? Throw in some of this Cocoa Mint Foot Butter to sweeten the gift!
This is a deliciously easy way to give a treat this Christmas, these Chocolate Covered Graham Crackers
paired with a bottle of Gingerbread Syrup would bring a smile to anyones face this holiday season!

This Gingerbread Spice Mix would look great in these adorable airtight jars.
Help bring the fun to a Christmas tree with these Minion Christmas Tree Ornaments and brighten up their mantel with a Dry Snow Globe!
Everyone can use a few minutes to themselves and this Spa Day Homemade Facial Mask is a great way to ensure your recipient gets that time to pamper themselves.
I hope these 50+ DIY Gift Ideas have inspired you to create something memorable to give to your loved ones this holiday season or has inspired you to create something special for yourself!