This post was sponsored by Sparkling Ice as part of an Influencer Activation for Influence Central and all opinions expressed in my post are my own.
Thanksgiving is almost here and I was recently inspired to create these DIY Thanksgiving Napkin Rings from the abundance of Sparkling Ice cans we had in our home. We go through a lot of Sparkling Ice + Caffeine in our home so being able to repurpose the containers has been a lot of fun.
They are perfect for creating Thanksgiving Napkin Rings and Fall decorations for the whole home. See how I made these DIY Thanksgiving Napkin Rings with nameplates for your guests. It's so easy to add a pop of color to any tablescape with this upcycle!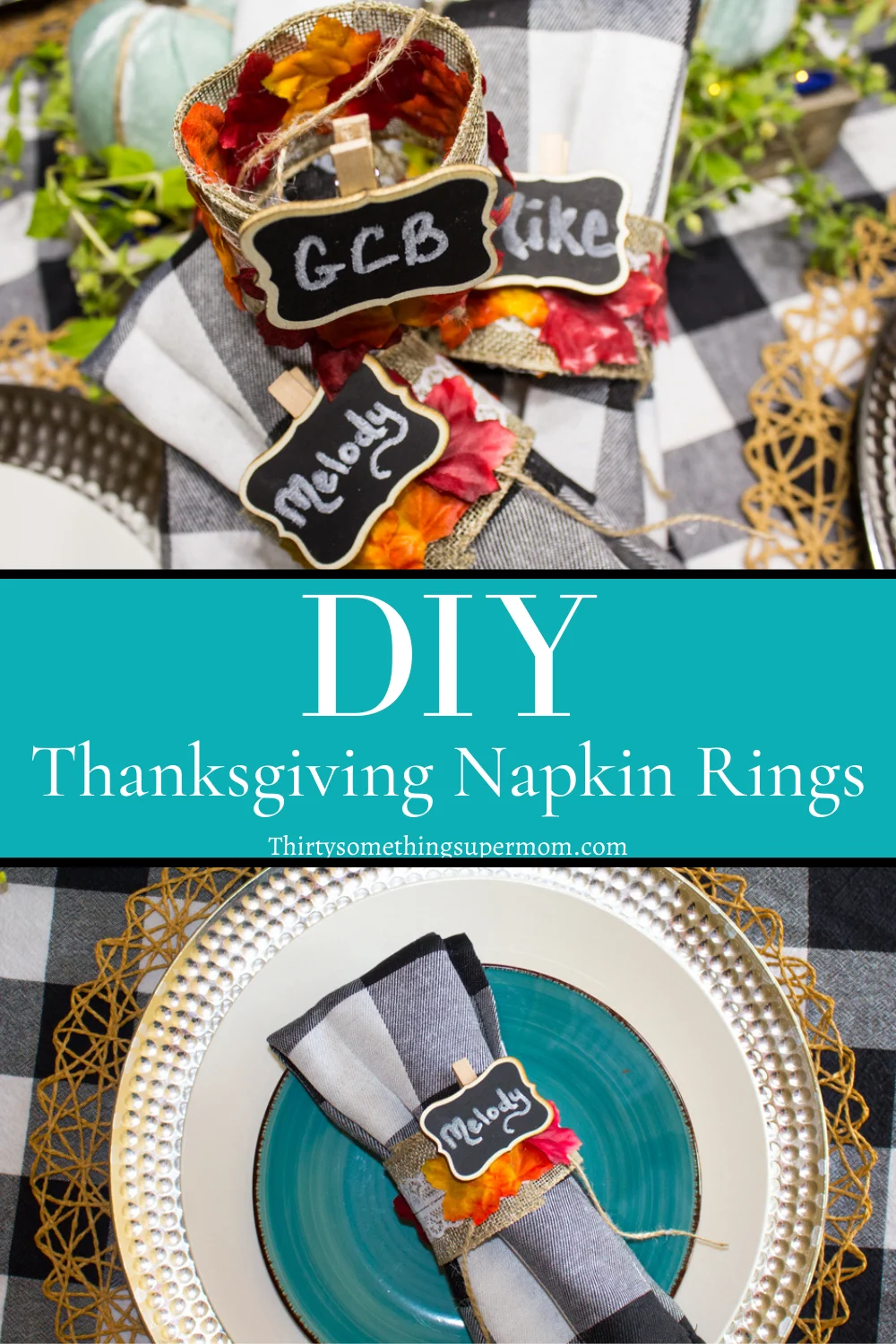 Repurposing things that would have otherwise ended up in the garbage is one of my favorite ways to craft. It's a great way to save on craft supplies and minimize waste.
I enjoy being creative and trying to come up with crafts that I will actually want to use.
Using Sparkling Ice cans to create Fall decorations is a win-win for me because not only do I have colorful craft supplies to work with but my husband is staying hydrated.
Keeping him hydrated has been a battle for many years but that is no longer a problem.
I could never get him to drink plain water in the past but he loves Sparkling Ice. He really enjoys the fizzy, fruity, bold flavors that you can not get from plain water. Instead of having to get on his case and feel like a nag about his water consumption, he picks his favorite flavors and happily drinks it.
He was especially excited to find out about the 6 bold and bright flavors of Sparkling Ice +Caffeine. After trying them all, our two favorites were the Sparkling Ice + Caffeine Black Raspberry and Strawberry Citrus.
It's nice to have these new delicious flavors to try and it was a nice bonus when he found out that they contain 70 mg of naturally sourced caffeine.
Plus, Sparkling Ice is a Keto friendly way to make his taste buds happy and keeps him satisfied in between meals!
It's perfect for getting him through long workdays and keeping him hydrated. There is no complicated Keto math needed because Sparkling Ice has zero sugar, zero carbs, plus it's packed with vitamins and antioxidants.
I love the fact that I can receive points for Sparkling Ice Rewards and have a chance to enter to win a year's supply of Sparkling Ice just by buying Sparkling Ice + Caffeine products in Hyvee stores.
This always-on program offers lets us earn points with the purchase and quick upload of the receipt. Find out about the different rewards you can earn with Sparkling Ice Rewards.
I also love creating crafts from the Sparkling Ice bottles and cans, especially for the Fall. I especially love repurposing things and with Thanksgiving right around the corner, I was inspired to create these DIY Thanksgiving Napkin Rings using Sparkling Ice cans.
How to Make DIY Thanksgiving Napkin Rings
This Fall craft starts out with a quick cut to the Sparkling Ice cans, I used an angle grinder to get the circles perfect. The next step is to wrap the rings with ribbon, using a hot glue gun to attach it around the entire ring.
I then used some colorful Fall craft leaves to make the inside pop with beautiful Fall colors and offer protection from any jagged edges. Using a hot glue gun, completely cover the inside of the can ring with leaves.
Variations on Your DIY Napkin Rings
The next thing I did when creating these DIY Thanksgiving Napkin rings isn't necessary but I feel like it adds a nice touch. I glued a little bit of string to dangle down on the front of the napkin.
Adding the string is not only decorative but you may decide that you will want to use it for one of the options below.
You can customize this to fit your Thanksgiving decor and make the strings long enough to wrap around silverware if you'd like. Another idea for these strings is to wrap a small gift for each guest, a small piece of candy is always a good idea.
You can make a fun Thanksgiving activity out of the napkin holders, using the string to wrap a piece of chalk for each guest. After everyone has enjoyed dinner, they can write one thing they are thankful for before leaving their napkin ring behind.
Don't worry about the messy look of the strings when gluing them to the napkin ring, the next step will take care of that.
I then added more bright and colorful leaves to the center of the napkin ring, covering where the strings were glued to the napkin rings. I tried to fan them out in a way that would allow them to stick out beyond the next step in the process.
The last step is to add a mini chalkboard that clips right onto the ring. The bright and colorful leaves really make this black nameplate pop!
I hope you enjoyed learning how I created these DIY Thanksgiving Napkin Rings and I also hope that you were inspired to create your own.
Be sure to head to Hyvee and purchase Sparkling Ice to sign up for Sparkling Ice Rewards so you can enjoy a delicious drink and have tons of new materials to upcycle!