Keep in mind that although this Pressure Cooker Apple Crisp Recipe is sponsored by Power Quick Pot. All opinions are my own. This post may contain affiliate links which means that if you make a purchase after clicking a link, I will receive a portion of the sale at no additional cost to you.
If you are looking for a quick dessert that tastes like it took all night to prepare, this pressure cooker apple crisp recipe is as good as it gets.
Using a pressure cooker to make dinners, desserts, and even breakfast has become really popular due to its time-saving capabilities.
Everyone can use a little extra time and thanks to the Power Quick Pot as well as this Apple Crisp Recipe, you can save a bunch of time making dessert.
What does the Power Quick Pot do?
If you are not familiar with the Power Quick Pot yet, let me tell you a few key things to keep in mind about this do it all kitchen helper.
It does everything! Seriously take a look at the front of the Power Quick Pot below to see all of the different settings.
Clear some space in your kitchen and get rid of all of the clutter that is no longer necessary since the Power Quick Pot does all of the following:
Pressure cooker
Slow Cooker
Rice Cooker
Yogurt Maker
Cake Maker
Egg Cooker
Steamer
Sous Vide
I told you it did everything! It's so nice to have one machine that really does the work of so many others.
No matter trying to fit everything into the cabinets or cluttering up my kitchen countertops, this is a real space saver.
Is the Power Quick Pot Easy to Use?
It is so easy to use and comes with directions that are actually easy to understand.
That is another thing that I love about the Power Quick Pot is how easy it is to use, everything is labeled in a way that leaves little room for error.
There is so much to love but my favorite thing about the Power Quick Pot is saving time making my favorite recipes like this Apple Crisp.
I love making this recipe because it is so simple, it just requires dumping a bunch of ingredients into your Power Quick Pot.
The settings are so easy to use. For this apple crisp in the pressure cooker recipe, you just need to select the pressure cooker setting of low, and then wait to enjoy a deliciously gooey apple crisp.
Is making a Pressure Cooker Apple Crisp difficult?
The hardest part of this entire recipe is the peeling and dicing of the apples.
That really isn't very difficult so overall I would say that this recipe is so simple to recreate!
There may be other ways around the peeling and dicing of the apples if you play your cards right.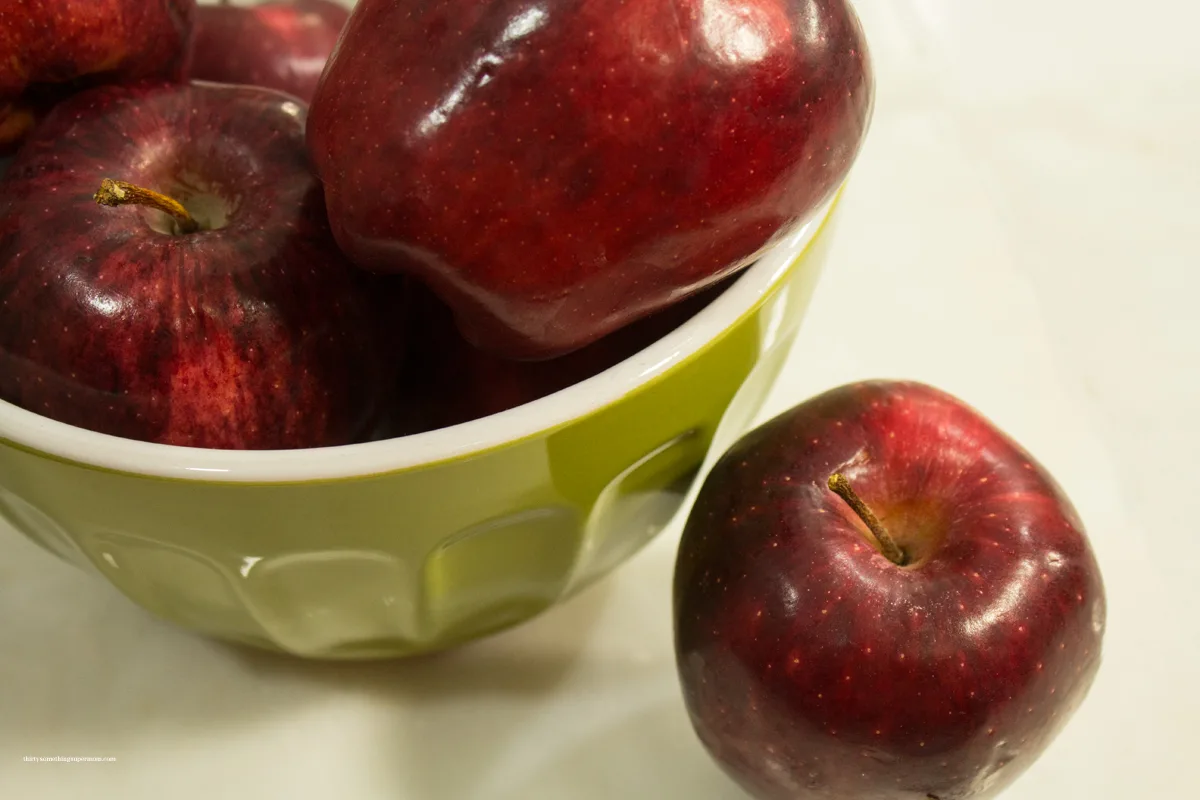 Learn how to make an Apple Crisp in the Pressure Cooker even Easier!
I have learned that this Apple Crisp is so good that all you have to do is promise a bowl to someone in exchange for help, then you don't even have to peel or dice the apples.
If you are teaching kids to cook and learn their way around the kitchen, this may be a good recipe to have them help prepare.
Cooking with kids is not only a great way to teach them how to take care of themselves but it can be a lot of fun, too.
I have always enjoyed baking and cooking with my daughter. She enjoys making cookies and cakes but doesn't really have much of an interest in learning how to prepare foods she doesn't enjoy.
It seems to be easier to recruit help for fun recipes like this pressure cooker apple crisp than it is to get someone to help prepare a salad.
If you have kids around who are curious about preparing their own meals, this is a great place to start.
Measuring out the different ingredients can be a fun job for little ones and dicing apples can be a good chore for the older kids.
Plus, it is very helpful to have someone there to rinse the fruit, dice it, and do a few of the steps for you.
Once all of the ingredients besides the apples are prepared, mix them together in a mixing bowl. This part can be fun for the little ones, too.
Mixing things together seems to be an enjoyable task for most kids.
It's an easy yet important part of the recipe and they can master this skill pretty quickly.
Once you have the topping prepared and the apples ready, dump everything into the Power Quick Pot.
Make sure you are adding the apples to the pressure cooker first, they should lay on the bottom of the pressure cooker.
Spread the prepared topping mixture on top ensuring good even coverage over the apples.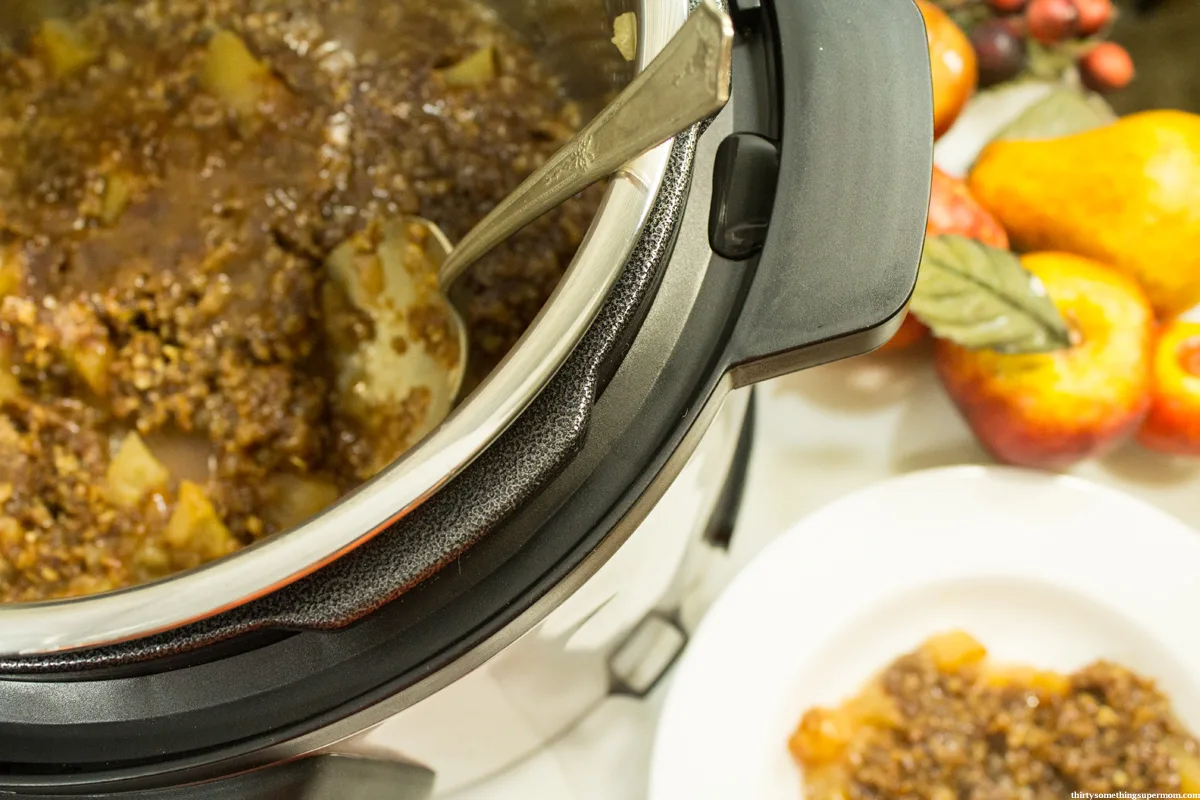 Select the pressure cooker button and watch the lights change colors to signify the cooking method.
The blue light means standby, the orange means preheating, and the red means fully heated.
I really appreciate this feature of the Power Quick Pot, it lets me know every step of the way that my recipe is being prepared according to plan.
Once the Power Quick Pot beeps, I know it is time to release the pressure by pushing the cancel button and moving the release switch to the open position.
After the steam escapes from the top, it's safe to open the Power Quick Pot and serve up this deliciously gooey Apple Crisp.
More Easy Recipes to Try
Don't forget to share this Pressure Cooker Apple Crisp Recipe on your favorite social media and pick up a Power Quick Pot to help with all of your holiday cooking.
Have you tried this versatile machine out or made this recipe?
I would love to hear all about it, leave a comment below and be sure to subscribe to the newsletter so that you never miss a recipe again!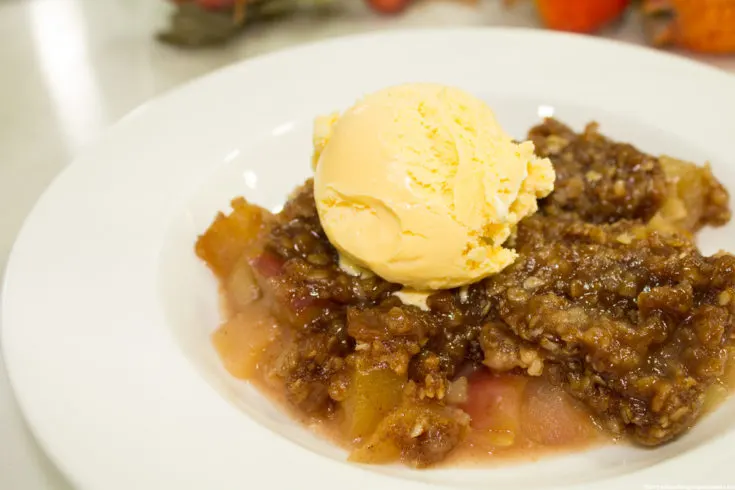 Pressure Cooker Apple Crisp
Ingredients
6 Red Delicious Apples
1 Cup of Oatmeal
1 Cup of Brown Sugar
1 & 1/2 Tablespoons of Cinnamon
1/2 Cup of All Purpose Flour
2 Teaspoons of Vanilla Extract
1 Stick of Butter
Instructions
Peel and dice apples, set aside.
Mix all other ingredients together in a mixing bowl.
Pour apples into pressure cooker.
Spread mixture evenly on top of apples.
Select pressure cooker low for ten minutes.
Serve with a scoop of vanilla ice cream for a creamy dessert.
Nutrition Information
Serving Size
1
Amount Per Serving
Calories

2205
Total Fat

98g
Saturated Fat

60g
Cholesterol

243mg
Sodium

730mg
Carbohydrates

320g
Sugar

197g
Protein

23g