This post sharing how to clean battery corrosion in remote control contains affiliate links which means that if you make a purchase after clicking a link, I will receive a small portion of the sale, at no additional cost to you.
How to Clean Battery Corrosion & Save Your Remote
My family recently started spending more time in our family room instead of our living room where we had been watching television for the past two years.
After using the area as storage for a long time we finally decided to make it family-friendly and redecorated the area.
When we got ready to watch our first movie in our newly decorated space, our plans were interrupted by a remote that stopped working due to battery corrosion.
The remote had been in storage for years and we never expected it to be sitting so long so we didn't remove the batteries before storing it.
Instead of wasting money by ordering a new one and waiting a few days to get it in the mail, I decided to try to clean the battery corrosion myself.
What you will Need to Clean the Battery Corrosion & Save your Remote:
Vinegar (click it to see which kind I use)
Fresh batteries, such as Energizer® EcoAdvanced™ batteries which you can pick up by clicking here.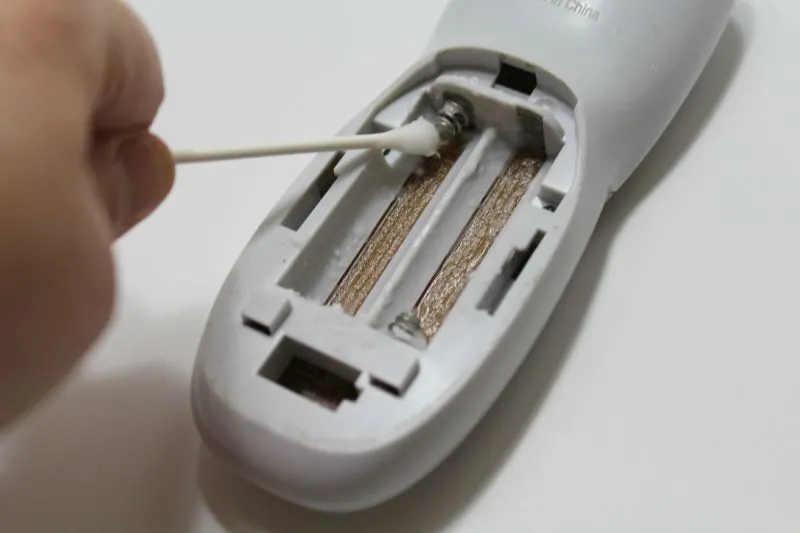 How to Clean Battery Corrosion in Remote Control
Dip your cotton swab into the vinegar and lightly scrape against the corrosion build up inside the battery compartment.
Try not to saturate the area with excess liquid and use a little bit at a time to prevent getting liquid into the wiring inside.
If your battery corrosion is not being phased by the vinegar try adding a little baking soda to the vinegar for a tougher clean.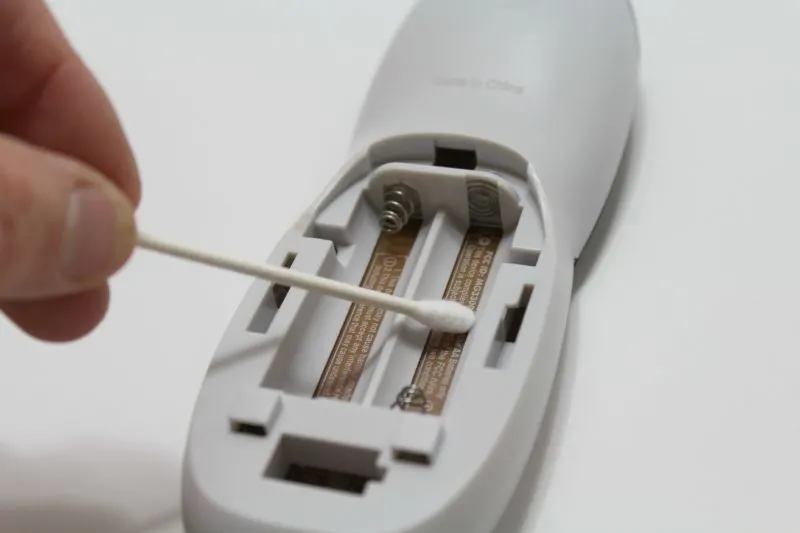 Use another cotton swab to dry out the leftover vinegar and battery corrosion before replacing batteries.
It is helpful to keep this batter corrosion cleaner on hand but you don't have to have it premixed. Keeping a bottle of vinegar in your home is useful for many common household problems, beyond battery corrosion.
See how I clean my microwave easily using vinegar by clicking here.
Will this Method Work for Car Battery Corrosion?
Yes! This method works great for almost all battery corrosion issues although the application method may change depending on the surface you are cleaning.
When cleaning battery corrosion off of a car battery, instead of using a cotton swab, use a toothbrush instead.
This type of abrasive bristle can help get the caked-on corrosion off of your battery much easier than a cotton swab.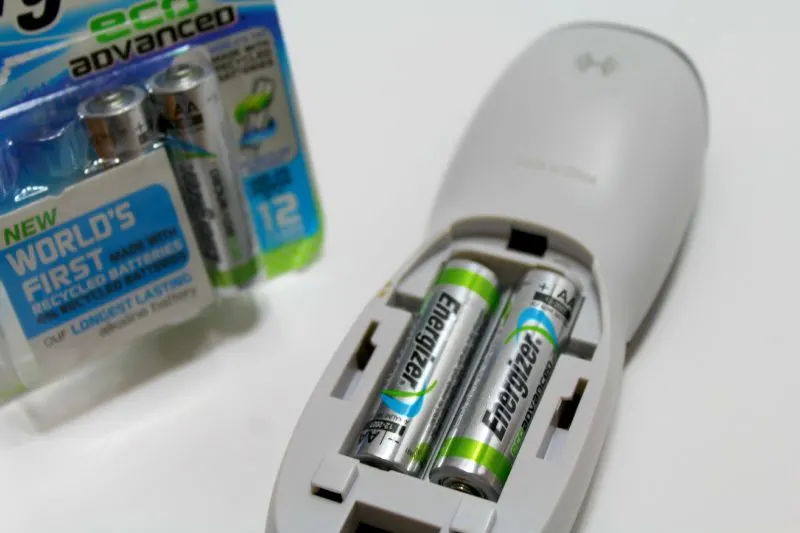 I chose Energizer® EcoAdvanced™because it is the world's first AA battery made with 4% recycled batteries and is Energizer's longest-lasting battery.
Try it! Power your most critical devices AND have less impact on the planet!
They are easy to find in the battery center at Walmart and you will be doing yourself and the environment a favor by picking these up the next time you need batteries.
Stocking up on batteries is always a good idea, especially during the holiday season. You never know when the type you need will be out of stock.
Plus, when the power goes out, you will be happy that you stocked up on batteries.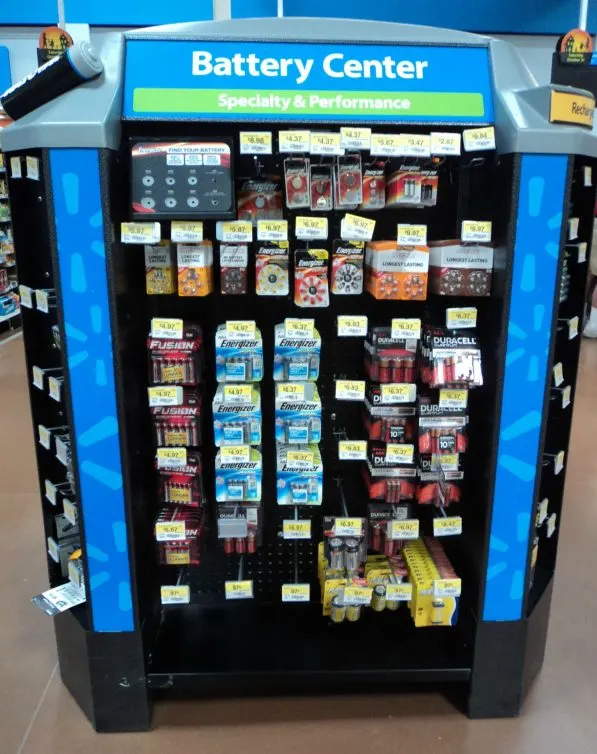 What Causes Battery Corrosion?
Upon opening up your remote and seeing battery corrosion, you may wonder what causes battery terminal corrosion.
Battery corrosion in your remote control is due to hydrogen gas being released from the acid in the battery, mixing with other things in the atmosphere.
This can happen to almost any device that uses batteries, although according to their website, Energizer® is different.
They design their batteries to prevent damaging leaks and even offer to replace your device if they cause a damaging leak.
That seems like enough reason to pick up a pack of these batteries that are guaranteed for up to two years to not leak!
This is a smart investment if you continuously have a battery corrosion problem.
It could be the brand you are using and it would be a smart investment because cleaning battery corrosion out of your remotes, isn't a guarantee.
Sometimes even when following this battery cleaning method, you will find yourself with a remote that you just can't seem to get working again.
Picking up these leakproof, lithium batteries is a smart investment, even if you don't plan on using them right away. They hold power for up to 20 years in storage.
How to Prevent Battery Corrosion
In my case, the cause of battery corrosion was due to storing the remote control with batteries inside. Over time the gas being released caused this problem.
The obvious way to prevent this particular problem would be to never store your remotes with batteries inside.
Removing the batteries before storing your remote away for a long period of time could help prevent this problem in the future although this isn't a completely foolproof method.
I have tried to prevent this issue in the past but I still had battery corrosion build up inside of old remotes that were stored without batteries.
When this is the case, I still need to remove the battery corrosion with this battery corrosion cleaner even though the batteries have been removed.
This is most likely due to batteries leaking before removing them from the remote control.
Giving the remote a quick clean before storing it can help to remove any leftover battery corrosion that may become a bigger problem over time.
Some people have reported success with adding a bit of a battery terminal grease to prevent battery corrosion buildup.
This is usually done on car batteries or bigger items than a remote but if you are continuously having this problem and refuse to try these batteries that guarantee to not leak, you may want to grease your terminals occasionally.
I hope I was able to help you learn How to Clean Battery Corrosion & Save Your Remote. Have you tried this method before, how did it work for you?
Please share this post on your favorite social media channel so everyone can see how to clean battery corrosion and save their remote!
Don't forget to sign up for the free newsletter and follow along on social media so that you never miss a post again.
Why Do Batteries Corrode In Remote?
Corrosion is caused by a chemical reaction of hydrogen gas building pressure and this pressure needs an escape from the battery.
The result is the battery leaked in remote or battery exploded in remote. This is why I am glad that you have found this post that shares how to clean battery acid from remote.
Can Battery Acid Ruin Remote?
Yes! This is why you need to know how to remove battery acid from remote.
Once you have found that the batteries leaked in remote or that your batteries corroded in remote you must apply what you learned here about how to clean remote battery terminals.
I hope this post sharing how to remove battery corrosion has helped you to fix your problem and show you how to clean battery corrosion.
Helpful Posts
Learn how to make your own DIY Dog Tags from items you may already have at home. Be sure to see how I make this homemade SCD yogurt recipe. Be sure to look through all of my DIY Posts here.