I have always loved the taste and smell of coffee, especially Iced Coffee but over the years I kind of stopped drinking it. I know that sounds crazy to the people who can't seem to get going in the morning without starting their day with a cup of coffee.
I just really didn't have the time in the morning to make myself coffee and I am way too cheap to head to a local coffee shop only to pay someone else to do it for me.
Ever since I got the Ninja Coffee Bar® System for the purposes of my honest review, I have been making refreshing Iced Coffees that would rival any coffee shop at far less than half the price. There is no reason to head out for a fancy drink when I can make them at home so easily.
It turns out that making fancy Iced Coffee isn't exactly the difficult task I had always imaged it was after watching the baristas at my local coffee shop struggle to take care of their customers. The machines always look so intimidating and I have only ever owned the kind that had one basic button, on/off.
When I see the machines available that claim to make all of my favorite coffees at home, they not only fail to do what they claim they can but it is difficult to even figure out how to make the machines brew a simple pot of coffee, let alone a more complex recipe. They have never been as user friendly as the Ninja is and I have already figured out how to do anything I want with this coffee bar.
Seriously, take a close look at all of the easy to use parts on this machine, buttons, dials, swivels, and everything makes sense for once!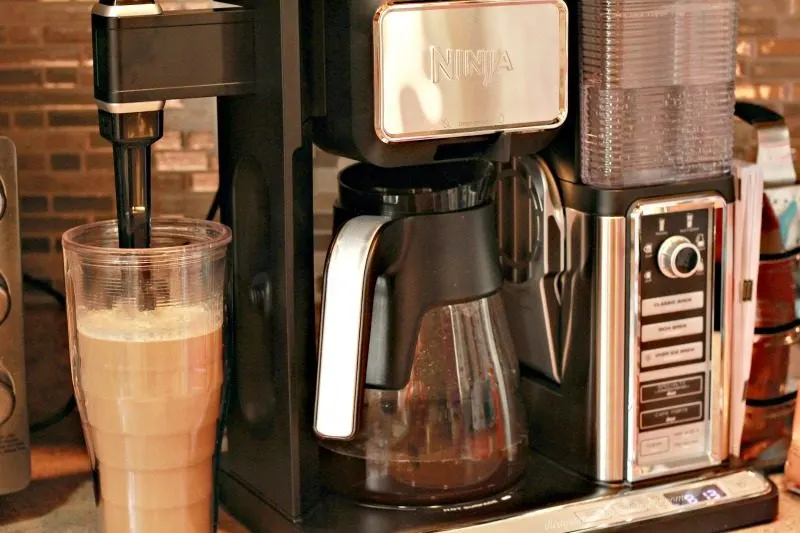 The grocery store sells a large selection of coffees to recreate any of your favorite coffee shop flavors and with the Ninja Coffee Bar® System, you now have the tools needed to get the job done right.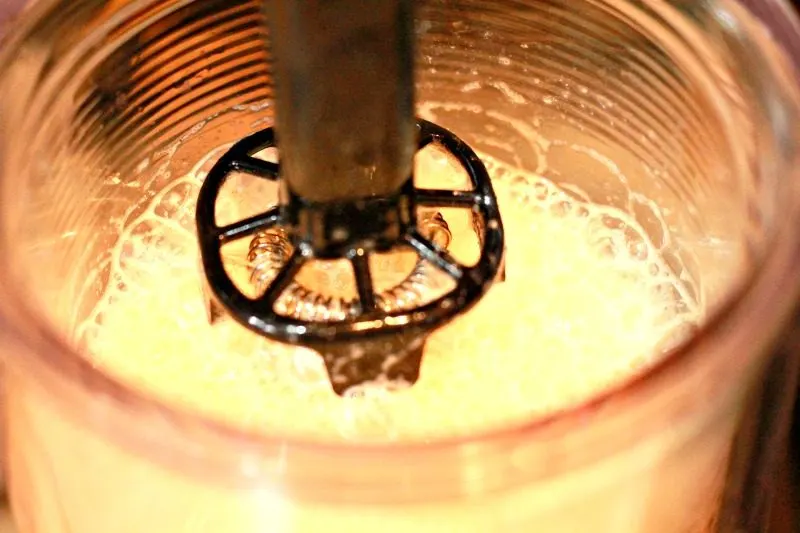 It provides an integrated frother, six brew sizes, five brew types, including the Ninja exclusive Café Forte – which amplifies the natural subtle flavors of your favorite coffee, for a sensationally different and delicious coffee experience!
Using the Ninja Coffee Bar® System I created a delicious recipe that can be made in a coupe of minutes. I love how easy it is to move the filter basket, froth, change between brewing types and one of the most important parts of course is cleaning the system when you are done using it.
Yeah, there is a button for that, it seems there is a button for everything on this system. Making specialty coffeehouse style recipes has never been easier or tastier.
With just a few pushes of the button and a few delicious ingredients you can enjoy this Chocolate Splash Iced Coffee Recipe in your home everyday.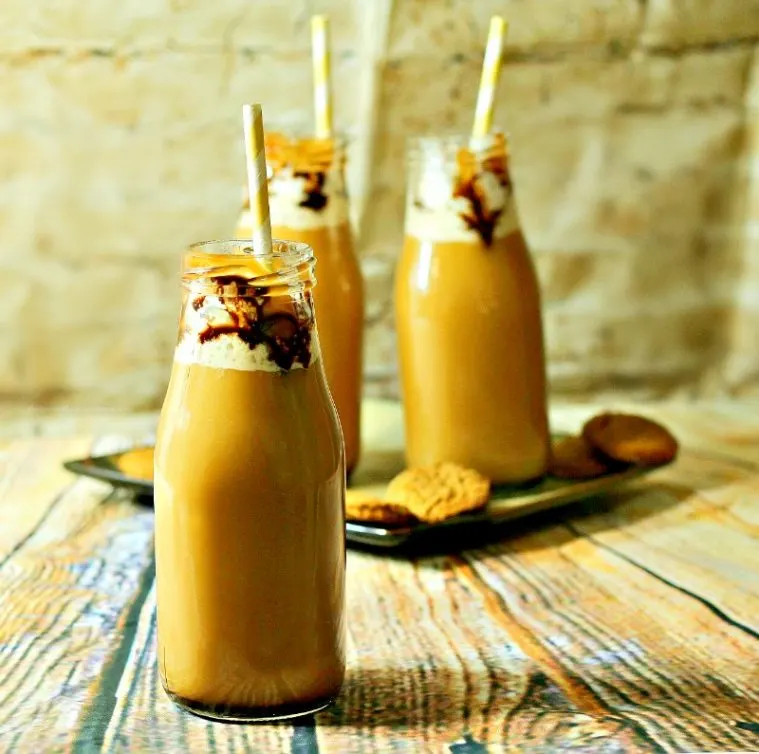 Pick up a Ninja Coffee Bar® and enjoy this Chocolate Splash Iced Coffee Recipe anytime in your own home! What is your favorite fancy drink that you would like to be able to make at home?
Chocolate Splash Iced Coffee Recipe
With just a few pushes of the button and a few delicious ingredients, you can enjoy this Chocolate Splash Iced Coffee Recipe in your home every day.
Ingredients
1 Full Carafe of Ice
2 Big Ninja Scoops of your favorite medium/dark roast of coffee
1/3 Cup of Half & Half
Whipped Cream for Garnish
4 Tablespoons of Chocolate Syrup plus more for garnish
Instructions
Scoop the coffee into the Ninja Coffee Bar System brew basket.
Add water to the reservoir if it needs to be filled.
Press the Iced Coffee button as well as the full carafe button.
When brew is complete, pour the coffee into a large plastic cup, you can use the one provided with your Ninja coffee system.
Add chocolate and half & half.
Use frother to combine and then pour into glass for serving. Spray whipped cream on top and garnish with more chocolate syrup. Serve and enjoy.
Notes
This recipe can easily be made low carb by not adding the chocolate syrup and using low carb whipped cream for the topping.
Nutrition Information
Yield
1
Serving Size
1
Amount Per Serving
Calories

325
Total Fat

11g
Saturated Fat

7g
Trans Fat

0g
Unsaturated Fat

4g
Cholesterol

33mg
Sodium

109mg
Carbohydrates

53g
Fiber

2g
Sugar

41g
Protein

5g
The nutrition in recipes is caluculate by AI, mistakes happen. It is highly recommended to check carb counts to make sure these recipes fit into your diet.