This post contains affiliate links, if you make a purchase I receive a percentage of the sale at no further cost to you, thank you for supporting my site.
This easy deep-dish pizza recipe is so delicious that if you don't make it yourself you won't believe how easy it is to make!
I created this recipe when the craving for a deep-dish pizza hit and since I live in Iowa, it wasn't like I could just head over to the local pizza shop and pick one up.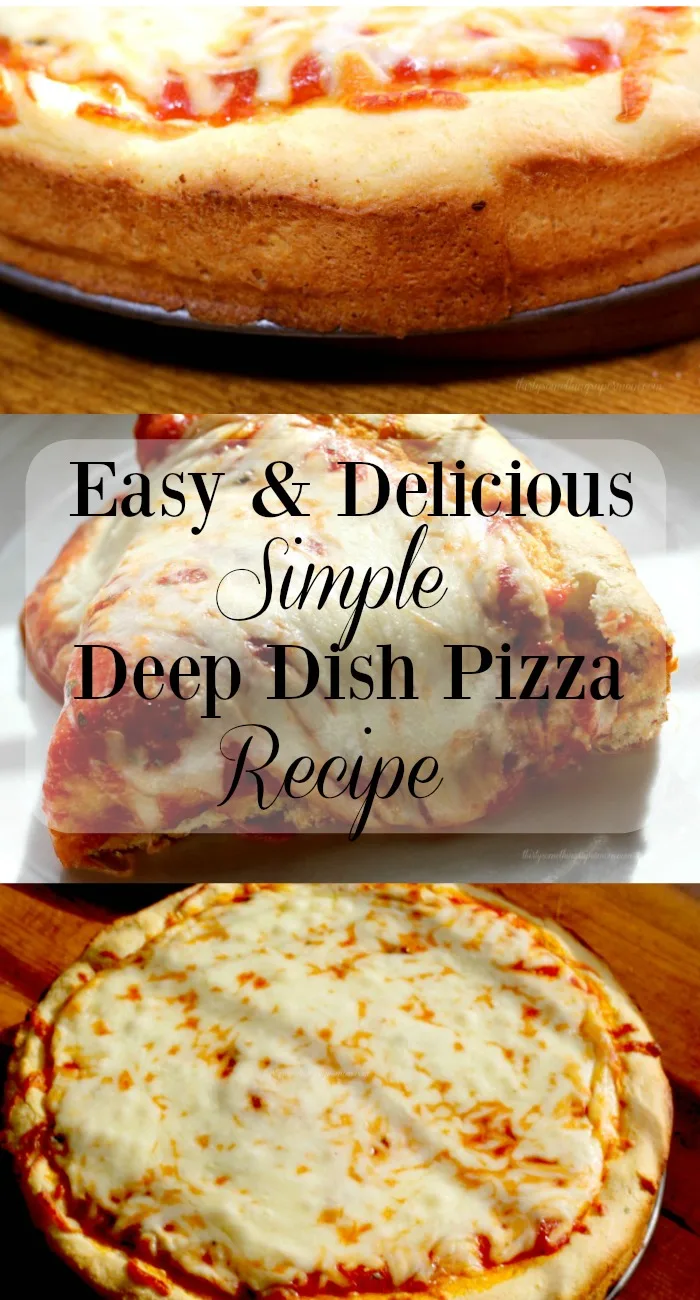 When we lived in the Chicago area, there was a pizza place on every corner serving deep dish pizza.
Although I grew up in New Jersey where my favorite New York Style pizza is served, I learned to love the Chicago Deep Dish Pizza while living there.
Now that I live in the Cedar Rapids area it is a bit more of a struggle finding new favorites and I can't imagine myself longing for any of the local food establishments if I move away from here.
I am constantly on the lookout for a decent place to eat that has fair prices and good service but it seems that combination is a bit too much for the business owners in the area to handle.
I have found a couple of places that serve good food but like everywhere else, they have their good and bad days.
The problem is when you pay the prices they charge out here for food, which is a surprisingly high amount considering most of our food is grown and made right here.
It really sucks when you don't get the best quality of both service and food.
Lucky for my readers the lack of good food has inspired me to create all of my favorites and share the recipes with you.
If you don't already subscribe, please do so by filling out the form on the right.
This will allow you to receive my new posts by email and be sure to follow me on social media as well by clicking the icons up at the top of this page.
Now for the good stuff, the easiest and most delicious Deep Dish Pizza Recipe I have ever made.
This deep-dish pizza is so good I don't even care how full of myself that last line made me sound, I deserve the right to brag, and you will too after you make this for your family.
The first step in making this deep dish pizza recipe is to create the dough.
Add yeast and water to your mixing bowl and allow to sit for a minute to activate the yeast.
Add the rest of your ingredients, adding flour in slowly.
Add more water or flour little by little as needed to achieve the proper consistency.
Place dough bowl in a warm place and cover it with a towel.
Allow dough to rise for about an hour to an hour and a half.
Once your deep dish pizza dough is doubled in size, add it to a spring form pan by pressing the edges into place and against the bottom of the pan.
Add about one cup to a cup and a half of tomato sauce to the middle/bottom of the crust.
You don't have to cook the sauce, adding it straight from the can is just fine as it will cook in the oven.
Add seasoning directly to the top of the sauce, no need to mix it in. I like basil, red pepper, and garlic.
These flavors mix well to create that perfect deep-dish pizza flavor I crave.
Add about a cup to a cup and a half of mozzarella cheese.
I have always loved extra cheese so I tend to make my deep dish pizza with a lot of cheese.
Next, you will add any and all toppings you would like to put on your deep dish pizza.
I enjoy pepperoni, sausage, or even veggies on top but my favorite way to eat this pizza is with just cheese!
Sprinkle a little olive oil on the top of the crust before popping it in the oven, this will give your deep dish pizza a nice crunch to the crust.
Bake in an oven preheated to 500 degrees for about 12-15 minutes.
Pizza is done when the crust achieves a nice golden brown color, the dough has risen and the cheese is completely melted.
Once the pizza is out of the oven you can immediately pop the outside of the spring form pan and cut into this delicious deep dish pizza.
I enjoy eating this deep dish pizza while it is really hot, fresh out of the oven.
For those of you who didn't spend their childhood smoking cigarettes and have the normal amount of sensitivity on your tongue, you may want to wait until it has cooled off for a couple of minutes.
Just looking at these pictures of the deep dish pizza makes me want to make one for dinner tonight.
Seriously and I am not just saying this because it is my recipe but this is the easiest deep dish pizza I have ever made, as well as the most delicious!
Depending on how long you wait before you dig into this deep-dish pizza, you may need to eat it with a fork and knife.
After the first piece, it should be a little less messy but I wouldn't count out the fork depending on how much cheese or sauce you put on your deep dish pizza.
I love learning about the different types of pizza from around the world. What is your favorite kind, deep-dish pizza, New York thin, or something else?
Did you grow up eating that style and what other kinds have you tried that you can compare it to?
Tell me about it in the comments below!
Easy Deep Dish Pizza Recipe
Ingredients
2 Cups of All Purpose Flour
1/4 Cup of Corn Meal
1 Tablespoon of Sugar
1/2 Teaspoon Salt
1 Package Yeast
1 Cup of Warm Water
3 Tablespoons of Butter
2 Teaspoons of Olive Oil (divided)
About 1-1/2 Cups of Tomato Sauce
1 Teaspoon of Red Pepper
1 Tablespoon of Garlic
2 Tablespoons of Basil
1 & 1/2 Cups of Mozzarella Cheese
Instructions
In a stand mixer add the warm water and yeast. Let the two sit for a couple of minutes to activate yeast. Add in half of the flour and mix. Add the cornmeal, sugar, salt, half of the oil and butter.
Finish adding in the rest of the flour slowly. Add a little bit more water if the dough seems too dry or a little more flour to thicken it if it looks too moist.
Remove dough from mixer and place in bowl. Cover with towel and let rise for about an hour and a half.
Once dough has risen, place it in a spring form pan and press it into the bottom and sides leaving a overhang for crust on the sides but not more than a half of an inch. The dough will rise and form a crust as it bakes.
Add sauce to the center of the crust.
Sprinkle seasonings on top of sauce.
Add mozzarella on top of the sauce and any toppings you would like to add such as sausage or pepperoni.
Sprinkle olive oil on top of the crust edge and place in preheated oven at 500 degrees for about 12-15 minutes.
Try these Related Recipes
Be sure to try this garlic bread recipe that shares how to make garlic butter sauce for bread. You won't want to miss this recreation of merichka's poor boy sandwich recipe.
You may also enjoy a healthier version of this deep dish pizza, I must admit that it isn't as good as the real thing but if you are trying to eat low carb or are gluten sensitive, it will do the trick.