This is a sponsored post written by me on behalf of Woolite, all opinions are my own.
How To Remove Carpet Stains Fast
I have always loved the feel and look of carpet in my home although it can be a hassle to maintain. I make my guests take their shoes off before entering a carpeted room and I try to avoid spills by not letting family or friends eat or drink anywhere near the carpet.
With kids in the house and a busy schedule the rules have been known to bend here and there to allow food or drinks in the carpeted rooms or a quick trip through the house without taking shoes off. There are times when we have eaten pizza in the family room or drink a cup of coffee in a carpeted area after everyone swearing they will be as careful as possible but it never fails, someone always spills something!
Even more frustrating is when we have the cable guy or a repair man walk through our house with their messy boots and I can't ask them to take their shoes off. I usually obsessively clean the carpeting after they leave but that requires pulling out a shampoo machine, mixing the solution, cleaning the area, waiting an hour for it to dry, and then cleaning the machine out after I am done.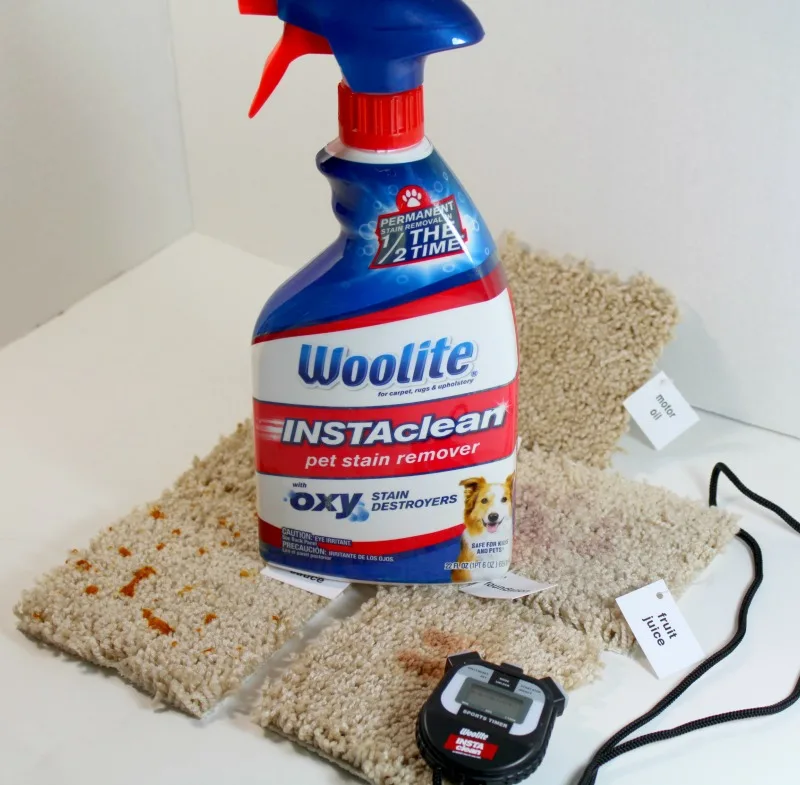 Luckily I have a better way to remove carpet stains fast that doesn't require using a machine and it is proven to be effective in under 30 seconds for every stain I have tried it on. This includes tomato sauce, motor oil, foundation, grape juice, and coffee.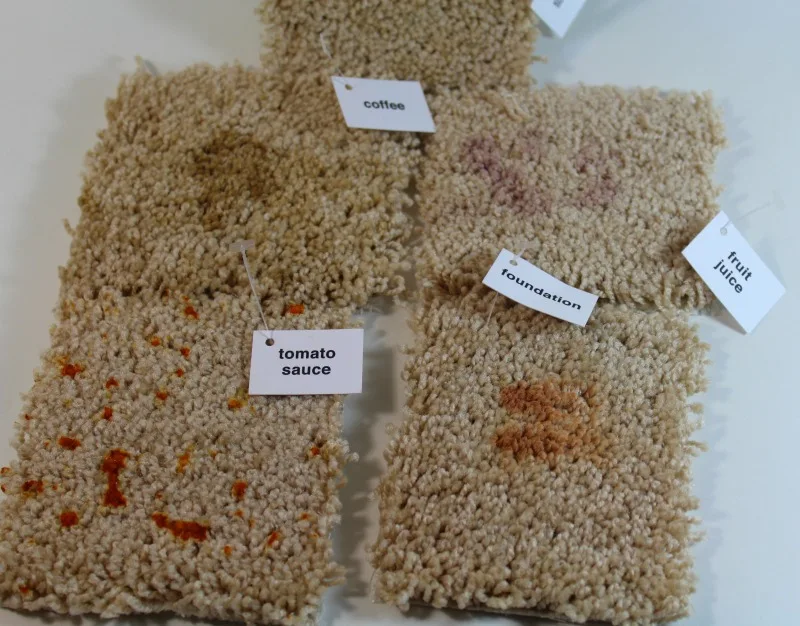 I used a stopwatch to time the stain removal and see just how fast I could remove carpet stains of every kind.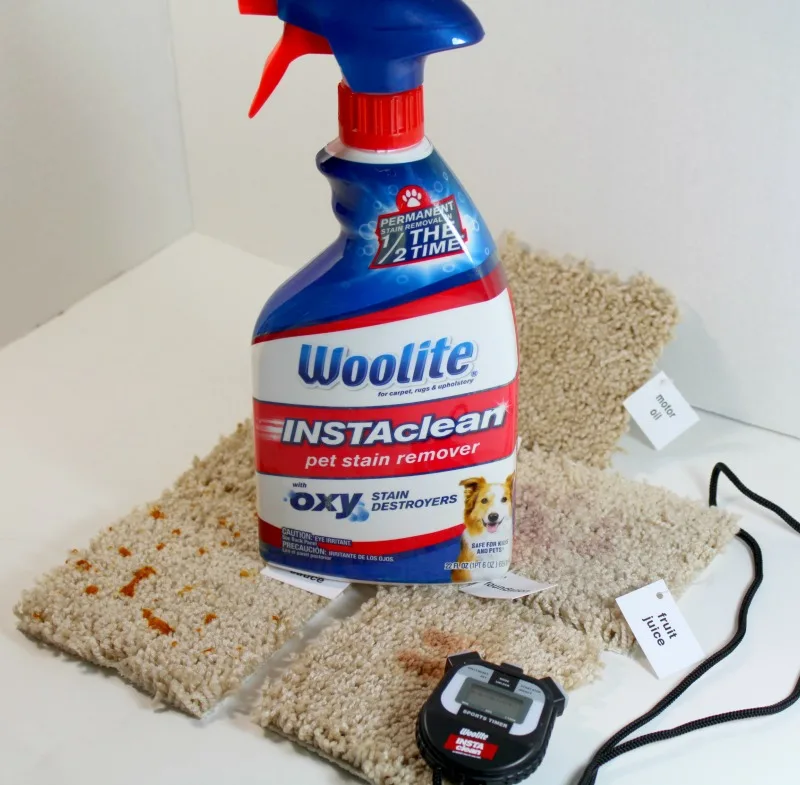 I was impressed with the fast results and excited to have a product in my home that has this kind of power. Here is a little more information about what the Woolite INSTAclean Pet Stain Remover can do.
· Permanent stain removal in 30 seconds
· Removes tough stains like urine, feces, vomit, tracked-in dirt, mud, blood, grass, tomato sauce, salad dressing, red wine, fruit juice, make-up, food grease, vegetable oil, coffee, tea, motor oil and more
· Oxy Stain Destroyer formula starts working on contact to mobilize, lift, and penetrate the stain at the source
· Eliminates tough pet odor
· Discourages pets from re-soiling the same area
· Leaves a long-lasting, fresh scent
The first stain I tested this powerful product on was tomato sauce that had been sitting on this carpet for an unkown amount of time. It has at least been there two weeks because it was mailed to me with the stain and then sat in my home for a week before I had time to test it out.
Not only was the stain removed quickly but the caked on tomato sauce came right out of the carpet.
INSTAclean Pet contains Oxy Stain Destroyer formula that works to mobilize, lift, and penetrate the stain at the source to remove it once and for all. As you can see the tomato sauce has hardened over time and instead of being embedded in the carpeting it is now several solid chunks ready to be disposed of easily.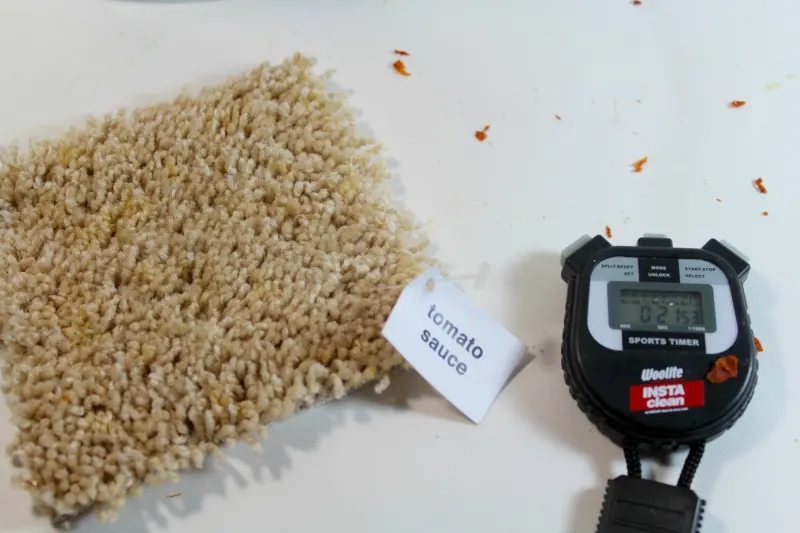 From my experience tomato sauce is one of the hardest to remove carpet stains but I continued on and tried tested the stain removal power of this product on the other test samples.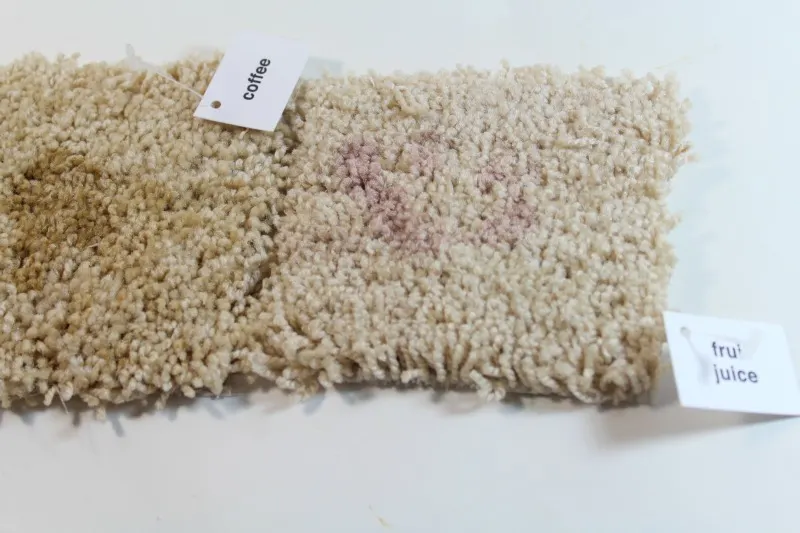 Coffee and fruit juice are no stranger to my carpeting so I was excited to see this product eliminate these stains as well.
I set the timer and sprayed the carpeting and within seconds I was watched the stain disappear right before my eyes.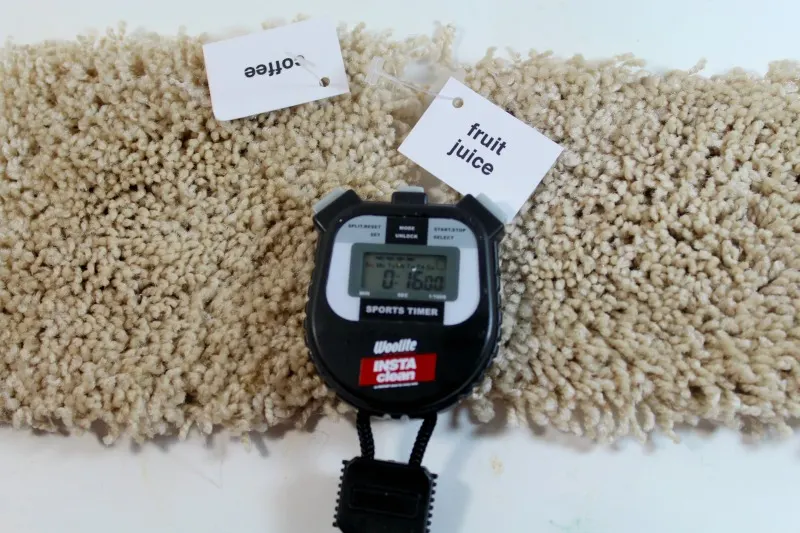 In just 16 seconds I was able to spray the Woolite INSTAclean on the fruit juice and coffee, blot the spots out with a rag, and watch the product remove carpet stains! I was very impressed, it looks like my family will once again be allowed to eat a snack while watching television without the clean police patrolling the house.
You can find out more about this great product by clicking here to be redirected to the Woolite website.
What are some of the toughest carpet stains you face in you home? Do you allow snacks and drinks in carpeted areas?