I have received this product in exchange for my honest review and to create this Venison Stew recipe. All opinions are my own.
Venison Stew
I love using a slow cooker whenever possible to save time in the afternoon and it also saves a lot of dishes. I like not having to worry about getting dinner started after school, homework, and the millions of other things going on at that time.
I try to convert as many of my favorite recipes into slow cooker recipes and my new favorite is this Venison Stew.
This recipe is so easy to make in my new Hamilton Beach Professional Sous Vide and 6QT Slow Cooker. This machine is so versatile for all of my favorite recipes in not only the slow cooker but it doubles as a Sous Vide. Don't know what that is? I didn't either but it sounded fancy and I was excited to learn more about it. This is what I found out from the Target product page:
It's a no-fail method of cooking sealed food in a precisely temperature-controlled water bath, ensuring that food is evenly cooked throughout and reducing the chance of over- or undercooking 1) Set up – Season food and put it in a vacuum-sealed or resealable bag 2) Submerge – Place ingredients into the sous vide water bath and enjoy walk-away convenience 3) Enjoy – Delicious, juicy food that's cooked to the precise temperature you selected.
Sous vide uses precise temperature control to cook food evenly and perfectly throughout. Slow cooking gently cooks food over a long period of time, retaining its flavor and moisture.
Just like the slow cooker, walk away and let the appliance do the work. Pretty neat!
One of my favorite things about the machine is the handles because they allow me to move the slow cooker around easily when it is completely full without feeling like they are going to fall off.
Onto the fun part, the cooking. This venison stew takes a little bit of preparation before dropping the ingredients into the slow cooker.
First you have to brown the sides of your venison roast before adding it to the slow cooker.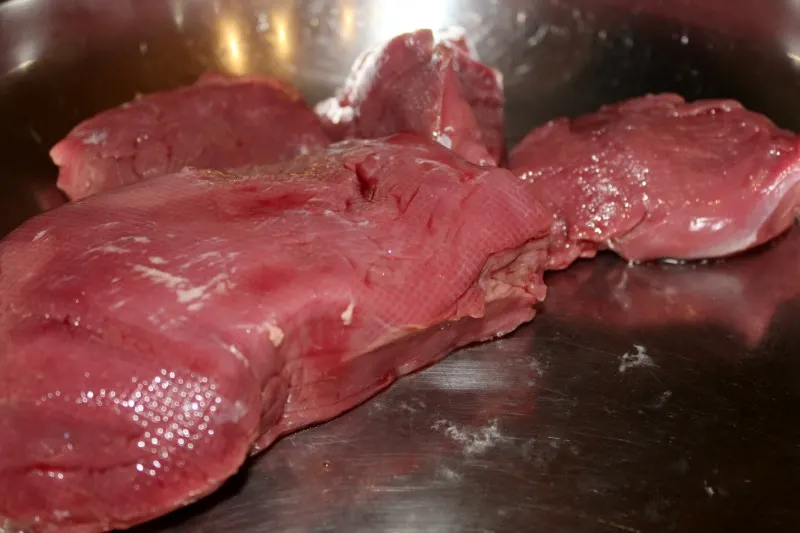 While you are waiting for the edges to brown you can begin peeling the potatoes.
After a couple of minutes when your venison has browned and your potatoes are all peeled add them to the slow cooker along with seasoning, carrots, and broth.
Let the roast cook for atleast 6 hours but if you are anything like me you just leave it cooking until it's time to eat but with the Hamilton Beach Professional Sous Vide and 6QT Slow Cooker, you can set the timer to cook your food.
It's that simple! After you get home from work you can enjoy a delicious venison stew without having to put any more work into making this dinner for your family. It almost feels like you have a personal chef cooking the meal for you.
This slow cooker venison stew turned out so great that I can't wait to share my next recipe using the sous vide settings.
Ingredients
2 Lbs of Venison
64 ounces of Beef Broth
16 ounces of Frozen Carrots
6 Peeled Potatoes
2 Teaspoons of Garlic Powder
1 Teaspoon of Black Pepper
1 Teaspoon of Salt
1/4 Teaspoon Thyme
1/4 Teaspoon Tenderizer
You can Substitute Seasoning for Package of Pot Roast Seasoning
Instructions
Brown the venison and peel the potatoes. Add to crock pot along with all of the other ingredients. Let cook for about 6-8 hours and serve.