This post contains affiliate links which means that if you make a purchase after clicking a link, I will receive a small portion of the sale at no additional cost to you.
My family loves to eat and usually, that is a good thing but with so many of our foods being high in carbohydrates and other undesirable ingredients I have been avoiding making their favorite dishes.
I still receive requests to make some of our family favorites but I have been trying to recreate these recipes in a healthier way.
My newest creation is this Surprise Cheesy Broccoli Casserole that has fewer carbohydrates and calories than the original recipe but even more of that cheesy tasty flavor!
I bet you are wondering what the surprise is, aren't you?
Whenever I hear there is a surprise in my food I am a little hesitant to take a bite but trust me this is worth waiting for.
The surprise is that instead of crackers or a floury mixture, I just used Pork rinds.
Crazy right? I have recently learned that pork rinds are not only high in protein but they are low in carbohydrates!
That information has put me on a mission to create as many tasty dishes as I can using this crunchy low carb treat.
This recipe is so tasty that I shared it on Fox News. Everyone loved it as much as my family did and you will too!
All you need to make this delicious dish is :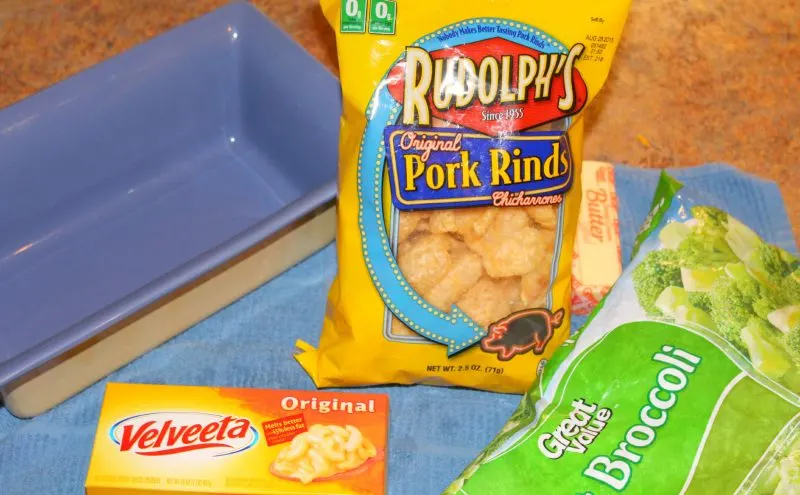 2 Pound Bag of Frozen Broccoli
1 Pound of Velveeta Cheese
1 (2.5 Ounce) Bag of Pork Rinds
1 Tablespoon of Butter
Your Favorite Casserole Dish
The first step to making this Surprise Broccoli Casserole is to steam your broccoli or boil until soft (about 10-15 minutes) depending on which method you prefer.
I boil it for a quick meal although I know that this may take out some of the nutrients I just don't always have the time to steam my veggies.
Preheat Oven to 350 degrees and when the Broccoli is softened, strain and add to a casserole dish. I then stir in chunks of Velveeta cheese making sure to evenly spread throughout the broccoli.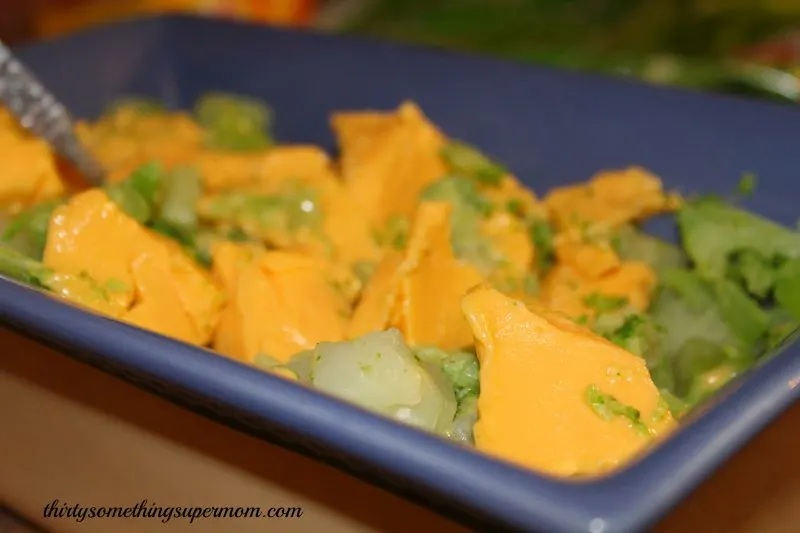 Crush the pork rinds by either smashing them while in a bag or crumbling in your hand, I prefer the crumbling in my hand. I then sprinkle the crumbled pork rinds on top.
Melt the butter until it is liquid and pour evenly over the top of the casserole.
Pop it in the oven and bake for about 25-30 minutes. The topping may achieve a brown crisp on top where the butter was poured, this is my daughter's favorite part!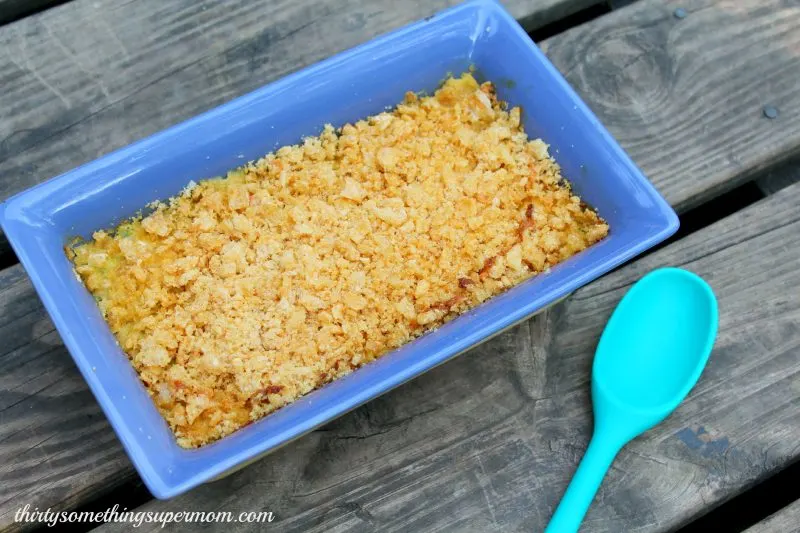 Did you try this Surprise Cheesy Broccoli Casserole recipe yet? What did your family think of the surprise?