Cleaning my house has always been something I enjoy doing and I know most people think that sounds crazy but it is very therapeutic to me. When I have a bad day, I take it out on the floors, the dishes, and the woodwork that needs polishing. Not only am I able to work through my problems better after some heavy cleaning but I get to relax in a clean home once I am done.
Since I spend a good amount of my time cleaning up, I decided that I needed a place to keep all of my supplies. I wanted an organized cleaning closet that housed everything I needed to get my house looking its best and lucky for me, my husband sacrificed one of his clothes closets so I could do a clothes closet to cleaning closet makeover!
When planning my cleaning closet makeover I wanted to make sure that I was completely stocked up on my favorite cleaning products! I headed to Walmart and picked up lots of cleaning supplies and tools including my Scotch-Brite® Scrub Dots products.
I have fallen in love with the Scrubbing Dots technology because it allows the sponges to rinse clean and Scotch-Brite® Scrub Dots makes quick work of even my toughest messes.
Scotch-Brite® Heavy Duty Scrub Dots Sponge is perfect for eliminating even the worst baked on messes I can make in my kitchen. Perfect for all of my pots and pans that get the dirtiest!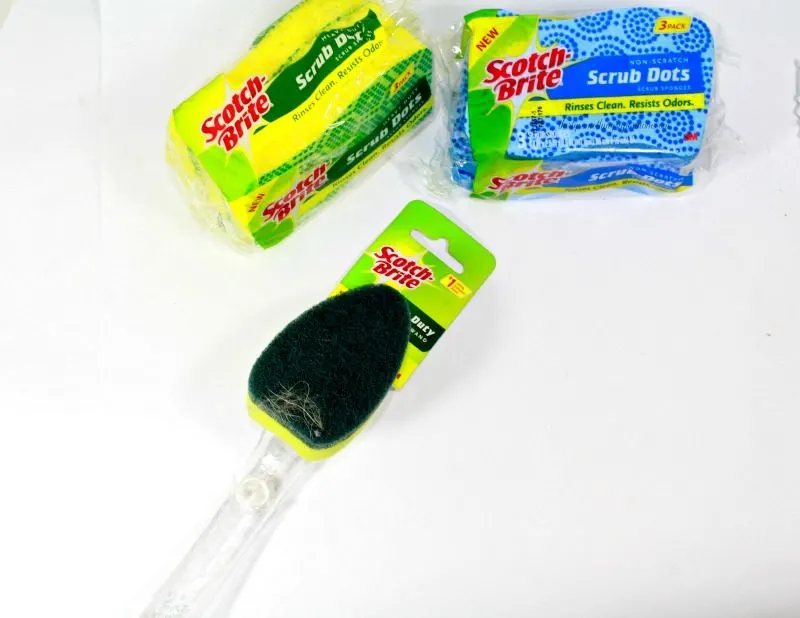 The Scotch-Brite® Non-Scratch Scrub Dots Sponge allows me to clean without scratching and it is perfect for my cook top, my counter, and all of my no-stick cookware.
The Scotch-Brite® Heavy Duty Scrub Dots Dishwand allows me to reach even the hardest to reach messes that seem to form at the bottom of every glass I own!
Before heading to Walmart, click on the photo above to save $1.00 off any two Scrub Dots items! That is something else I enjoy just as much as cleaning, saving money! So saving money on cleaning supplies is a big deal for me!
Once I got back home I started working on my clothes closet to cleaning closet makeover. Like I said earlier, this would have not been possible without my husband giving up one of his closets to make my organized cleaning closet dreams come true.
Now before you give him too much credit let that first part sink in, one of his clothes closets. He has an insane amount of clothing and yet he still browses the clothing section every time we go shopping. He enjoys shopping like I enjoy cleaning and that's fine with me especially when he is willing to downsize to make room for my cleaning closet.
I guess I just never understood that fascination with clothing, if I were to have a shopping spree of my choice, you better believe it would be in the housewares section.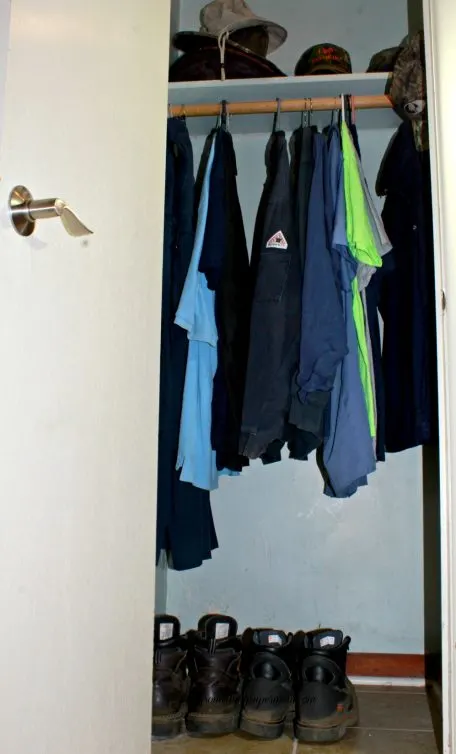 Once we went through his clothes and donated the ones he no longer needed, we got started turning this clothes closet into a cleaning closet.
The first thing I did was add an organizer to the door to hold cleaning products. I love finding ways to utilize a space that would not normally be functional.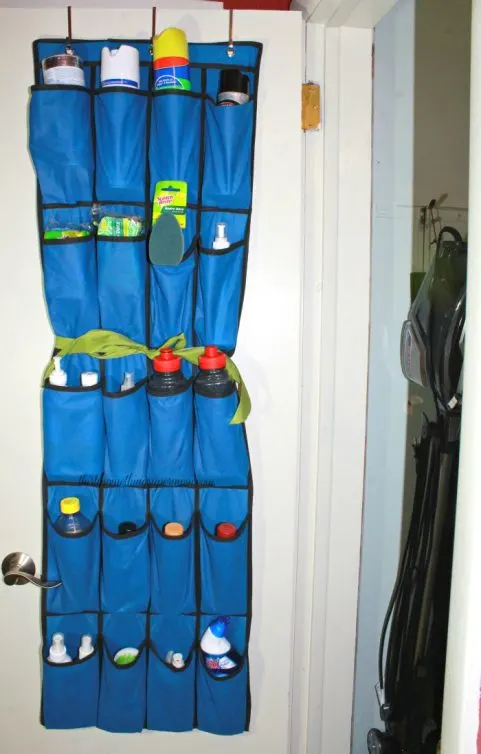 I even added a pretty bow to the center to make my cleaning closet a little more decorative. Adding a bow is also a great way to keep the organizer from getting stuck in the door when you close it if you have a smaller closet.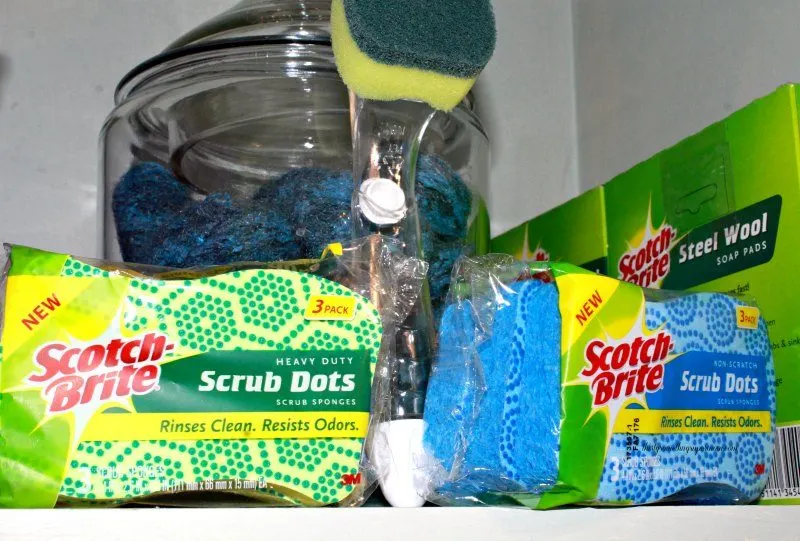 I also like to use pretty containers when possible to house my supplies, this apothecary jar is perfect for holding my steel wool pads. I purchased it with the intentions of housing lemons on my counter top for both looks and because I like to have lemons on hand at all times.
It turns out when you see stuff like that in magazines, those lemons are fake. I learned that the hard way because I filled my jar with lemons only to watch them turn to mold in just under two days. That dream died right before my eyes, so I decided to use it for my other dream, an organized cleaning closet!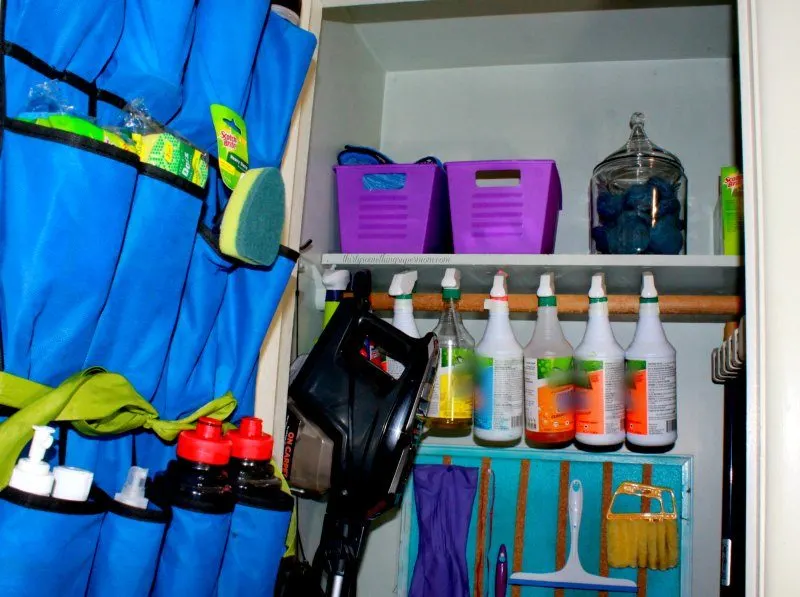 I also added hooks to hold my vacuum on one side and my brooms, mops, and dusters on the other. I like keeping the big items out of the way so I can just grab what I need and go because with kids in the house, some messes require you to act fast!
Keep the clothing rod inside of your closet, this is a great place to house your spray bottles! This saves shelf space and keeps them off of the floor, plus they are at eye level which makes quick clean ups so much easier!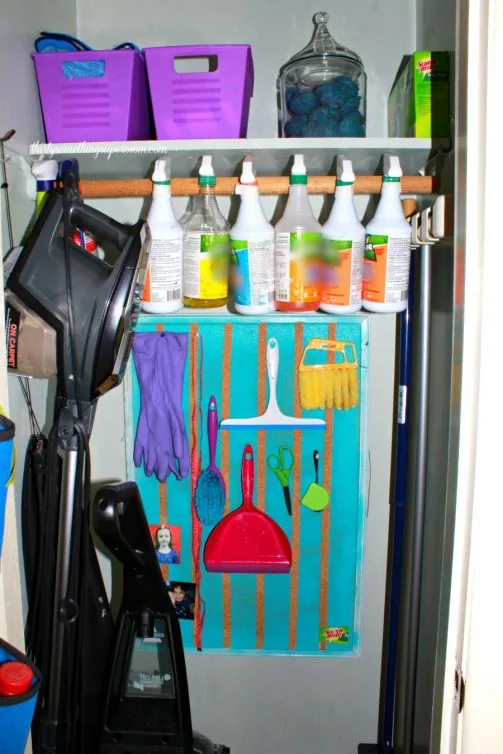 My favorite part of the cleaning closet is the cork board in the center. This is a great place to not only hang things like dust pans, gloves, and scissors but it also serves as a shopping list.
Whenever I use the last Scotch-Brite® Scrub Dots products, I just pin the label onto the board and add it to my shopping list for the next time I head out to stock up.
I also added a couple of pictures to make the board more visually appealing and it is a good reminder of why I work so hard to clean my home.
I love creating a space that allows my family to spend quality time together and not worry about making messes while focusing on making memories instead.