Thanksgiving is coming up and a lot of people are heading out to relatives homes to enjoy the holiday. Cooking a Thanksgiving meal is a lot of work, so be sure to bring along a gift for the hostess and what better way than to make a gift yourself?
DIY Hostess Gift for Thanksgiving
This DIY Hostess Gift is the perfect craft to get started on now so you don't show up empty handed this Thanksgiving! It can also make a great centerpiece on your Thanksgiving table if you are the lucky cook this year.
You can pick up some or all of what I used to make this DIY Hostess Gift by clicking the affiliate links below. Keep in mind that if you make a purchase after clicking one of these links, I will receive a small portion of the sale at no extra cost to you. So go ahead and click away, it doesn't cost you a thing but it helps support my blog.
Click it, I dare you, just to see how it feels. Clicking a link will bring you to Amazon so you can see the product and price.
Glue Gun
wooden spoons
fall foliage
wood burning kit
glass vase
Turquoise Paint
Jute Twine Roll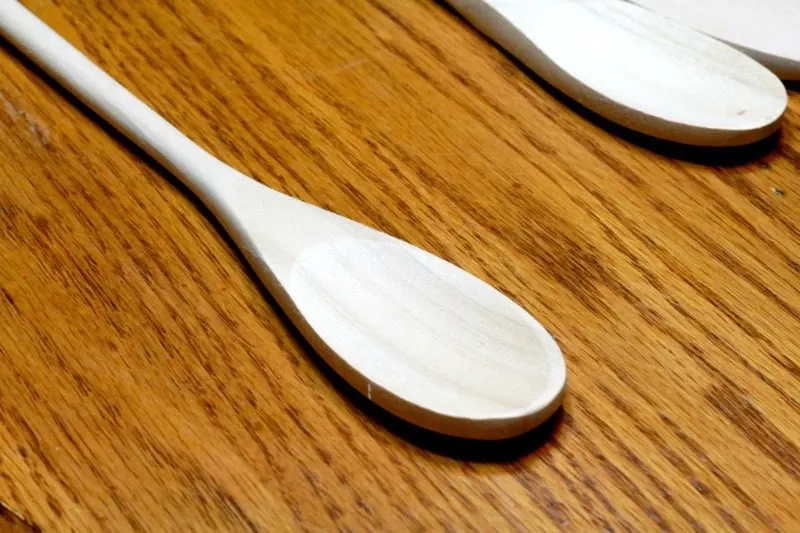 The first thing I did was picked up a bunch of wooden spoons and a wood burning kit. I grabbed a few different sizes and styles of spoons because they were super cheap and I wanted to experiment.
I was pretty impressed with myself when the first time I ever used my woodburning kit, my designs came out exactly how I planned them in my head.
It was pretty easy to make visible marks on the outside of the spoon for this hostess gift without having any previous experience with a wood burning kit.
Apparently, them fellas are easy to use and I plan on creating lots of fun DIY projects with mine so it was well worth the money, it helps that it was really cheap to begin with. I got mine for less than ten bucks!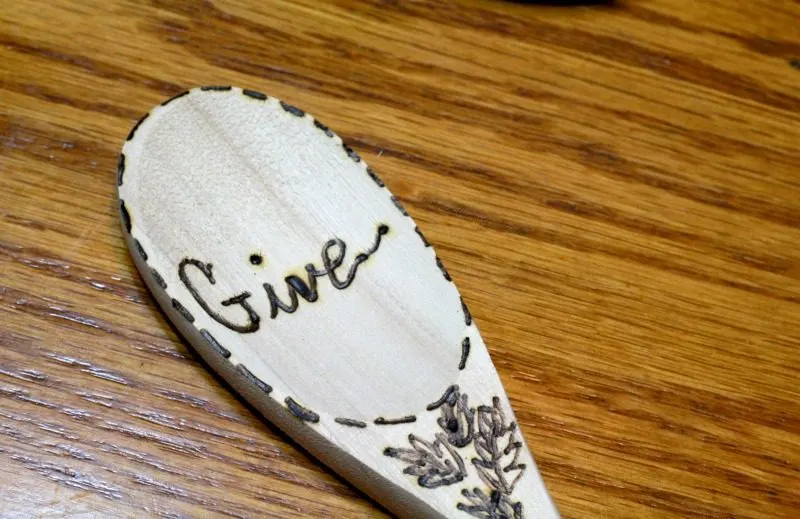 Since this hostess gift is for Thanksgiving, I decided to write Give Thanks on the spoons and added some fall foliage to the design as well.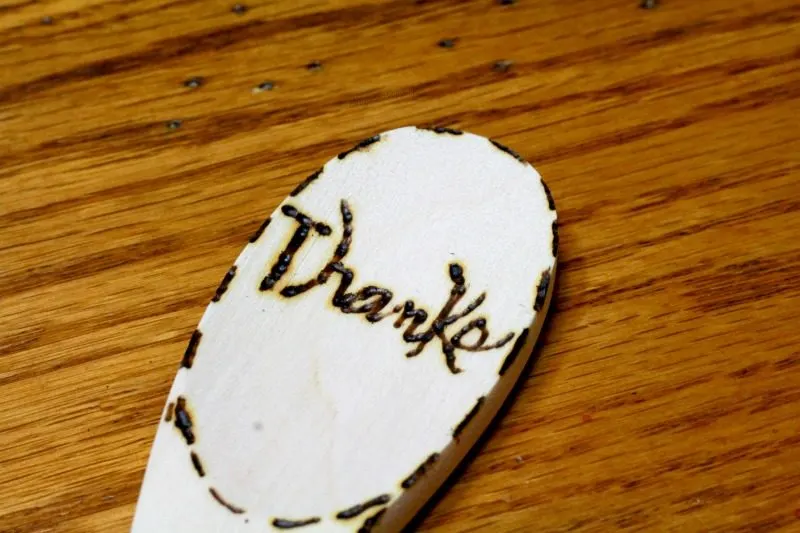 I continued adding leaves and vines around the entire spoon. This simple design is not only easy to make but I think it will fit in with any decor no matter what your hostess has set out already for Thanksgiving, they will enjoy adding this crafty hostess gift to their holiday decor.
I also knew that I was going to add some bright colored Fall foliage to this DIY project so I thought that turquoise would compliment the colors nicely, and I was right. I love the way it turned out!
I added a coat to the sides and back of the spoons as well as a stripe around the handle. I think it makes this DIY Hostess gift a little more interesting and visually appealing to add the extra color.
This bold color really makes this hostess gift stand out. I love that you don't have to be an avid DIYer to make this craft or to use a woodburning kit.
I continued adding leaves and even wrote Happy Thanksgiving on the handle of the spoon as well as burned in a few spots to make the spoons lay flat against each other.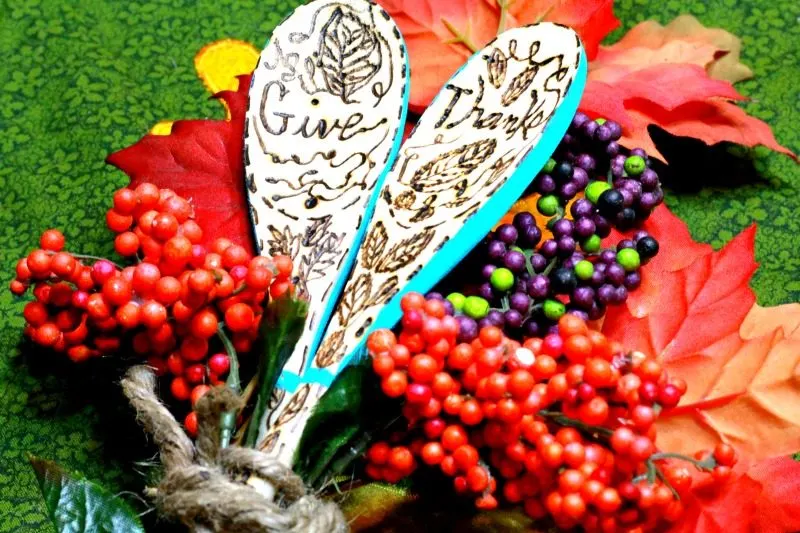 I gathered the fall foliage and wrapped it together with the jute twine. I then placed it inside of a glass vase.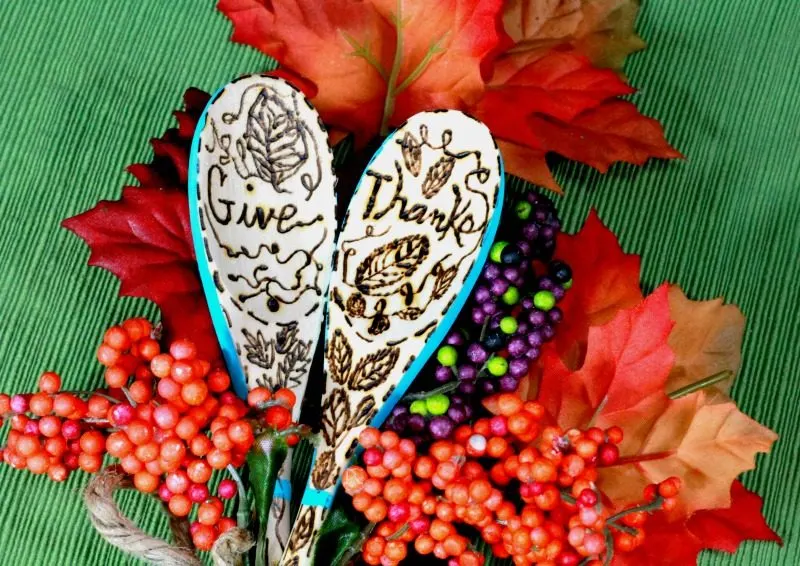 This is a perfect centerpiece in a vase or can even be a great Thanksgiving decoration hanging from the wall.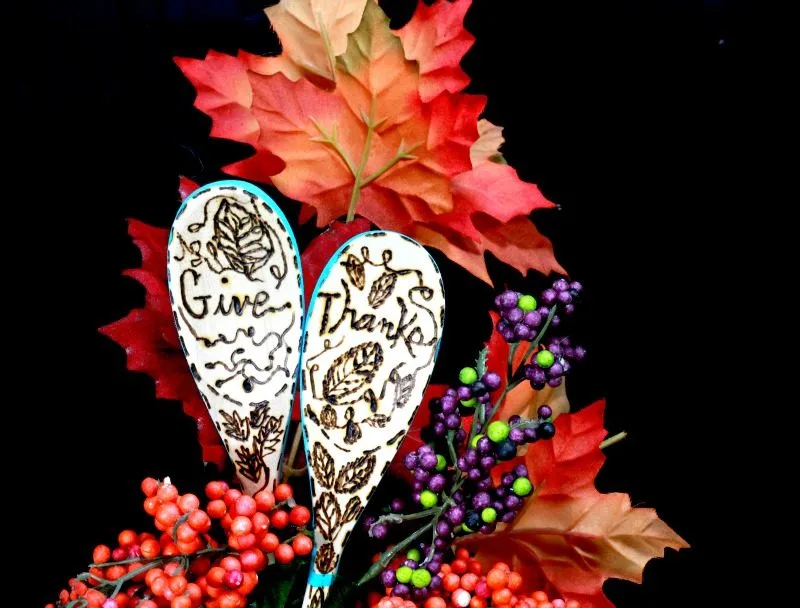 This DIY Hostess Gift is the perfect way to say thank you to your Thanksgiving host this year or the perfect centerpiece for your table if you are cooking at home.