If you want to plan the ultimate food vacation, you have to try these 27 New Jersey Foods!
Growing up in New Jersey and then living most of my adult life in the Midwest had me missing all of the foods I loved as a child. I recently took a trip back and was able to enjoy some foods that I just can't seem to find in the Midwest.
Some of these foods are available online and a few can be found in other states but if you are dying to get your fix but a lot of these New Jersey Foods can only be enjoyed while visiting the garden state.
I Am Obsessed With Jersey Pizza
As a kid, one of my favorite things to do was order pizza, no matter where we got it from although I did have a few favorites.
I especially enjoyed ordering from Delios in South Amboy and the whole family loved the big floppy slices found at the Seaside Heights Boardwalk. The giant slices are fun but Delio's has maintained its place as my family's favorite pizza spot for over 30 years despite trying pizza at hundreds of other locations across the nation.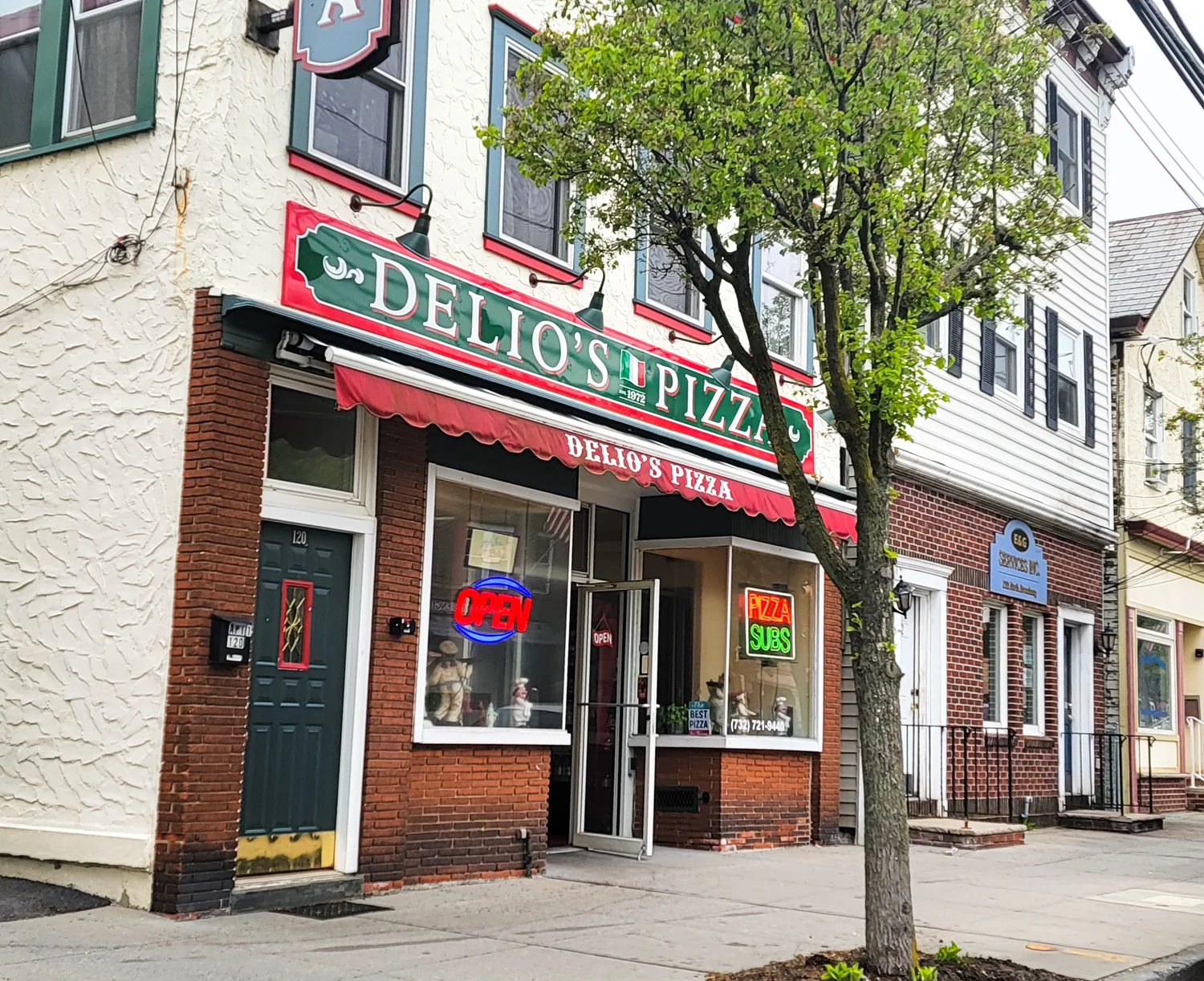 The owners have been operating this beloved pizza place since the early seventies. Several generations of customers still travel back "home" for a slice and everyone holds mama and papa Delio in high regard for their kindness to the community over the years.
If I could pick up only one restaurant and move it to Iowa so that I could enjoy it every day, Delio's would be it.
Sometimes a Sicilian Pie was the only thing that would hit the spot and other times the craving was strong for a greasy, perfectly foldable slice of New York Style Pizza that was in my opinion, perfected in the state of New Jersey.
Delio's offers both styles of pizza and an impressive menu of other classic Italian dishes that are made just right. This small town restaurant even made it to the big screen by being featured in the movie Coyote Ugly in early 2000.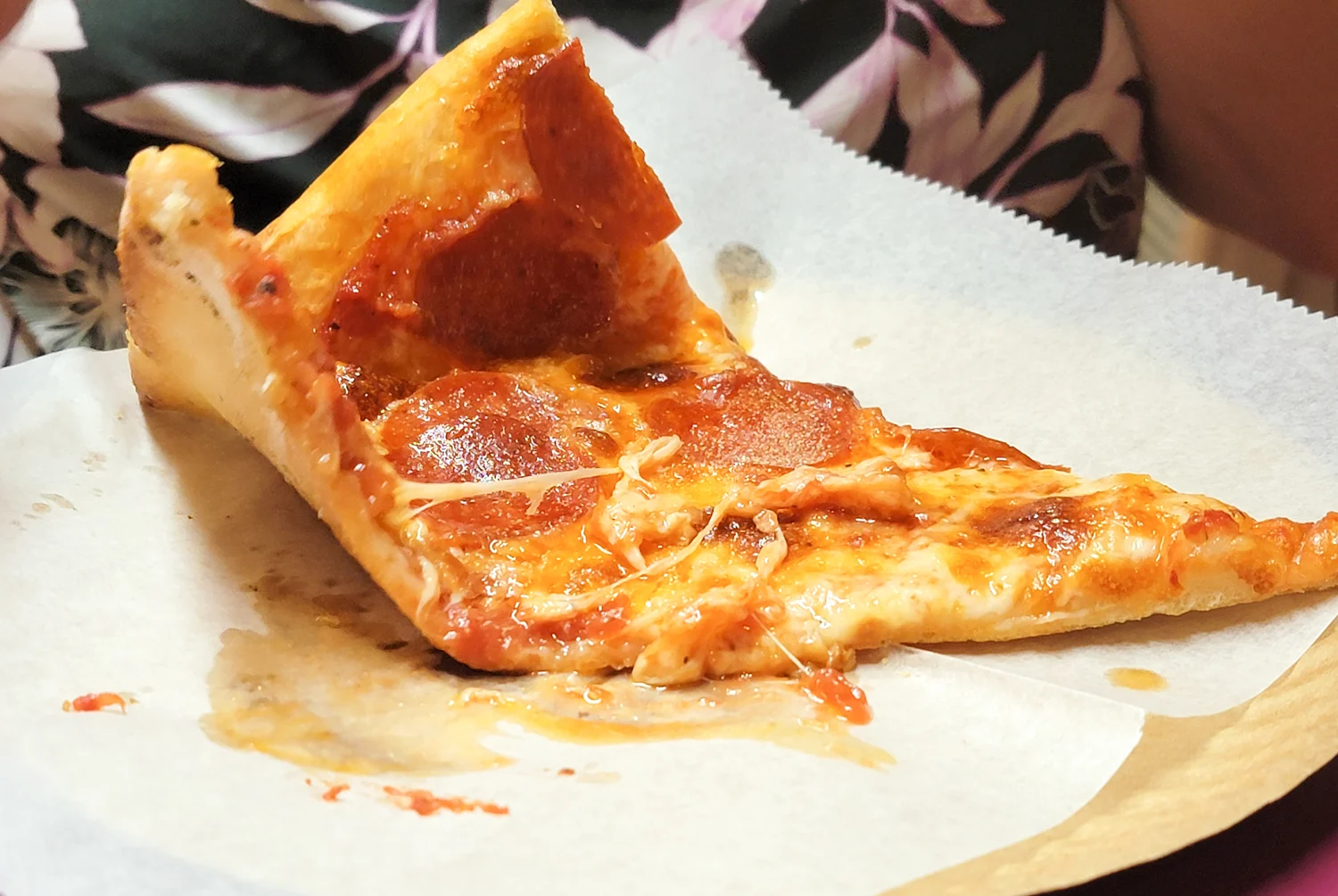 While living in the Chicago area I had my pick of some of the best deep dish pizza you could ever try. Don't get me wrong, it was delicious, but I found that it just wasn't a good substitution for the Jersey pizza I was craving.
Another unique pizza that isn't typically found outside of the New Jersey area is a Tomato Pie. You can visit the location of Maruca's tomato pie restaurant made famous by Man V Food at the Jersey Shore.
Another food that I have yet to find made correctly outside of New Jersey is pizza steak. If you are not familiar with pizza steak, this is one of the New Jersey foods you have to give a shot because you may not see it anywhere else.
The Great Debate
There is a neverending debate on which is the real name of this meat but whether you call it Taylor Ham or Pork Roll, this is one of the most important New Jersey foods that you have to try.
My family always called it Taylor Ham but I have met quite a few people who refer to this New Jersey breakfast staple as Pork Roll. This meat goes well on a breakfast sandwich and is also great as a side with your favorite breakfast items like eggs or pancakes.
It is impossible to find in the Midwest so while traveling to the East Coast, this is definitely one of the New Jersey Foods you have to try.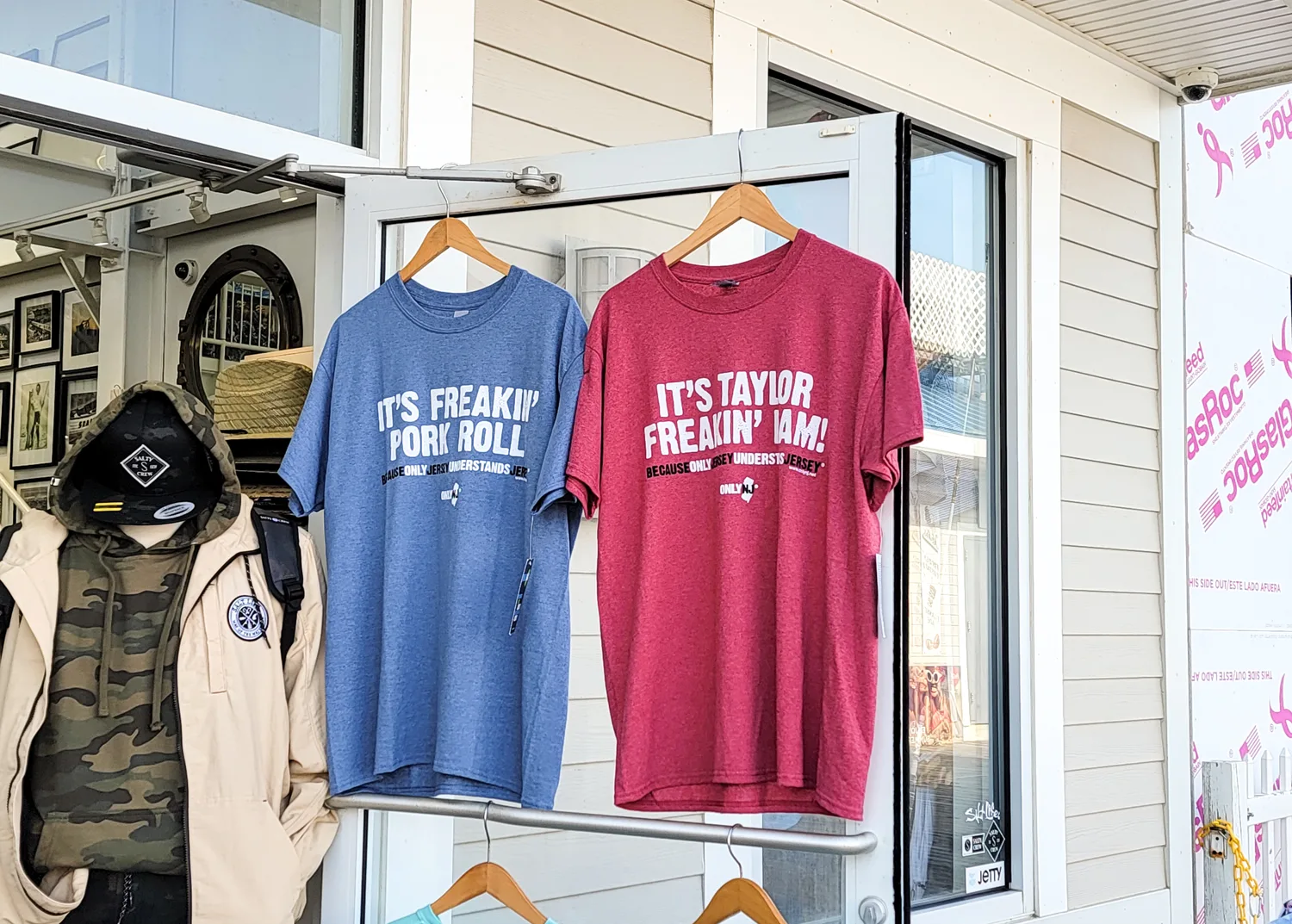 There are quite a few ways to enjoy Taylor Ham but a great way to incorporate another item from the list of New Jersey Foods you have to try is to put it on a Hard Roll.
When I first moved out of New Jersey and asked different bakeries for hard rolls, they looked at me like I was insane. They thought I wanted a roll that has expired or one that had sat out in the elements too long.
I didn't know what else to call it so I just described it to them as a roll that has a perfectly crisp crust but a soft bite to it, and of course, this got me nowhere.
Eventually, I learned that the term hard roll was a Jersey thing and that these rolls are more commonly referred to as Kaiser rolls outside of New Jersey. Even armed with this new information, I struggle to find anything as good in the Midwest.
I have tried replacing it with a bagel but don't even get me started on the difference between bagels in New Jersey and the Midwest. Which reminds me, while you are out in New Jersey or New York, you have to try a bagel! There is something about the water according to most sources that takes this food to the next level.
One of my favorite breakfast sandwiches found in Jersey is a Bacon, Egg, and Cheese with ketchup on a hard roll.
This is a New Jersey staple and can be found at most neighborhood convenience stores. Another popular way to enjoy a delicious hard roll is by adding a little bit of butter or cream cheese.
Convenient New Jersey Foods to Try
While visiting a convenience store in New Jersey, you can mark off a few other items on the list of New Jersey Foods to try.
There are plenty of pre-packaged foods that never make their way all the way to the Midwest for some reason.
While I have found a few items in other states I have yet to find a place that has all of these delicious treats that I grew up eating in New Jersey.
I am obsessed with the peanut butter cakes from TastyKake and they also have a butterscotch treat that pops into my head more than I care to admit.
Drake's is also a pre-packaged snack brand that I cannot find anywhere out in the Midwest. They make both the Coffee Cakes and Funny Bones that I loved as a kid.
Wise Potato Chips has both the onion and garlic flavors as well as the salt and vinegar that I wish I could buy at my local convenient store. While I have found the plain variety in the Midwest, I have yet to see either of those flavors pop up locally.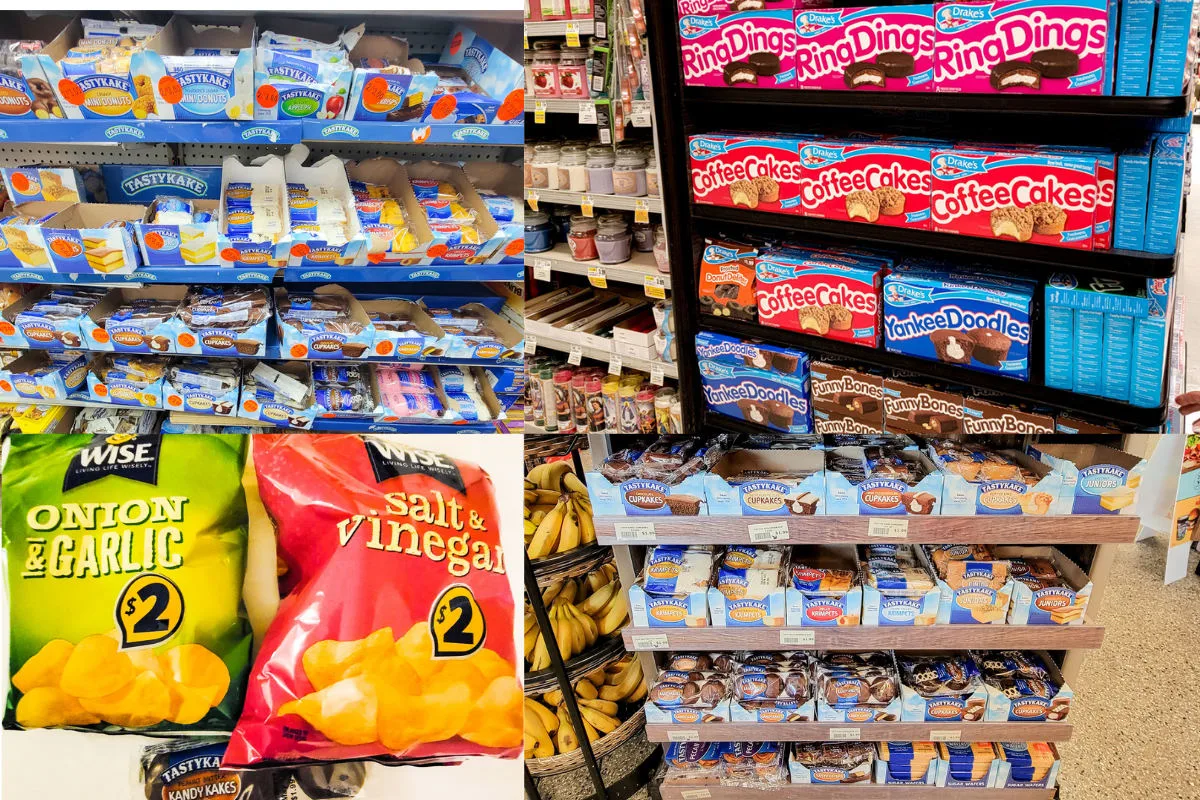 New Jersey Foods at the Jersey Shore
If you find yourself at the Jersey Shore, you are sure to run into a few Salt Water Taffy stands. Most shops offer a large assortment of flavors and fun packaging to make this treat a perfect New Jersey souvenir.
It seems that most of these shops sell candy apples with the red candy coating that you don't see a lot in other destinations. It seems the popular style in the Midwest is the caramel or chocolate-covered variety, not the true candied apple with the shiny red candy coating found in New Jersey.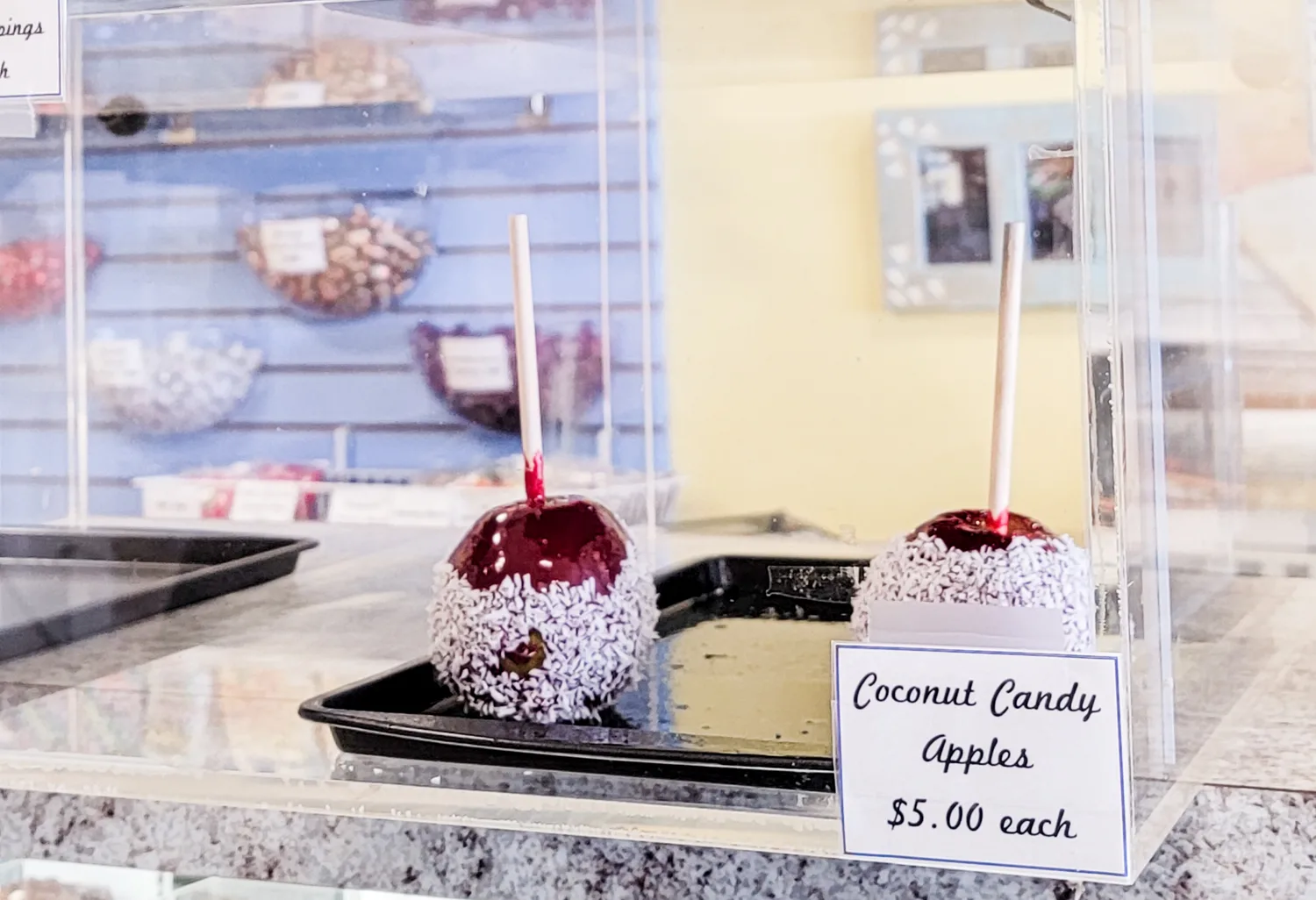 These days it's a struggle to find an operating Sabrett hotdog cart in New Jersey. Although I did locate one in South Amboy parked at the Krauszers on Broadway. I was really surprised at the lack of hotdog stands still operating these days because I remember them being everywhere when I was a kid.
There is just something so perfect about the snap and texture of a Sabrett hotdog. You have to try one if you are lucky enough to find a stand.
Another cart that wasn't easily found was one selling pretzels but I did find quite a few places on the Seaside Heights boardwalk selling them. From bars to stands, they were pretty easy to come by. This makes me wonder why it is so hard to find a decent pretzel in the midwest.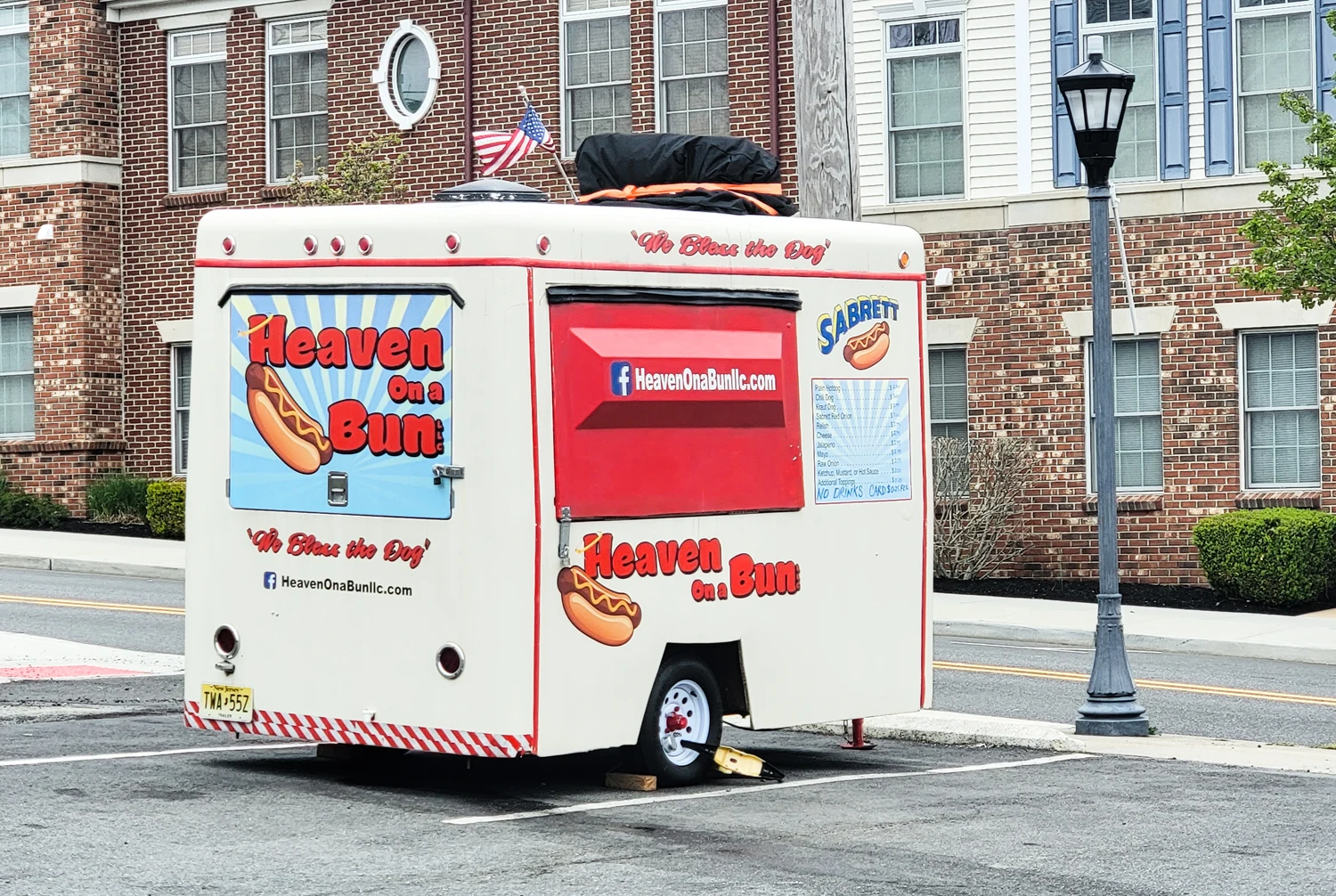 Maybe it's time for someone to open up a stand that sells Sabrett hot dogs and New York pretzels in Cedar Rapids, I bet it would be a hit.
Since the state that made the sandwich famous shares a border with New Jersey, it's no surprise that you can find a lot of delicious Cheesesteak places throughout the state.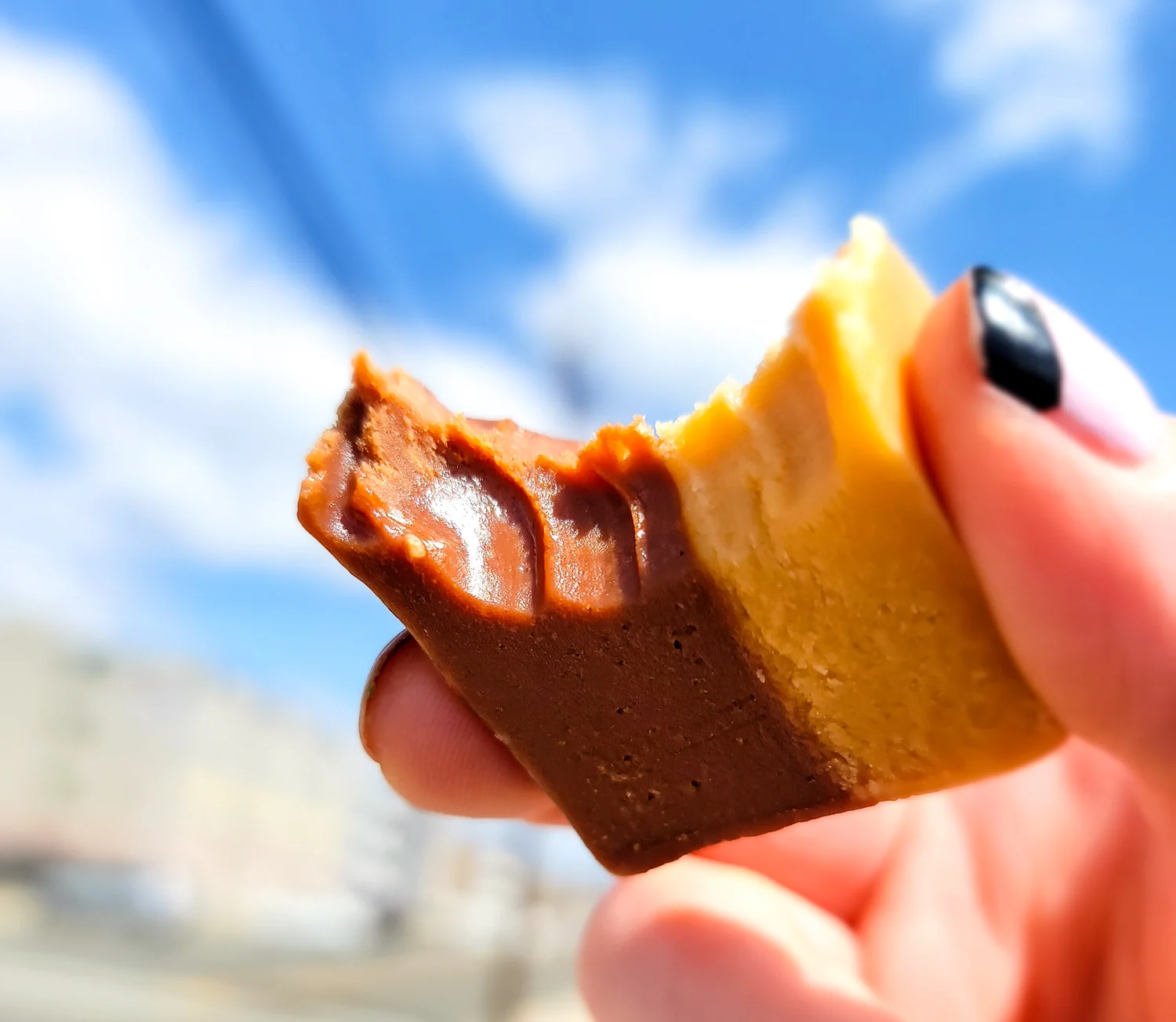 Another food that is always easily found on the Jersey Shore boardwalks is Homemade Fudge. Thee are a variety of shops to choose from and each one has a large assortment of flavors sure to please every palate.
New Jersey Foods That You May Not Have heard Of
While there are Wawa's in different states besides New Jersey, there aren't in the midwest. Wawa will always have a place in my heart because it was where I have the most memories of picking out snacks as a kid. Before we would head down the shore or pick up supplies for our legendary crabbing trips, we always stopped here.
Battling seagulls for the rights to my Wawa Donuts on the beach will always be a cherished memory of mine. Plus you can't beat their coffee, it is perfect!
While many restaurants in the midwest serve potatoes with breakfast, they just don't live up to the Jersey breakfast staple, Homefries. Thick chunks of potatoes fried to perfection and served on a plate with runny eggs have always been my go-to diner breakfast order.
For dinner, I liked London broil, which is another request I make at the butcher counter that gets me the side-eye.
New Jersey has an impressive amount of diners and you can get whatever you like, no matter what time of day you stop in.
Be sure to try a side of Disco Fries while there!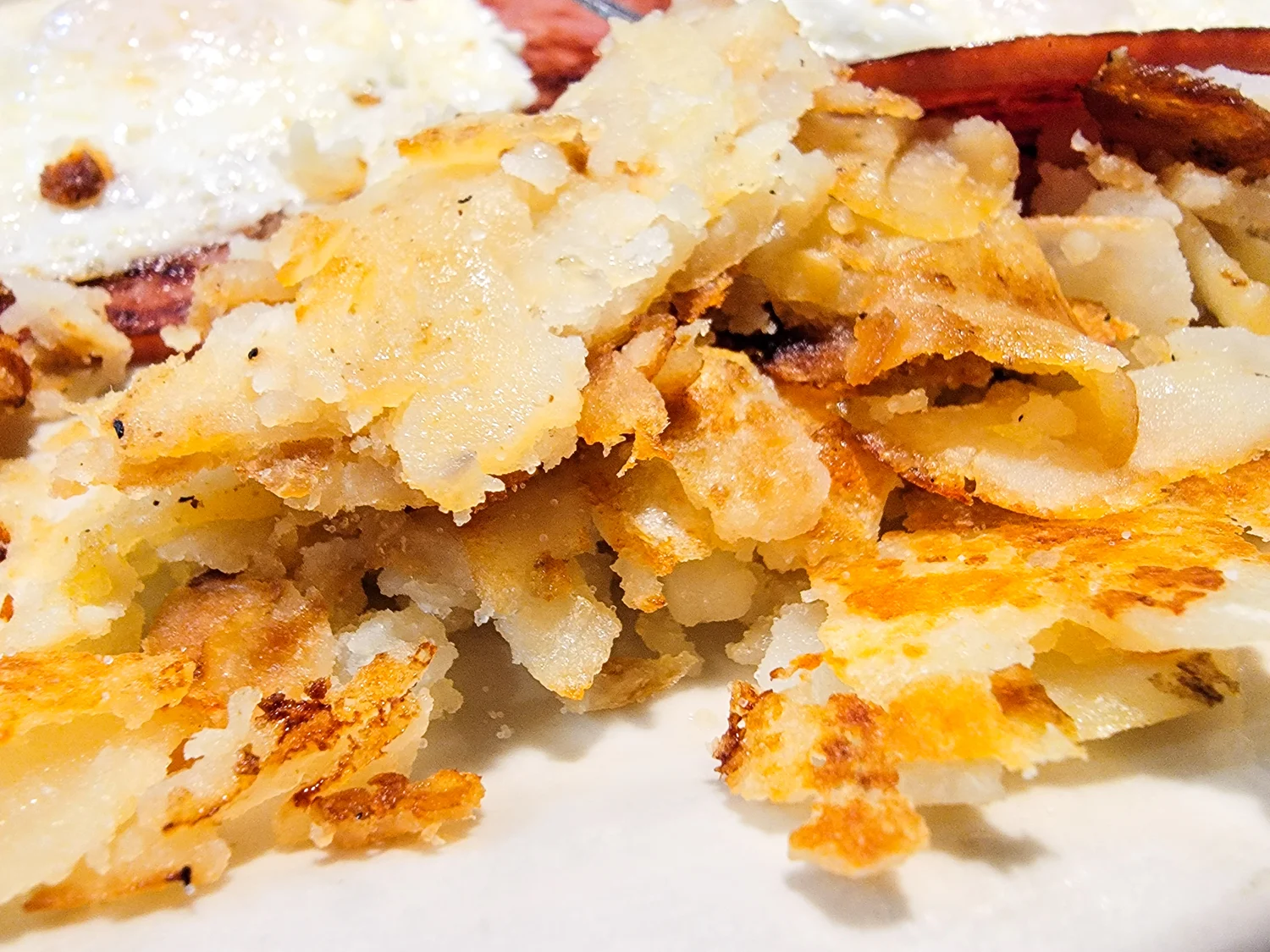 La Donna Beve Il Pane
One of the biggest reasons New Jersey has so many amazing foods is due to the sizeable Italian population. I grew up eating meals cooked by a delightfully spunky grandmother who was Italian, born of Italian immigrants, and she proved it with her authentic dishes.
Although she taught me a thing or two about cooking, there are still some prepared items that I wish I could find in the midwest. Italian bread is the one I miss the most. It would be nice to pick up a loaf and make my own Italian Sub because that is another food that has yet to live up to the New Jersey standard.
Some of my other favorite Italian treats that are better in the 732 area code are Zeppole and Cannoli.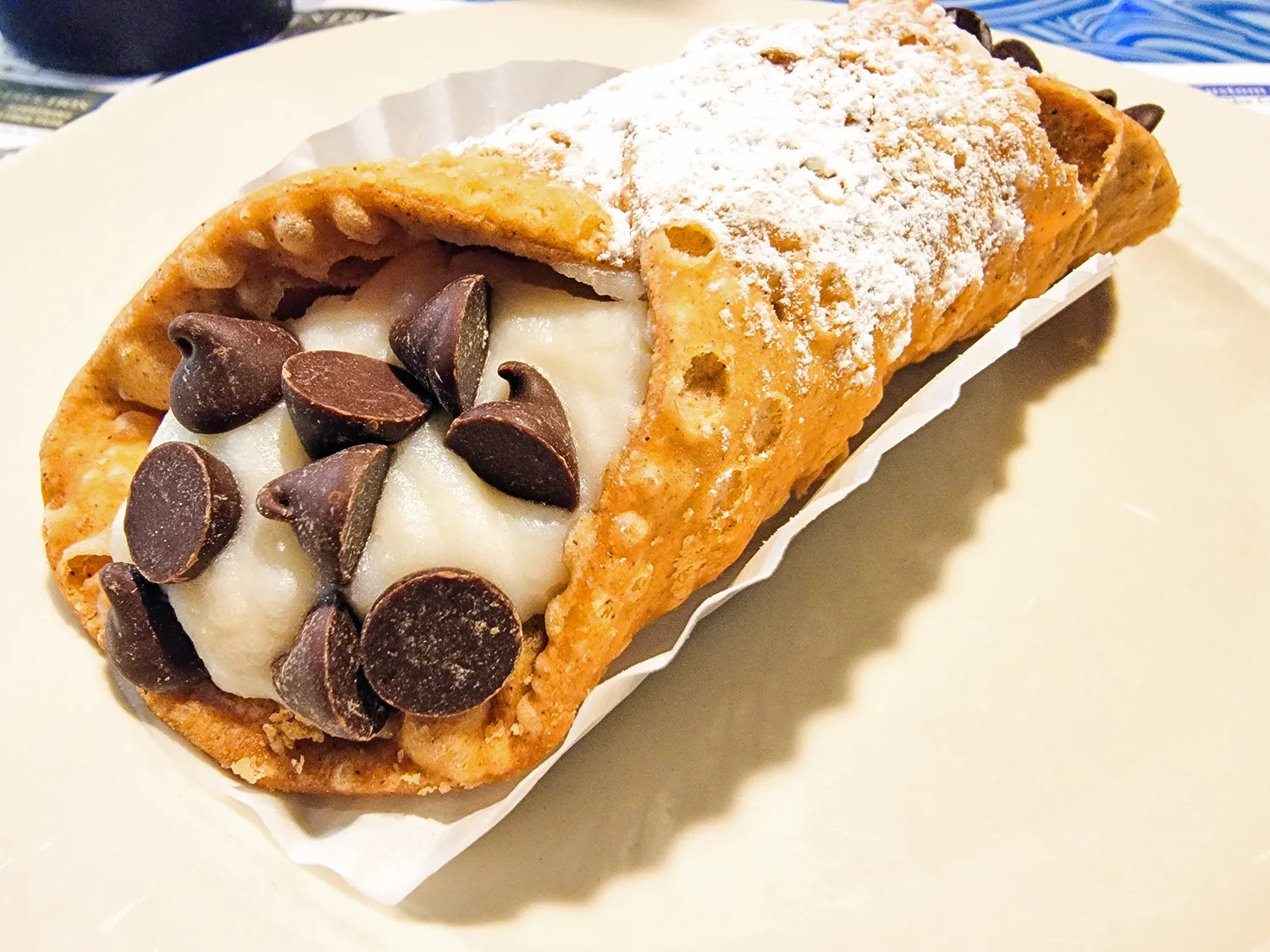 Another favorite treat that I cannot seem to find made right in the Midwest is a Rainbow Cookie. This cakelike colorful treat is available at most grocery stores and bakeries across the state. I even bought one at a gas station in Toms River.
It's probably a blessing in disguise that this treat isn't easy to come by. I would most likely develop a problem with unlimited access to the Italian treat. So it's better to only enjoy it while visiting New Jersey.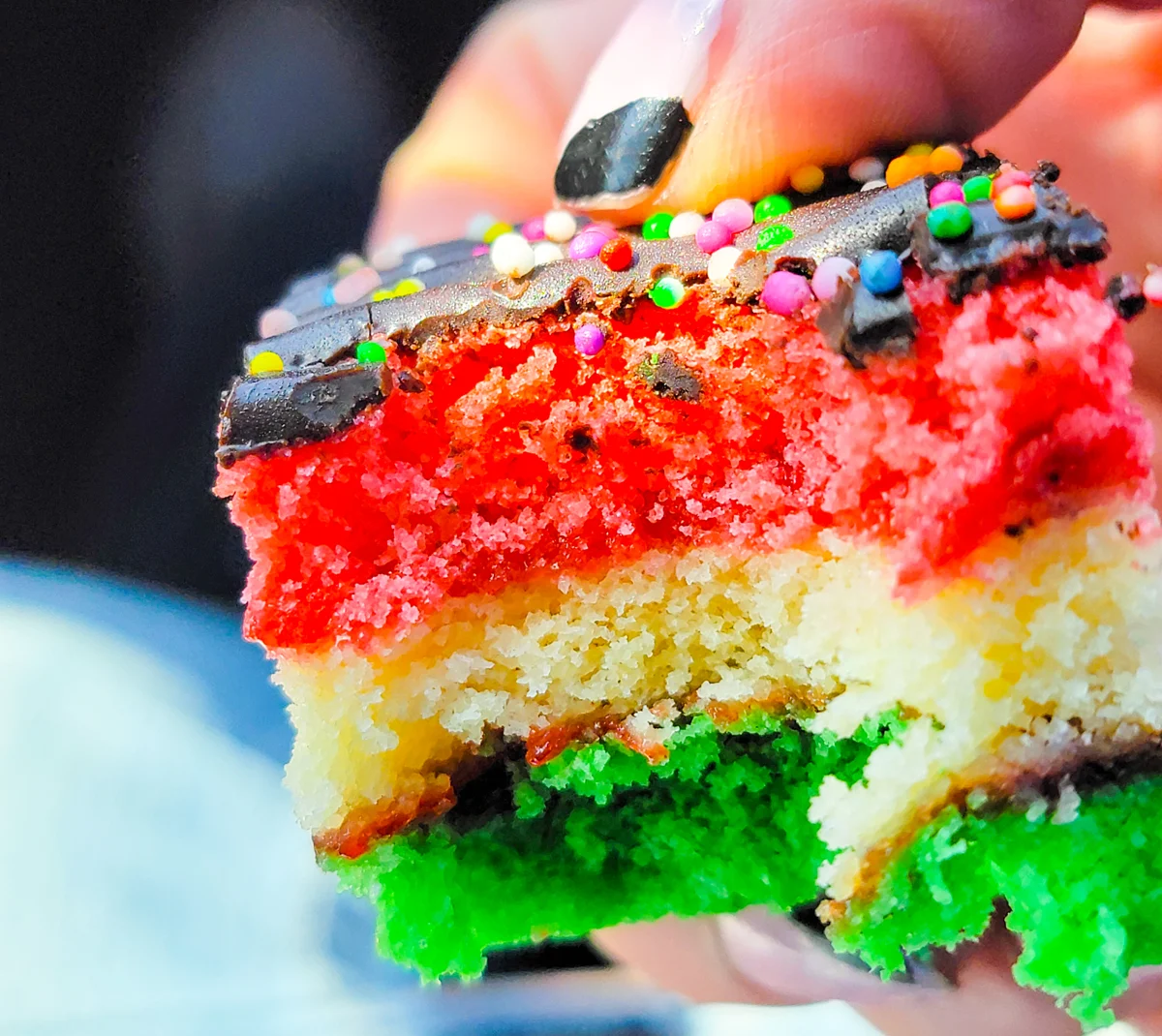 Save this post sharing the best New Jersey Foods so you can plan the ultimate food vacation in the garden state. Do you have a few New Jersey foods to add to the list? Leave me a comment, I may want to add it to the list.
Don't forget to follow along on social media and subscribe to the free newsletter so that you never miss a post again.