This Keto Snickerdoodles Recipe contains affiliate links which means that if you make a purchase after clicking a link, I will receive a small portion of the sale, at no additional cost to you.
It's so easy to recreate these keto snickerdoodles without using xanthan gum. Soft and delicious, this keto recipe is perfect for Fall.
Satisfy your sweet tooth with this easy recipe that is packed full of all of the things you love most about traditional snickerdoodles, except better.
The best part is that this gluten-free recipe is not only tasty but it is also so easy to make.
Keto Snickerdoodles
Sometimes it can be difficult to recreate a traditional recipe with the intention of transforming it into a low carb recipe. That is not the case with these Keto Snickerdoodles.
When creating this low carb recipe, I only had to make a few simple changes to comply with the low carb lifestyle. I switched out the sugar for a low carb sugar substitute and did the same with the flours.
Instead of using all-purpose flour, I made these keto snickerdoodles with a mix of almond flour and coconut flour.
While my traditional snickerdoodles recipe doesn't include gelatin, I needed something to hold this recipe together and wanted an alternative to xanthan gum.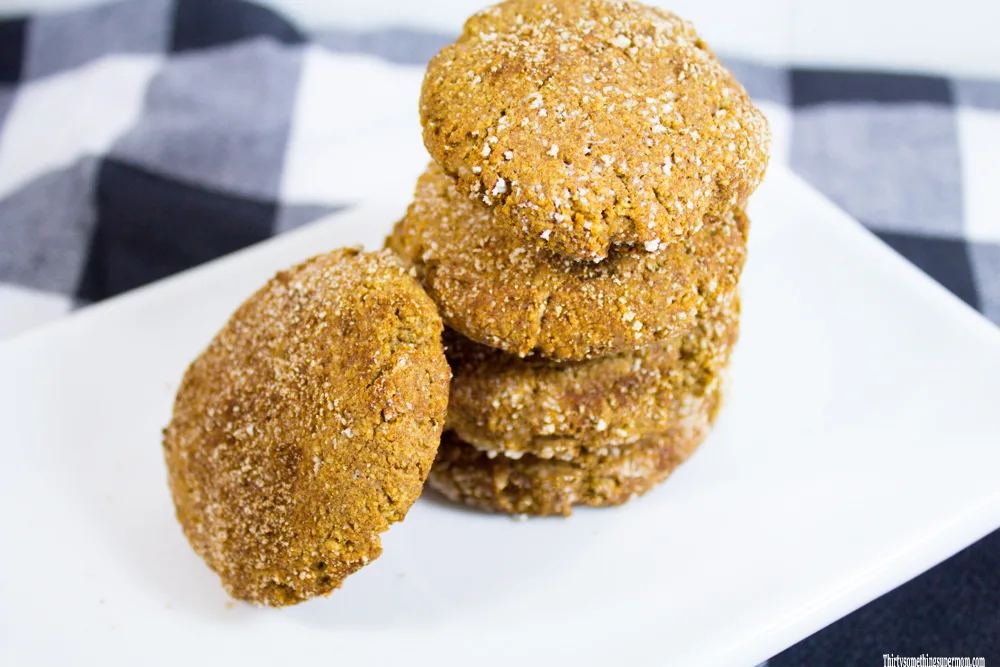 What's Wrong with using Xanthan Gum?
For some of us, xanthan gum is a helpful ingredient in a wide variety of our recipes, it can especially be helpful when cooking low carb.
Unfortunately, it can cause gastrointestinal issues for some in the form of an upset stomach, bloating, and excess gas.
This isn't the case for everyone and some of us would never even notice when a recipe uses xanthan gum but I love to have an alternative to avoid any issues.
Another great reason for this recipe to not include xanthan gum is because it can be hard to follow a new diet with all new ingredients you are not used to using.
Having an alternative like unflavored gelatin may be easier to find in your grocery store and it can make starting a low carb diet a lot easier for those of us who struggle to find xanthan gum.
Can I Use a Different Low Carb Sweetener?
The options for low carb sweeteners seem to grow each day. There are many different low carb sweeteners available that are interchangeable in most low carb recipes.
Some of my favorites to use are stevia and monk fruit because they are easy to find, pretty reasonably priced, and easy to work with when making low carb recipes.
How Many Cookies Does this Keto Snickerdoodles Recipe Yield?
This recipe for keto snickerdoodles can yield a different amount each time, it really depends on the size of the cookies. I usually make my cookies on the small side in order to have more and they expand a bit in the oven.
When following this Keto Snickerdoodles Recipe exactly, making 1-inch dough balls, you can make 18 cookies.
Do You Want More Easy Keto Dessert Recipes?
Try out some of my favorites like this Easy Keto Almond Bark or make this Easy Keto Chocolate Ice Cream .
Do you want another easy keto cookie recipe? This one showing you how to make these Low Carb Chocolate Chip Cookies will satisfy any cookie craving and it goes perfectly with a glass of almond milk.
Don't have any almond milk on hand? Learn How to Make Your Own Almond Milk .
Share this post on your favorite social media and don't forget to leave a comment letting me know your thoughts on this recipe for Keto Snickerdoodles.
Shop this recipe or familiarize yourself with the items that helped me create this Easy Keto Snickerdoodles Recipe. Click the links below to see what products I used to make this recipe.
These links will bring you to Amazon and keep this window open so you can shop and not worry about losing this recipe.
Keep in mind that these are affiliate links which means that if you make a purchase, I will receive a small portion of the sale, at no additional cost to you. Happy Shopping!
Soft & Easy Keto Snickerdoodles
Ingredients
1 & 1/2 Cups of Almond Flour
1/2 Cup of Coconut Flour
1 Teaspoon of Gelatin (unflavored)
1 Stick of Butter
2 Teaspoons of Cinnamon
1 1/2 Teaspoons of Vanilla Extract
2 Eggs
Dash of Salt
1 Teaspoon Cream of Tartar
3/4 Cup of Stevia
1 Teaspoon of Baking Soda
For the topping:
1 Teaspoon of Cinnamon
2 Tablespoons of Stevia
Instructions
Preheat the oven to 350 degrees and prepare a baking sheet by lining it with parchment paper.
Mix together the flours, cinnamon, gelatin, cream of tartar, baking soda, and salt in one bowl.
In another bowl, use a mixer to combine the butter and stevia. Once they are pretty well combined, add in vanilla and eggs. Mix together well.
Add in the dry ingredients a little bit at a time.
In another bowl make the topping by combining the stevia and cinnamon. Roll the cookie dough into about the size of 1 inch balls and roll into the cinnamon mixture.
Place on baking sheet and press down slightly into cookie shape.
Bake for 10-12 minutes on top rack.
Recommended Products
As an Amazon Associate and member of other affiliate programs, I earn from qualifying purchases.
Nutrition Information
Serving Size
1
Amount Per Serving
Calories

2097
Total Fat

177g
Saturated Fat

64g
Cholesterol

243mg
Sodium

2159mg
Carbohydrates

95g
Sugar

8g
Protein

53g