This tutorial sharing how I upcycled Halloween jars using the Cricut contains affiliate links. If you make a purchase after clicking a link, I will receive a portion of the sale at no additional cost to you.
Upcycle Halloween Jars Using the Cricut
Craft inspiration can come from anywhere, I was recently inspired by a piece of garbage. We have a ridiculous amount of pickle jars on a shelf, just waiting for a purpose. We eat a lot of pickles and I keep adding to the collection, but I knew the jars had a hidden potential that I couldn't just throw away.
Why do I have so many pickle jars?
They came in handy during the Derecho storm because I was able to fill them up and bring water to my friend Bob's house who was not only without power but also without water for almost two weeks. Of course, when the idea came to me to use these jars instead of buying gallons of water from the store to bring to Bob each day, it was too late.
I filled up a carload of pickle jars with water for Bob and his chickens only to find out that his power had come back on and he didn't need it. Of course, I was happy that Bob's power and water supply had returned but I was unable to get rid of these pickle jars. Bob usually takes anything I give him, but he was so excited to have his power return that he told me to bring them back home.
What about Bob?
Bob sees the value in everything and doesn't waste much. He has inspired me time and time again to not only reuse things that would have otherwise been thrown out but to appreciate things more than I normally do. He is very passionate about reusing things and finding new purposes for them that have proven to be useless to everyone else.
This goes for people too. Bob helps out people all of the time and he seems to have a weak spot for the kind of people who like to walk all over him. It's easy for someone like me to just wash my hands of a person like that and throw them away, like the piece of garbage they are, but for Bob, he wants to upcycle them I guess. Unfortunately, there is more hope for these stinky old pickle jars than the kind of person who doesn't appreciate a friend like Bob.
He is a retired engineer and the kind of person that keeps a broken treadmill knowing that he can use the leftover parts to make a go-kart. He made a fort out of pallets for the kids to play on and one time he upcycled an old shed into a beautiful house for his chickens. It makes perfect sense to me that Bob can see the value in things that most of us overlook just by touring his property. Almost everything he owns is something he had a hand in creating or something that someone else had thrown away.
We could all stand to be a little bit more like Bob and I am hoping his hoarding ways aren't the only thing rubbing off on me. Although I am pretty good at hoarding pickle jars and perfume bottle lids, so you know the old saying when life hands you garbage… Upcycle it!
How to upcycle Halloween jars using the Cricut
I started by spray painting the pickle jars white. I wasn't too worried about spaying evenly and on one of the jars, I did my best to leave a bit of glass shining through.
I think it gives the illusion that the contents of the jars may be eating away at the finish.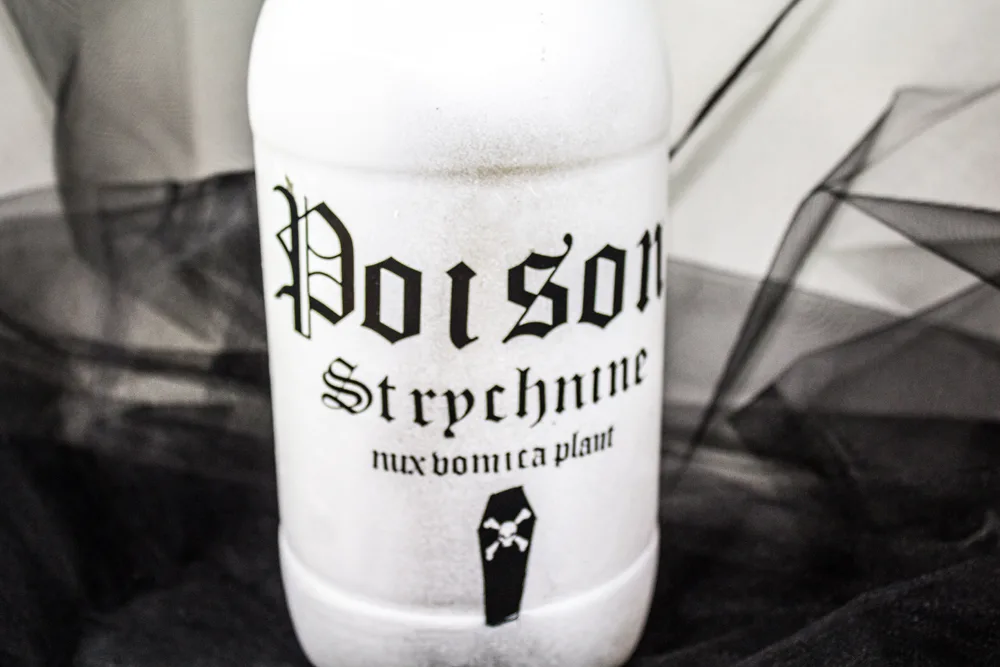 This works for overspray too, don't worry about a few drops of paint rolling down the jar.
Imperfections seem to work well when creating these Halloween jars, they may even improve the finished product.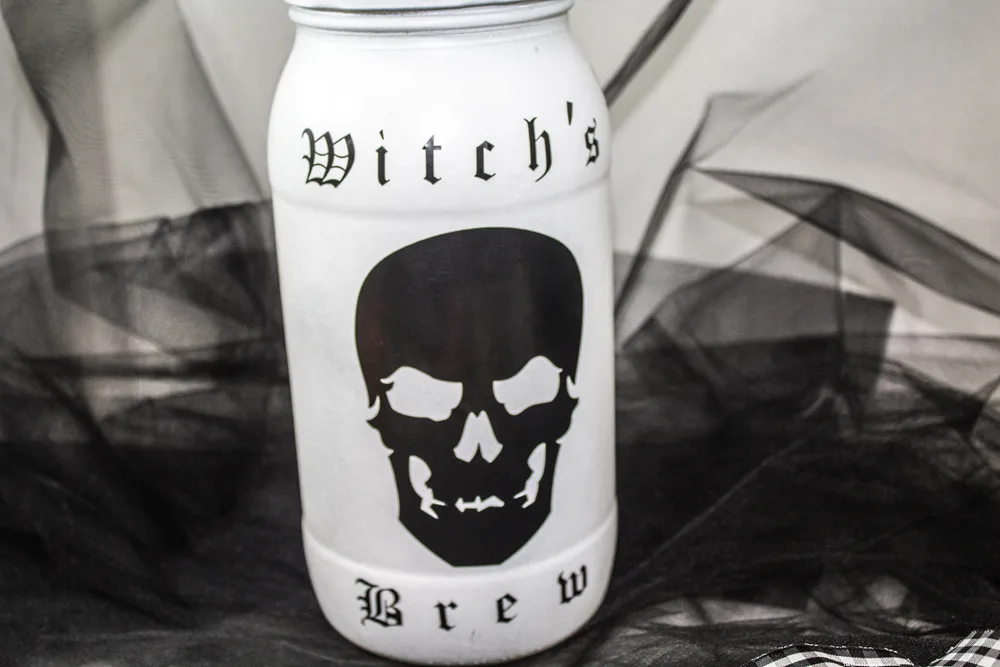 That seems to be the theme of most upcycling adventures, with humans as well as objects.
The next step is to wrap some decorative ribbon around the side of the jar. Be careful not to seal the lid on if you want your jars to be functional.
How do you get the smell out of pickle jars?
The first step is to wash it with warm soapy water, several times. Remove the label in the process, using a brillo if needed. The next step is to use a vinegar-water mixture that is equal parts of both, mixed together. Let this sit overnight if you can wait long enough before rinsing out and drying.
That's the basic formula I use but you are also left with the option of making these jars decorative and never opening them again.
I added knobs to the top of my Upcycled Halloween Jars with a hot glue gun. I got the knobs from perfume bottles that I had been given as gifts from my husband over the years. I am glad that I was right when I decided to store them on an already crowded shelf and let them be in my way for the past seven years.
It turns out they did have a purpose and I think they really add a nice touch to these Upcycled Halloween Jars.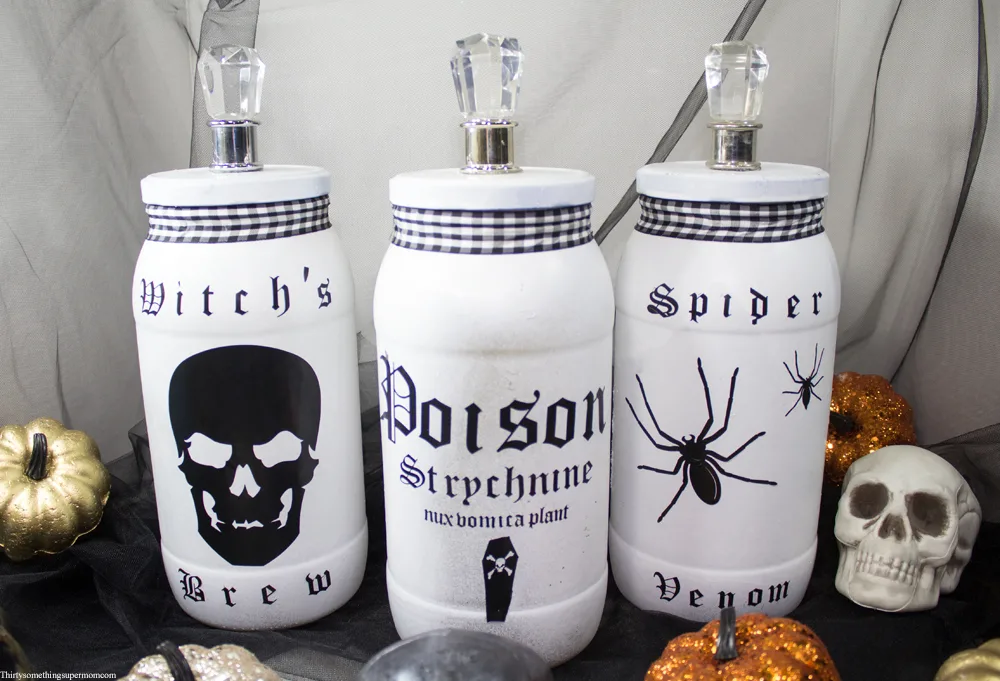 I then added some fun stickers that I made with the Cricut. You can get the cut file by clicking here. I hope you were inspired to upcycle something that would have otherwise been thrown out. I'd love to hear about any projects you may be working on. Don't forget to share this post on your favorite social media.
You may also want to check out this list of the Best Cricut Christmas Gifts.
Where did I get all of my supplies for this craft?
You can find all of the items that I used to make these Upcycled Halloween Jars by clicking the links below.
Cricut Strong Grip Adhesive Cutting Mat