Please keep in mind that I am a supermom, not a doctor and that NO information on this site should be used to diagnose, treat, prevent or cure any disease or condition. Use your best judgment when dealing with a workout injury and know that these tips are just my opinions.
I have always enjoyed working out, it is a great release for any anger and frustration that I have built up in my day to day life. My early morning workouts are one of my favorite parts of the day. I love starting my day with a sense of accomplishment because no matter what else I do with my day, I have already achieved so much.
I began a routine that started at five in the morning, it was a MAX interval training workout series that burns around 1000 calories in a little less than an hour. Everything was going great but I ignored the constant warnings to perfect my form and insisted on getting in every last move that this particular workout demanded. I even decided to forgo the recommendations from the program that insisted I drink a recovery formula after each workout. Instead, I drank my morning coffee, ate my regular diet, and continued to work out at this insane pace. I was creating the perfect storm for a workout injury and then it happened, I hurt my back. I didn't want to stop working out so I found some tips that have helped me learn how to Workout even with my injury.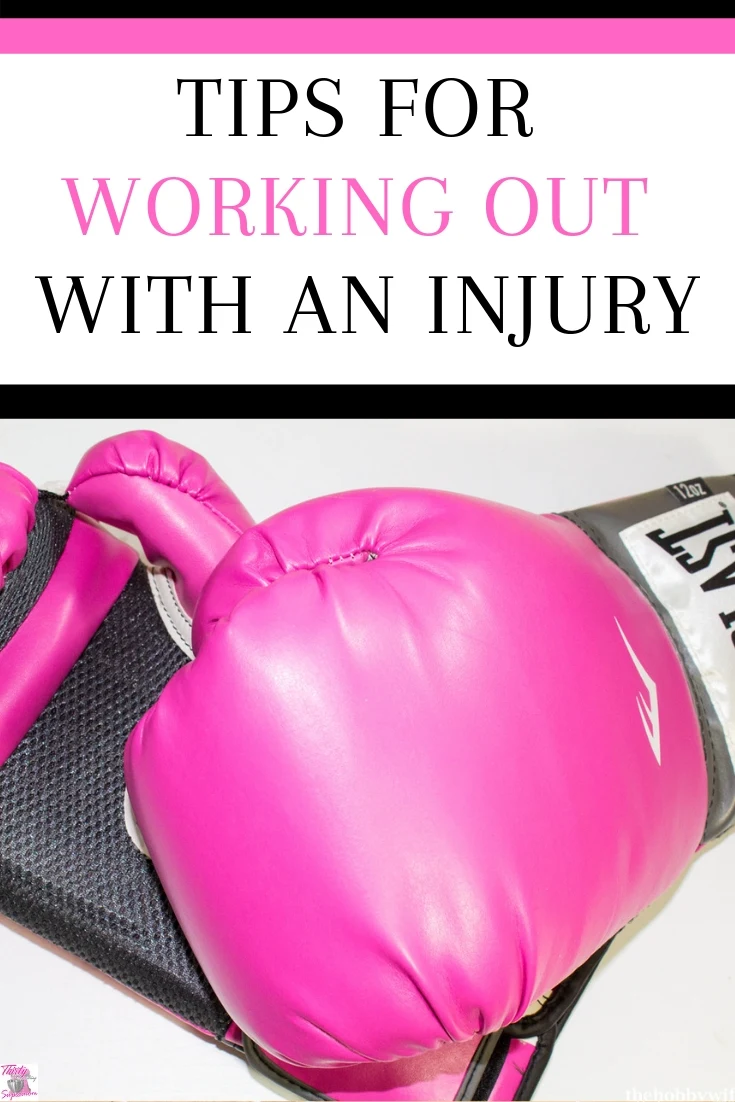 Check with Your Doctor
The first thing you should do when dealing with a workout injury is to consult your doctor. If you are anything like me then that is the last thing that you want to do. My hesitation to consult a professional when I have a workout injury comes from many years of feeling like a guinea pig when it comes to medical care. It seemed like every time I had any issue at all, I was being diagnosed with something serious and admitted to the hospital. Each and every time was more expensive than the other so that is another reason I try to avoid the doctors' office.
With that being said, heading to your doctor when you have a workout injury, to access the situation is a good idea. Your simple workout injury may turn out to be something that could get worse if left untreated, so it's a good idea to get checked out.
Try a Different Workout
If your workout injury was caused by a specific workout, it's a good idea to switch things up in order to not aggravate the injury and let your body rest. Starting a new low impact workout regimen until you recover is a great way to stay active while playing it safe.
Take It Easy
When dealing with an injury, rest is always best. It's a lot easier said than done, I know this from experience, it can be really difficult to take a break from working out once you are used to your routine. Fortunately, not all injuries require taking a complete break from working out. It is helpful to know how you have injured yourself and make any necessary adjustments to prevent further damage. I didn't know at first what was causing my injury because it didn't seem to come on suddenly, looking back now I think that the heavy core workouts may have been the cause of my workout injury. If I could go back, I would have taken it easy until the muscles were strong enough to handle the type of abuse I was putting myself through. In the meantime, while I heal, I am using an elliptical to get a workout in while not overdoing it. This has allowed me to still build muscle, burn fat, and the most important part, get all of that rage out.
An important part of working out even when you have an injury is to not make it worse. Take it easy when possible and if you want to continue working out, it is best to stop when you feel any pain. There is no reason to make it worse, give it the time to heal that it needs and if it isn't healing you may want to check back in with your doctor.
Salonpas
While I did receive products in exchange for my honest review, this in no way has influenced my opinions of the products. The following topical Salonpas products and more are available at leading retailers nationwide: The Salonpas Pain Relief Patch Large is the first and only FDA-approved OTC pain relieving patches, now double-sized!Salonpas Lidocaine Pain-Relieving Gel Patch provides numbing, unscented maximum strength pain relief available without a prescription.Salonpas Hot provides heat for effective pain relief for up to 8 hours, natural and odor-free with the active ingredient being capsaicin, the compound found in chili peppers.Salonpas Lidocaine Plus Pain Relieving Cream offers maximum unscented pain relief without a prescription and includes benzyl alcohol to numb nerves fast.
With topical analgesics recommended as the first line of treatment by physicians in much of the world, it's time for the United States to follow suit. The Centers for Disease Control recently started guiding physicians to consider topicals as "alternative, first line" treatment for pain, "thought to be safer than systemic medications" with "lidocaine for neuropathic pain, topical NSAIDs for localized osteoarthritis, topical capsaicin for musculoskeletal and neuropathic pain."
These products are nothing short of amazing. I am currently writing this post, well rested and pain-free thanks to these products. The instant relief a patch on the back or a quick spray does for me is very impressive. Every Salonpas product that I have tried has worked instantly and I have not been able to stop bragging about them since. Fast and effective relief is a real gift when you have a workout injury, I couldn't be happier with their performance.
Proper Nutrition
This is something that I am learning the hard way, apparently, when they tell you at the end of a workout to drink your results and recovery formula, they were not talking about water. Lucky for me, a good friend of mine is an expert on this kind of thing, he recommended a few things for me to take after my workouts and I suggest you find out what is best for you, apparently that is part of recovering from your workout and a very important role in avoiding workout injuries all together.
You may also be interested in learning about how to keep fit in your office.