Frosted Cinnamon Coffee Cake with Brown Sugar Filling
I have always loved coffee cake and when I was a kid growing up in New Jersey it was easy to come by. Apparently the midwest doesn't put such a high value on coffee cake because I can't seem to find it anywhere. So I decided to make my own version that resembles the coffee cake I loved as a kid growing up in Jersey.
I am not going to lie and say that you can whip this recipe up in a few minutes, it is a little labor intensive but it is so worth it!
This coffee cake recipe breaks down into 4 parts, first there is the cake, then the filling, next there is the topping, and finally the frosting. Each part is going to require separate dishes for mixing ingredients or washing your bowls in between each step.
To make the coffee cake you will need to preheat your oven to 350 degrees, grease a 9×13 inch pan and then mix butter,salt,sugar,brown sugar,baking soda,vanilla extract,eggs,yogurt,milk, and flour in your mixer.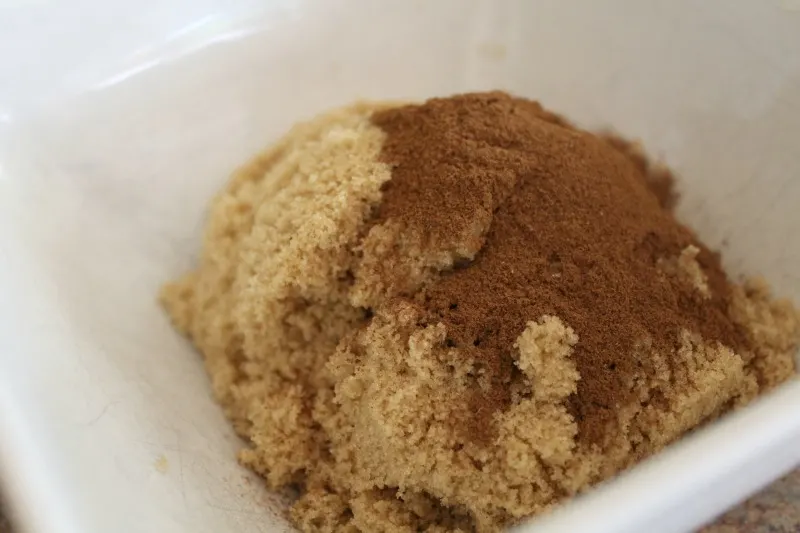 In a separate bowl mix the filling which is made up of brown sugar and cinnamon.
You will add half of the coffee cake batter into the 9×13 inch pan and then add the brown sugar cinnamon. Mix it into the batter evenly by spreading it across the top.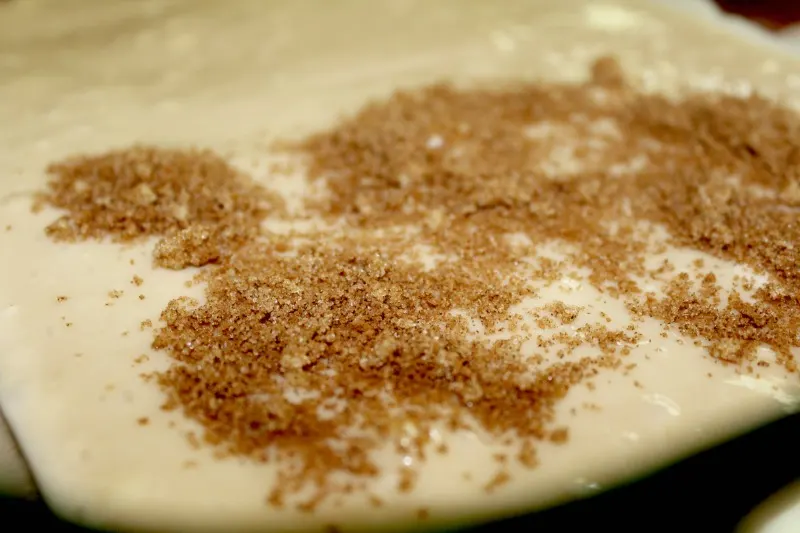 Some of it will sink in due to the sticky texture of the coffee cake batter but as long as you get a pretty even coating across the top it won't matter how pretty it looks at this point.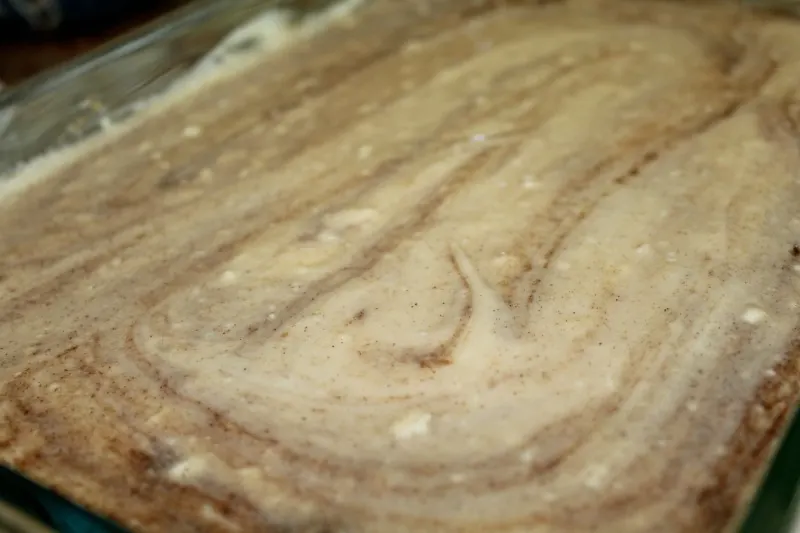 Pour the rest of the coffee cake batter on top of the brown sugar filling and spread it throughout the pan. Pop it into the oven while working on the topping and frosting. Let it bake for about 30 minutes before adding the topping.
Once the topping has been added bake for an additional 20 minutes. Once the coffee cake is done baking drizzle the frosting on top and allow to cool completely.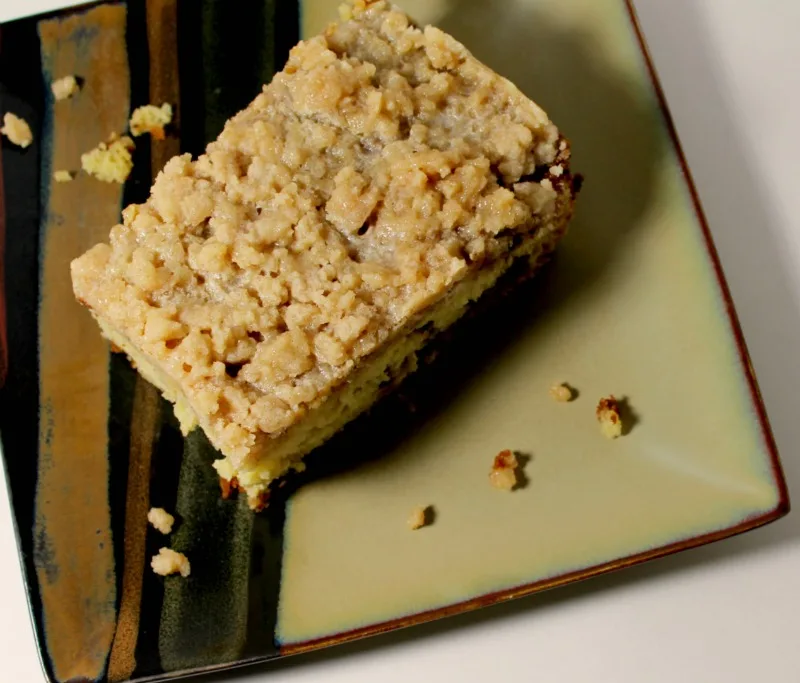 It will be messy while hot but after cooling in the refrigerator for a a couple of hours this cake will be easy to serve without a big mess. I use a storage container with a lid like this one picture below, you can find it on Amazon pretty cheap by clicking here.
The frosting becomes more solid as it cools and it holds the cake together while giving a delicious flavor to the entire coffee cake.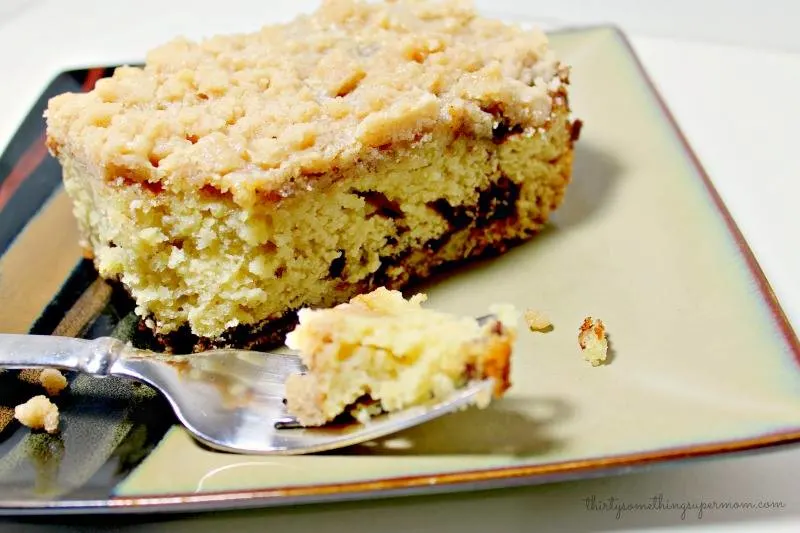 Serve and enjoy. Let me know how your family enjoyed this coffee cake recipe by leaving a comment below.
Frosted Cinnamon Coffee Cake with Brown Sugar Filling
Ingredients
Cake
3/4 Cup of Butter
1 Teaspoon Salt
1 1/2 Cups of Sugar
1/3 Cup of Brown Sugar
2 teaspoons of Baking Soda
2 teaspoons of Vanilla Extract
3 Large Eggs
1 Cup of Vanilla Yogurt
3/4 Cup of Milk
2 1/2 Cups of Flour
Topping
1 & 1/2 Cup of Sugar
1/4 Teaspoon of Salt
1 1/2 Cups of Flour
1 Tablespoon of Cinnamon
1 Stick of Butter
Filling
1 Cup of Brown Sugar
3 Tablespoons of Cinnamon
Frosting
1/3 Cup of Brown Sugar
3 Tablespoons of Sugar
1 Cup of Butter
2-3 Tablespoons of Milk
1 Teaspoon of Vanilla Extract
1/2 Cup of Powdered Sugar
Instructions
Preheat Oven to 350 degrees.
To make the cake mix all ingredients together and add half of the cake batter to greased 9x13 inch baking pan.
In separate bowl mix the ingredients for the filling and then add on top of the cake batter in the 9x13 inch pan.
Add the rest of the coffee cake batter to the pan on top of the filling making sure to cover the entire top.
Bake for about 30 minutes.
Make the topping by adding all ingredients to a mixer and then scooping crumble onto the top of the coffee cake.
Bake for an additional 20 minutes.
Make the frosting by mixing together the ingredients and adding the milk slowly until the desired consistency has been reached. You want it to be spreadable but not too liquidy.
Once the cake is finished baking add the frosting.
Pop it into the refrigerator and allow to cool for 2-3 hours before serving.
Enjoy!