This DIY furniture makeover shares how to transform an entertainment center and give it a new purpose as a buffet or sideboard. This furniture piece gets a new look and new purpose with this fun furniture makeover project.
This DIY Furniture Makeover post contains affiliate links which means that if you make a purchase after clicking a link, I will receive a small portion of the sale at no additional cost to you.
DIY Furniture Makeover Inspiration
Many of my favorite pieces of furniture throughout my home are DIY projects from a local thrift store garage sale or pieces I decided to transform and give a new purpose to. I enjoy a good furniture project and when I decided I no longer needed my entertainment center, I decided to give it a buffet makeover.
I needed a piece of furniture to store my casserole dishes as well as a place to display my plants and all of my farmhouse decor. This piece of furniture turned out to be the perfect piece for this DIY furniture makeover.
I wasn't a big fan of the paint color, it was perfect for my tv stand because it matched everything in my living room but it was a darker color than I wanted for my dining area. Since this piece was pretty dinged up I wanted to completely overhaul this piece.
I thought about using chalk paint but in my experience painting furniture isn't always the best option with old furniture. I decided to strip the old paint off and it turns out that this was the best way to show the prettiest shade underneath several coats of paint.
This furniture makeover is a great way to give new life to an old piece without having to break out the chalk paint.
Tips for Transforming Old Pieces of Furniture
The first step in all great furniture makeovers is to make sure the piece is in good condition.
Tips for Selecting Old Furniture for DIY Projects
When working with old chairs, old coffee tables, or any older furniture, the best way to start is to make sure the piece is worth the trouble.
If the piece only needs new hardware, a fresh coat of paint, and some minor repairs that you are able to tackle, then this is a great option for a furniture makeover.
Best Method for Finishing Old Furniture
An easy way to replicate what the natural wax can do is to use a bar of soap on the edge of the drawers to help them glide out easier. Although you can easily pick up natural wax pretty cheap at your local grocery store or get it online.
But if you are in a huge rush to get your project going, a bar of soap could do the trick.
How to Inspect Old Furniture
When checking out an old dresser, be sure to pull drawers all the way out when inspecting the piece.
Check for working drawer slides but don't give up on your DIY dresser makeover if the drawer slightly sticks. This can be remedied pretty easily with a bit of paraffin wax. This natural wax helps to lubricate the gliders in an old dresser and can fix this problem without any tools required.
Be sure to pull off any tape that may be on the piece. You may be surprised by what is underneath. I pulled a piece of tape off of this piece that removed the first coat of paint and this revealed the natural wood color underneath.
Never underestimate the happy accident masking tape can provide.
How to Repurpose an Entertainment Center
When I first decided to transform this piece, I had so many ideas on what to use this old tv stand for but ultimately decided that it would be the perfect choice for a buffet makeover. It would also make a great coffee bar.
When looking for interior design inspiration I came across a lot of farmhouse buffets but most of them had white paint.
I wanted something that matched my dining table and kitchen cabinets since it would be placed in that area. This tv stand was the perfect length for the wall I had available and with this new look, I know I chose the right place for this piece to go.
I decided to strip the paint off of the entertainment center and reveal the natural wood underneath. I used Citristrip to achieve this look but you could use this furniture stripper if you prefer. I have heard that this furniture stripper works well but it takes the longest time according to my research.
Citristrip will take off spray paint, acrylic paint, and a lot of other types of paint off of a variety of furniture.
I removed the doors and thoroughly cleaned the entire piece before applying a thick layer of Citristrip. I could see almost immediately that the product removed a little paint before I was even done applying the paint remover.
This gave me a glimpse of what was hiding underneath for the first time and to my disappointment, it turned out that the shelves were made of particle board. Some of the paint peeled off but I could tell that once I gave the rest of the piece a good scrubbing, the particle board would not be left in good shape.
So that's when I started thinking about how to transform the dark wood inside of the old buffet and thought of an inexpensive way to update it.
I hit the dollar store while letting the Citristrip do its work and picked up some vinyl meant for Cricut projects. At a dollar a roll, this was the perfect way to add my favorite buffalo check to this piece.
After letting the paint stripper do its thing for several hours, I used a plastic putty knife to remove the paint. This part of the job is pretty satisfying because the paint comes off pretty easily, especially on a flat surface, and you can watch the transformation happen with each scrape of the putty knife.
Be sure to use a plastic putty knife for this step because the metal kind can damage the wood. Full disclosure, the metal kind put a nice gash in this piece but it was in an inconspicuous location so nobody else will ever know about the little bit of imperfection.
After removing all of the paint stripper and the paint is not quite loosened up, you may find that you need to reapply the paint stripper. As with the first time, make sure you leave the stripper on for several hours before attempting to peel off.
Test a small spot to see if the paint will easily be removed, if not, leave it alone for a few more hours.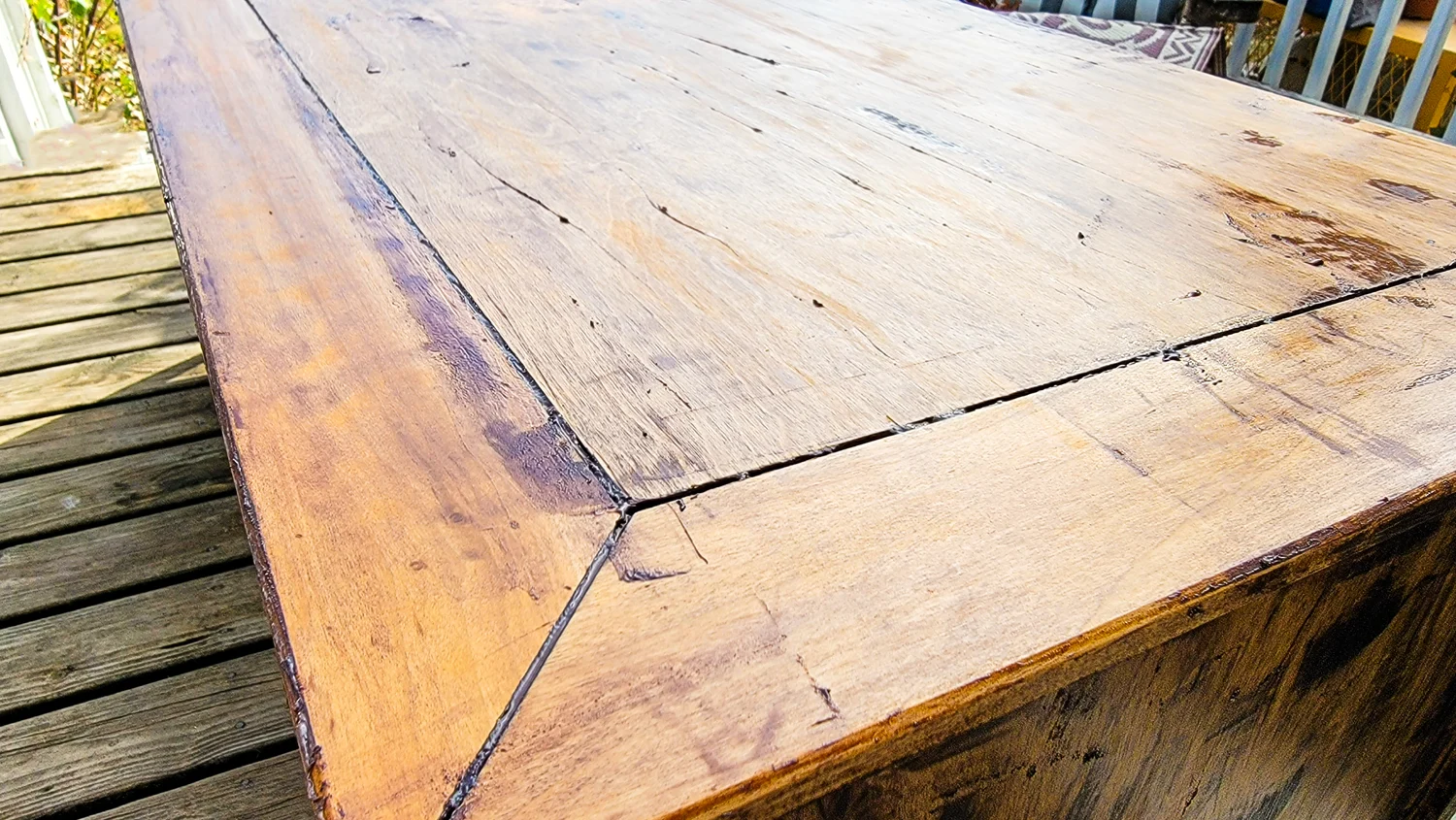 This project took three attempts before all of the paint would come off, it was really stuck in the corners and edges of this piece. I didn't mind the extra work but I have found that I can be pretty impatient when it comes to seeing the final results of a furniture transformation.
So by the time I was onto the third attempt at removing the paint, I was really antsy to get this piece back inside and add the final touches.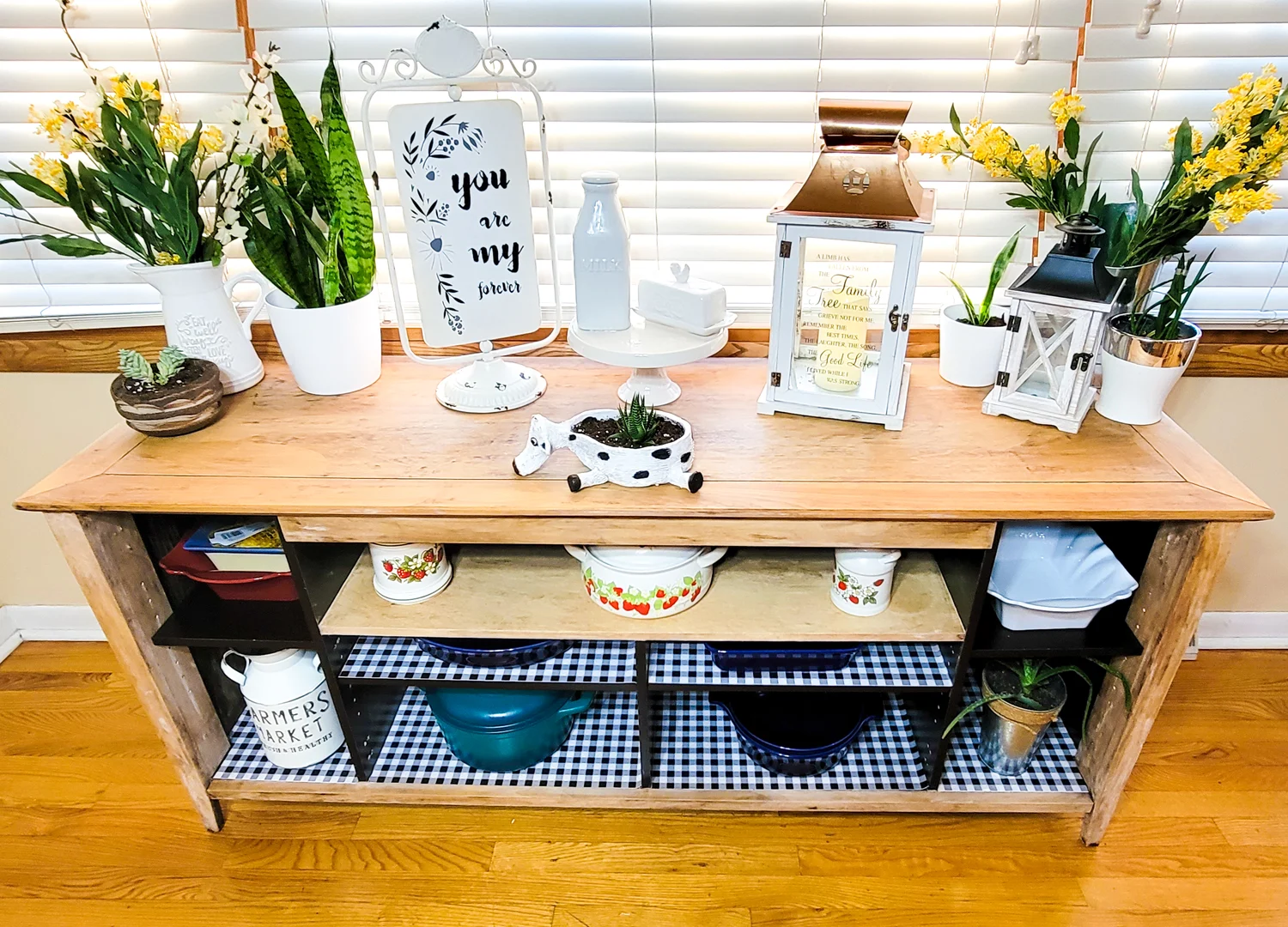 After all of the paint was removed, I thoroughly cleaned the entire piece and added a coat of lemon oil.
I decided not to add a coat of finishing wax but this is a good idea to protect the raw wood. I may decide to add some in the future but for now, I will call this piece done.
More DIY Furniture Projects
This before and after furniture makeover will inspire you to transform an old end table or side table with chalk paint and some new hardware.
It's the perfect time to transform your bedroom with this DIY pallet bed frame tutorial. Learn how to pick out pallets, clean them, and use them to make new pieces of furniture. If you enjoy pallet projects you will love this DIY Pallet Coffee Table project.
Get inspired with this vintage storage chest to table makeover that uses paint, stencils, and new legs to give this piece a new look.
Transform an old ottoman with this no sew DIY ottoman makeover.
Bring new life to an old vanity with this makeup vanity makeover using chalk paint.
If you enjoy these great ideas and want to see more of the best furniture makeover ideas, let's stay in touch. Don't forget to follow along on social media and sign up for the free newsletter so that you never miss a post again.
Are you working on a DIY furniture makeover? Tell me all about it by leaving a comment below!