This easy crock pot chili recipe is a quick and delicious way to prepare chili. Enjoy the aroma as this simple chili recipe cooks in the slow cooker throughout the day.
Chilli is one of those meals that my whole family loves and when it's chili night at our house that also means I get the night off from cooking. I just whip up this classic slow cooker chili recipe in the morning and take the night off!
Variations on this Easy Crockpot Chili Recipe
Sometimes we switch it up a bit and use ground turkey or made a venison chili recipe to reduce the saturated fat. You can even try ground chicken, I haven't attempted that yet but it's on the list of things to try.
You can switch out the beans and use whichever you prefer for an easy crockpot chili recipe with beans or leaven them out for easy crockpot chili with no beans.
No matter what variations I try, this is my go-to chili recipe. I just use it as a basic chili recipe and then add in some extras to see how it goes over. I even like to try different toppings and sometimes create a chili bar with several pots of chili that use different meats.
This way everyone can choose what they think is the best chili toppings and everyone can prepare their chili however they choose.
If you like a little bit of extra spice, add in your favorite hot peppers or hot sauce to take this easy chili recipe to the next level.
I am a big fan of cooking in the crockpot whenever possible because it makes the evenings go really smoothly at my house.
They even have crockpots that let you brown the meat inside but for now, I will stick to the old slow cooker that has served me well over the years.
If you are following a low-carb diet, this keto chili recipe is perfect!
Why Use a Crock Pot to Make Chili?
I like pretending like I have the night off, even though as a mom and wife, there really is no such thing as having time off.
The kitchen still needs to be cleaned after dinner, the dogs still need to be fed, the lunches for the next day need to be packed, and if something gets lost, mom is the lead detective on that case every time.
So I guess it's really just a night off from cooking but I'll take it!
The only downside to using the crockpot to make chili is that you have to get started a little bit earlier in the morning to prepare your dinner but in my opinion, it is totally worth it.
The mornings are much quieter at my house and before 7 am it feels like a ghost town.
My husband leaves for work so early that when I wake up there is just a hint of the scent of his coffee lingering and I already find myself missing him even though the day has just begun for me.
Sometimes it feels great to start cooking in the kitchen as soon as I wake up, I enjoy the view of the sunrise and the fresh start each morning brings.
When I say sometimes, I mean it!
Some mornings I feel the exact opposite and getting out of bed just to do chores in my kitchen seems like cruel torture although this crockpot chili is actually the perfect meal for both of my personalities.
I love being able to just dump a bunch of chili ingredients into the crockpot and then forget about it until dinner time.
It reminds me of one of those infomercials from back in the day, just set it and forget it, seriously that is what you do, so simple.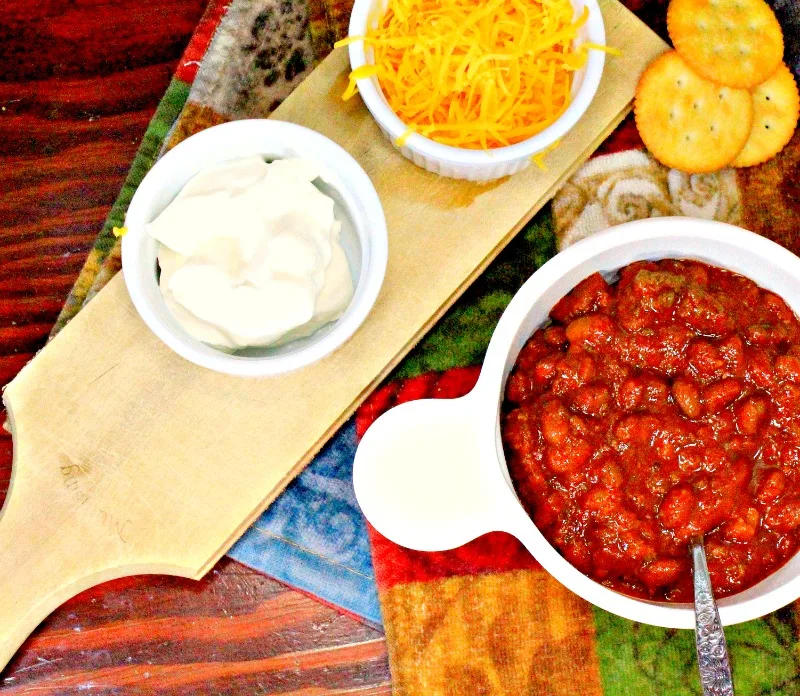 Ingredients for Easy Crockpot Chili
You can use a prepared seasoning mixture or make your own chili seasoning mixture.
8 Cans Chili Beans (about 120 ounces)
1 lb. Ground Meat
2 Cans of Tomato Sauce (about 60 ounces)
1 1/2 Teaspoon Red Pepper
1 Tablespoon Cumin
2 Tablespoon Masa
1/2 Cup of Chilli Pepper
1 1/2 Teaspoons of Paprika
1 Teaspoon of Salt
1 Teaspoon of Oregano
1 Teaspoon of Garlic Powder
When using canned beans, it is best to drain them before adding them to your crockpot of chili. You can even rinse the beans if you want to but this is not necessary in my opinion. As you can see, this really is a simple easy crockpot chili recipe!
How to Make Crock Pot Chili
If you are on the fence about using a crockpot for chili or don't know how to make chili in a crockpot, you'll be amazed by how easy it is easy to use a slow cooker for chili. After you brown the meat, just dump all of the chili ingredients into a crockpot.
This chili recipe cooks all day and softens the veggies while filling your home with a delicious aroma.
Another thing I love about this Easy Crockpot Chili Recipe is that you can customize it any way you want both before cooking and after.
You can add some veggies in there and your kids will not even notice or you can change the flavor with some carrots, celery, onions or peppers depending on your preference.
How to Use Leftover Chili
This recipe will fill the crockpot for my family of three that provides plenty of this easy chili recipe to enjoy this meal two days in a row.
Or if you want to make a couple of adjustments you can use the leftovers to make this Crock Pot Chilli Mac Recipe. This is a delicious meal for those that love the combination of chili with cheese!
It's also great in this chili cheese quesadilla recipe! If you want to go above and beyond since you are saving so much time by making this easy chili recipe in the crockpot, make these homemade tortillas, you will not regret it!
You can also use the leftover chili to top a baked potato or these twice-baked potatoes.
Can You Make Chili in the Instant Pot?
Absolutely! This is another way to really speed up the cooking process for chili. I brown my meat and add in the rest of the ingredients then set my pressure cooker but if you are concerned about the vegetables being soft enough, use the saute feature to prepare them first.
If your instant pot doesn't have a saute feature use a frying pan to soften the veggies and brown the meat first. Then add all of the ingredients, cover, and set your pressure to 20 minutes. This is the best way to get your chili done quickly!
After the Easy Crock Pot Chili is done, we like to add cheese, sour cream, chopped green onion, and crackers to our bowls.
I love the way the dairy adds a creamy flavor to the chili and the crackers offer a delicious crunch. I am drooling just thinking about it, thankfully I have a crockpot of chili cooking right now.
If you want more easy recipes, be sure to sign up for the free newsletter and follow along on social media so that you never miss another recipe post again.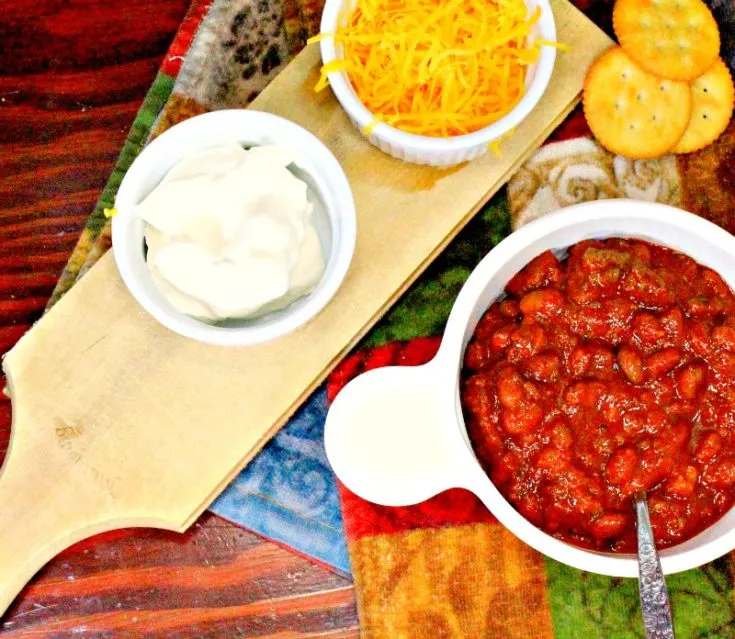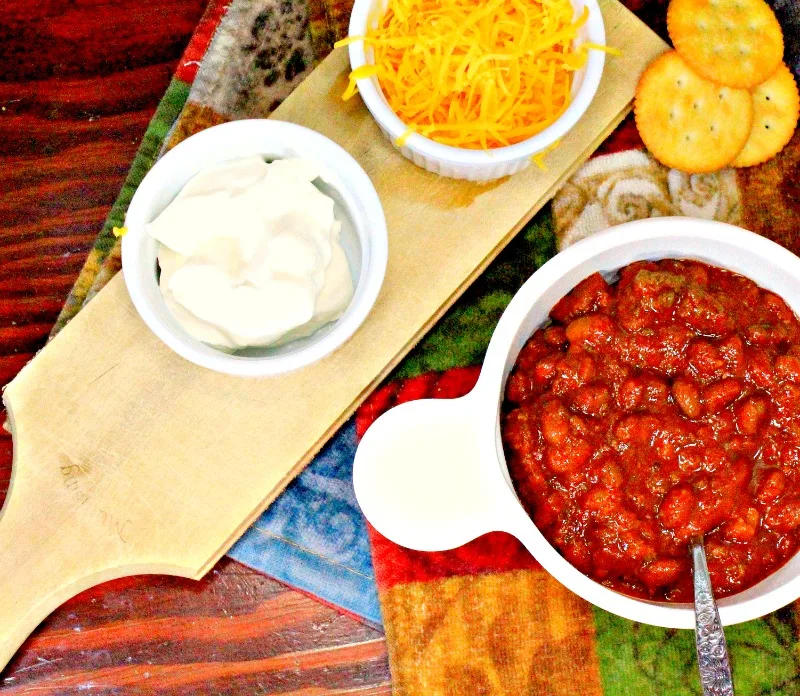 Easy Crock Pot Chili Recipe
Ingredients
8 Cans Chili Beans (about 120 ounces)
1 lb. Ground Meat
2 Cans of Tomato Sauce (about 60 ounces)
1 1/2 Teaspoon Red Pepper
1 Tablespoon Cumin
2 Tablespoon Masa
1/2 Cup of Chilli Pepper
1 1/2 Teaspoon of Paprika
1 Teaspoon of Salt
1 Teaspoon of Oregano
1 Teaspoon of Garlic Powder
Instructions
Brown the ground meat on the stovetop.

Add all of the other ingredients to a crock pot.

Add the ground meat to the crock pot and cook on high for about 6-8 hours!

Serve with cheese, sour cream, and crackers, or whatever toppings you like.