Put down the smart phones and shut the laptop! It's about time you enjoy the outdoors with your family and the best part is that this fun family activity is free!
If you have never heard of Disc Golf you may be more familiar with the term Frisbee Golf or have seen the baskets at your local park.
Disc Golf is a great Outdoor Family Fun Activity for may reasons.
Free Activity, doesn't cost anything after you own a frisbee
Can be played with as few or as many players that want to play
Great exercise for everyone who plays
There is always room for improvement and players of all levels will enjoy playing together
You can play anytime and almost anywhere, check your local parks website to find a course near you
Enjoy the outdoors and spend a few hours in nature
You can purchase a disc used or new at your local sporting goods store and depending on your location a disc can be purchased at Walmart, Target, or even a gas station.
There are a few different kinds of discs, Putter, Mid-Range, and the Distance Driver. There are also many different styles and weights available but this information is not necessary for the beginner to worry about.
Some parks have a paved slab for teeing off and others may have a more rustic dirt path but usually there is a sign letting you know which "hole" you are at.
The object of the game is to complete the entire Disc Golf course in as few throws as possible. After every player throws their disc the player with their disc furthest from the basket throws next and so on.
Courses can vary in difficulty, terrain, and length. Some courses have 18 holes while others may have less, check out some of the courses in your area and find what is a good fit for your family.
Get out and enjoy the nice weather while having some free family fun playing Disc Golf and remember to take your camera!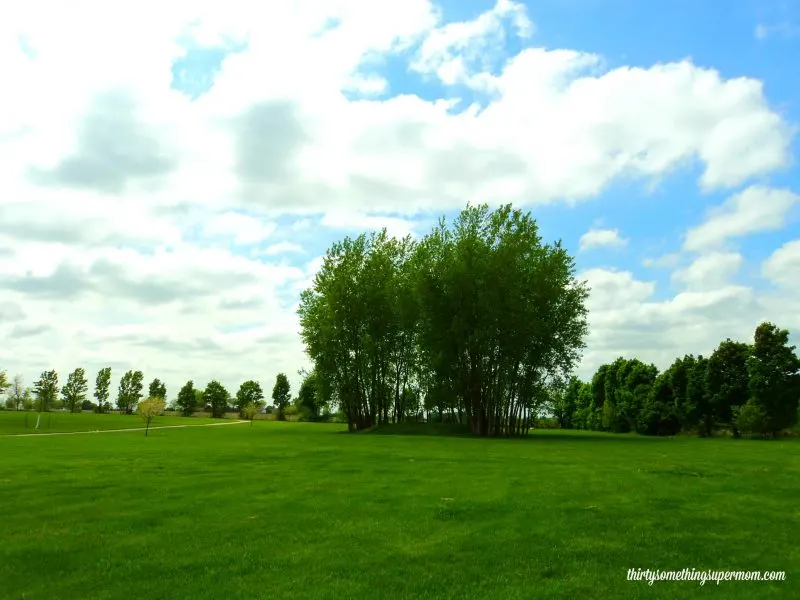 There is a Disc Golf basket in between those trees, wait until the kids see this!