Ever since I was a kid, I loved experimenting in the kitchen. A lot of my friends experimented with drugs and boys but I was fairly well behaved so instead of making meth, I made food which worked out well for my friends with the munchies.
One of the favorite recipes that I created in those days was Homemade BBQ Chips. I made it from what I could find around the house, mostly potatoes and seasonings which probably doesn't come as a surprise but what may surprise you was how I cooked it.
We didn't have a deep fryer or a frying pan in that particular home we lived in, we moved a lot and never seemed to bring our stuff with us from previous homes….hmmm my parents sound kinda shady, so I cooked it on a griddle.
These days, I have several deep fryers, I don't mean to brag but you can get them for right around twenty bucks so I suggest everyone pick one up at that price. As a kid, I was happy to have the griddle and I did some amazing things with it if I do say so myself.
Keep in mind that making these Homemade BBQ Chips will surely go over better if you use a deep fryer instead.
Although I am not getting paid to tell you about the deep fryer, this post contains Amazon affiliate links which means if you make a purchase after clicking my link, I get a small portion of the sale at no additional cost to you, so go ahead and get that one I mentioned for around twenty bucks by clicking here, if you do make a purchase, I get like two cents off of the sale, cha-ching!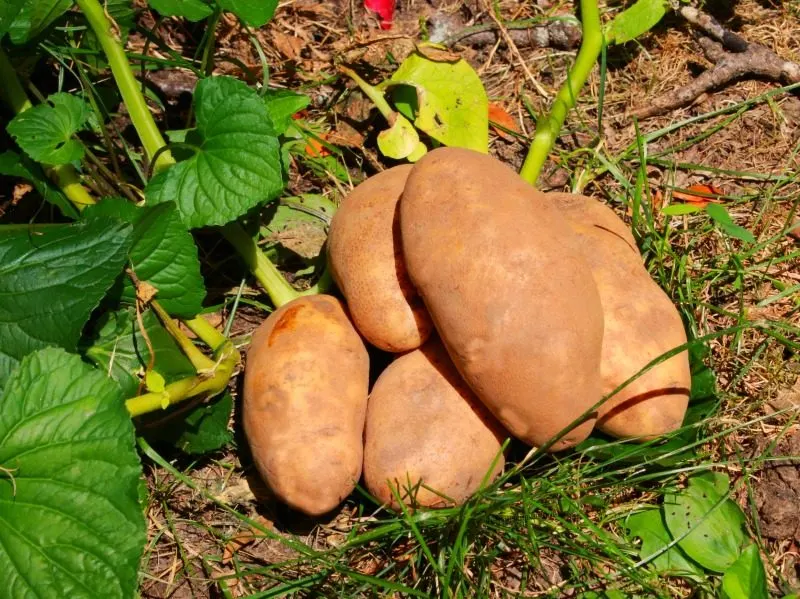 After you pick up that deep fryer, grab some potatoes, and if you are on the level of Martha Stewart like I surely am, you have grown these potatoes yourself, if you don't know how to do that well you can learn here. After growing your first round of potatoes you can even write a blog post about it as if you have always known that they grew underground because I certainly did.
Now back to making those delicious homemade BBQ Chips, whassat? (Please comment below if you get that reference.)
The first thing you are going to want to do when making Homemade BBQ Chips is to preheat your deep-fryer then start making that seasoning so it's ready to sprinkle on when the chips are finished frying.
Mix the garlic powder, onion powder,brown suger,paprika,salt, and cayenne pepper in a bowl, set aside. If you are fancy and drink your tea with one finger in the air then you may also want to pick up these glass jars for seasoning. They make it easy to sprinkle the perfect amount onto your homemade chips.
The next step in making Homemade BBQ Chips is to slice those potatoes using a mandolin slicer. Don't even act like you are a potato slicing ninja and can slice them bad boys without one. That link is for the exact one I use, my husband bought me the most expensive one he could find for some reason. It works great and I love it but I usually try to save when making purchases so if you are like me and want the cheapo, check this one out.
I don't know why the one I have is double the price but it does have some extra safety stuff on it so I guess you can try to put a value on your fingers and if you don't really care about them go ahead, save some coin.
Once your potatoes are done frying, this may take about 3-5 minutes depending on how thinly they are sliced and how crunchy you want them, add them to a paper plate lined with paper towels to absorb the extra oils.
Then sprinkle the seasoning on and enjoy your Homemade BBQ Chips!
Now you can pour them fellas down your throat all at one time or store some for later. I really don't care how you eat them, you are going to love these Homemade BBQ Chips no matter how weird your eating habits tend to be.
Now share this post with a friend especially if you did eat all of your chips at once, maybe they have more self control and will share theirs with you!
Don't forget to follow me on social media so you can be the first to know about future posts and maybe even catch a tweet or Instagram photo that wasn't thought through before posting.
Facebook | Twitter | Instagram | Pinterest
Ingredients
Potatoes
Frying Oil
1 Tablespoon of Garlic Powder
1 Tablespoon of Onion Powder
1 Tablespoon of Brown Sugar
1/2 Teaspoon of Paprika
1/2 Teaspoon of Salt
1/2 Teaspoon Cayenne Pepper
Instructions
Preheat deep fryer to highest temperature (400 degrees is the usual max temp)
Mix the seasonings together.
Slice the potatoes, rinse in cold water and once the fryer is at it's hottest temp, fry the potato slices for 3-5 minutes. Drain on paper towel and then sprinkle seasoning salt on top. Enjoy!