This salt dough ornament recipe contains affiliate links which means that if you make a purchase after clicking a link, I will receive a small portion of the sale at no additional cost to you.
Whether you want to make macaron ornaments or if you are just looking for the best salt dough ornament recipe, this post is for you.
There is something about the holidays that makes my creativity go into overdrive. I enjoy making DIY Christmas gifts and DIY Christmas decor for my whole house.
When I was decorating my Christmas tree, I decided that I needed to update my ornaments. When hanging up the DIY minion ornaments we made a few years back, I decided to create some salt dough Christmas ornaments.
I have always loved salt dough crafts because, with one simple salt dough recipe, the possibilities are endless.
Not only is this salt dough recipe easy to make but you probably have all of the ingredients needed to make your own ornaments in your home already.
No need to head to the craft store!
To make the basic salt dough ornament recipe, all you need to do is mix three simple ingredients.
Once you decide which kind of salt dough ornaments you want to make, you can check your inventory to see if you have everything you need to decorate them as well.
Paint, cookie cutters, hot glue, burlap string/ jute string, and a protective coating to preserve the salt dough ornaments are required to make these macaron salt dough ornaments.
After you make the dough, the next step is to roll it out and cut out the shapes you have chosen.
I used a mini glass I had to cut the circles out, they measure about 2 inches wide, the perfect size for these DIY macaron ornaments.
Once you have the shapes of your salt dough ornaments cut out, the next step is to bake them.
If you are creating a different salt dough ornament, you may want to cut out a small hole in the top for hanging. These macaron ornaments are hung by a burlap string set inside the center with hot glue.
This part is done after the baking process so there is no need to cut a hole or prepare it before baking.
After baking these salt dough ornaments for an hour, allow them to cool before painting.
If you want your macaron ornaments to look even more like the real thing, you can poke holes into the edges with a toothpick before baking.
I tried this method on one of these salt dough ornaments to show the difference but I actually preferred the finished product without the holes.
The paint and glue may cover up some of the holes when finishing off the ornaments so if you do decide to use this method, be sure to do several rings around the cookie.
You can see in the photo above what your salt dough ornaments would look like after baking if you decided to add in the typical macaron holes.
I don't feel that they are necessary but if you want your macaron ornaments to look even more authentic, you may want to try adding this little detail before baking the salt dough recipe.
The next step in creating these macaron salt dough ornaments is painting them.
I chose to use light pastel colors but there are so many varieties of macarons that you can pick whichever colors you like best.
Paint both sides of each cookie, making sure that the macarons each having a matching set.
After allowing the paint to dry, it's time to get the hot glue gun out and create the macaron filling, which will hold the burlap string as well as keep these salt dough ornaments together.
Wrap the burlap string into a loop and while holding down the bottom of the string into place, add a bead of hot glue.
Wait for it to dry and then you are ready to add the outer bead of hot glue.
When doing this part, be sure to hold the loop outside of the cookie so that it doesn't get stuck inside when securing the two layers together.
You can use an ornament hook or any ribbon with your favorite design to hand these salt dough ornaments if you'd prefer.
Another option for these macaron ornaments is to wrap several of them together and hang them from one hook rather than individual macarons.
When recreating the method I used to hang the macarons with burlap string, place the string in the center of the cookies from the spot you want to hang them from.
When securing the two pieces together, create a small ring of hot glue around the edge will do the trick but in order to really make the filling pop, it's best to be really liberal with the hot glue.
Let the filling pour over the sides and after the glue has dried, paint the edges with a bright white.
No need to keep the edges clean, I think that the more spillage there is, the more these ornaments look like the real thing.
You can choose to go over the edges with a different color if you want your macarons to replicate your favorite flavor like a lime filling or strawberry jam.
You can get an idea of what these types of different fillings will look like by checking out this macaron recipe with 6 different fillings.
Once you have finished painting and allowed them to dry, your salt dough macaron ornaments are ready to hang or wrap up as a gift for a macaron lover on your Christmas list.
I love the way these salt dough ornaments turned out and plan on making more ornaments with this basic salt dough ornament recipe. I hope you enjoyed learning how I made these macaron ornaments from this easy to create salt dough ornament recipe.
Don't forget to share this salt dough recipe on your favorite social media and leave me a comment letting me know how your macaron salt dough ornaments turned out. I can't wait to hear all about it!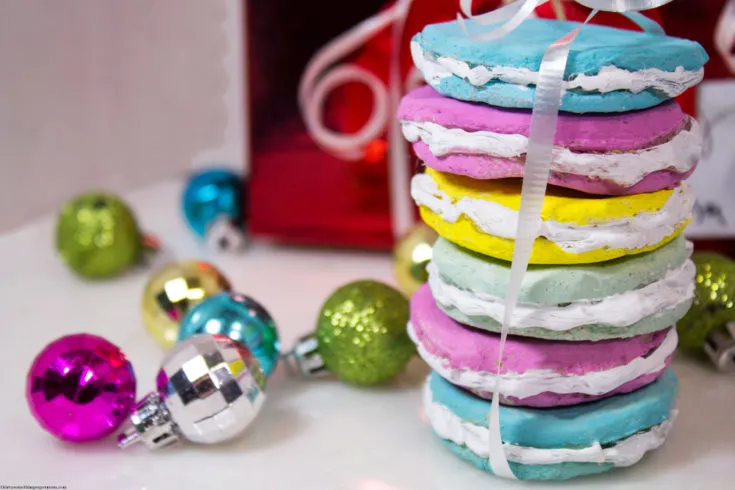 Yield:

6 - 8 macarons depending on thickness and size
Salt Dough Ornament
Ingredients
2 Cups of All-Purpose Flour
1/2 Cup of Salt
3/4 Cup of Warm Water
Instructions
Bake at 300 degrees for one hour. Be sure to poke any holes needed for hanging before baking these salt dough ornaments. After the ornaments are done baking, paint them, and secure them using hot glue. Protect the ornaments so that they last a lifetime using polyurethane.