These Crafty Ways to Repurpose Old Dishes In the Garden contain affiliate links which means if you click a link and make a purchase, I will receive a small percentage of the sale at no additional cost to you.
I have been spending as much time as possible in my garden lately and I keep adding new things every time I head out there.
I am planning on doing a blog tour soon and can't wait to show off my favorite plants and colorful blooms as well as all of my favorite garden accessories.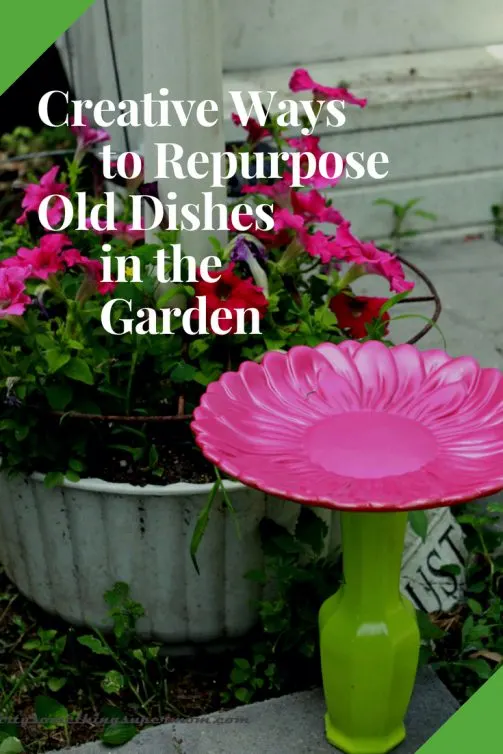 On the rainy days I have spent my time inside attempting to declutter my house one last time before I commit to a full-on minimalist lifestyle, this may take a while because I have a hard time getting rid of anything.
This entire post is all about how I use things I no longer need in a new way, that should give you a pretty clear picture of how attached I get to my stuff.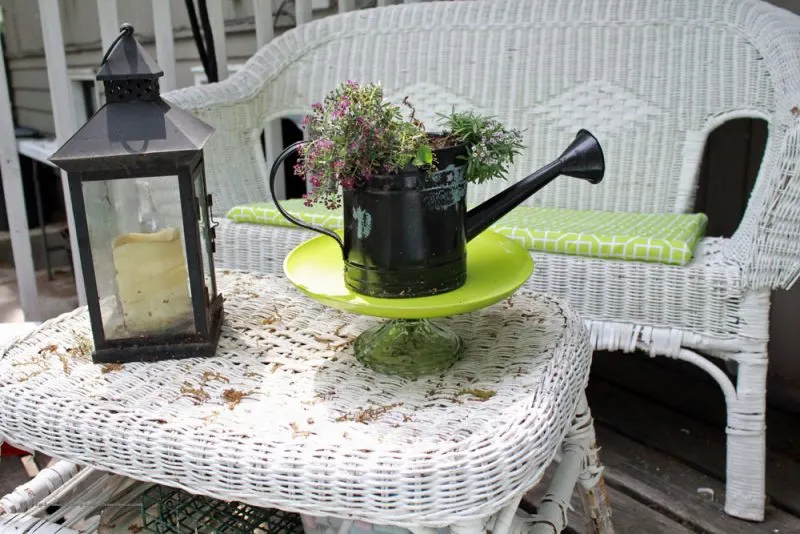 My house is just a place for my stuff at this point, kinda like what George Carlin says it is just a place to keep my stuff while I go out and get more stuff.
Just yesterday I went out to buy a used bike from a local guy selling his stuff online. He answered the door with a giant gash on his forehead and he resembled a wizard.
Turns out he used to live in Hollywood where he made art and even played a wizard in movies but now he lives in an old garage surrounded by a strange smell with very few possessions.
The wizard clearly didn't enjoy stuff as much as me, like band-aids, for example, he could have used one right then.
He told us the gash in his forehead was the result of tripping earlier that day but judging by his story, I suspected that he could have been tripping still.
This leaves me to believe that he would rather be on that stuff, than surrounded by it.
Not me, I love having things all around my house and even in my garden, especially when I make it myself.
These creative ideas will help you to repurpose your old dishes and use them in the garden.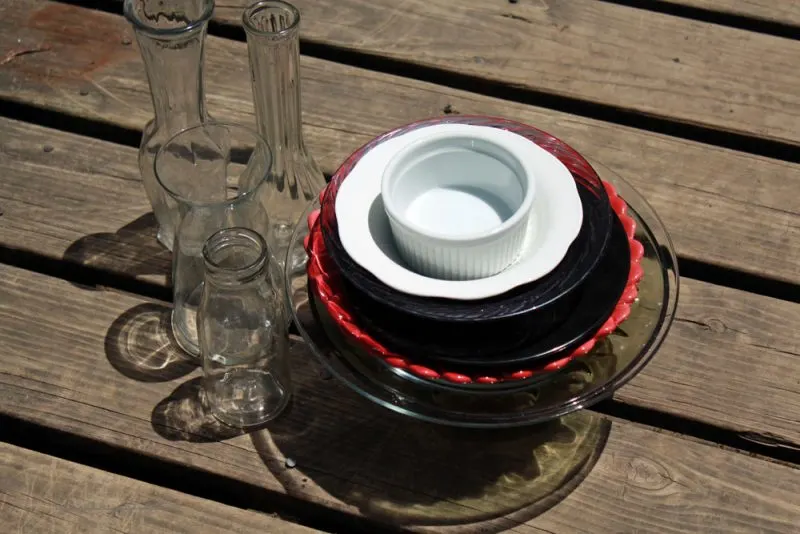 Most of these dishes pictured above were picked up at garage sales and thrift stores, nothing costing more than some change, the type of perfect dishes to repurpose into garden accessories.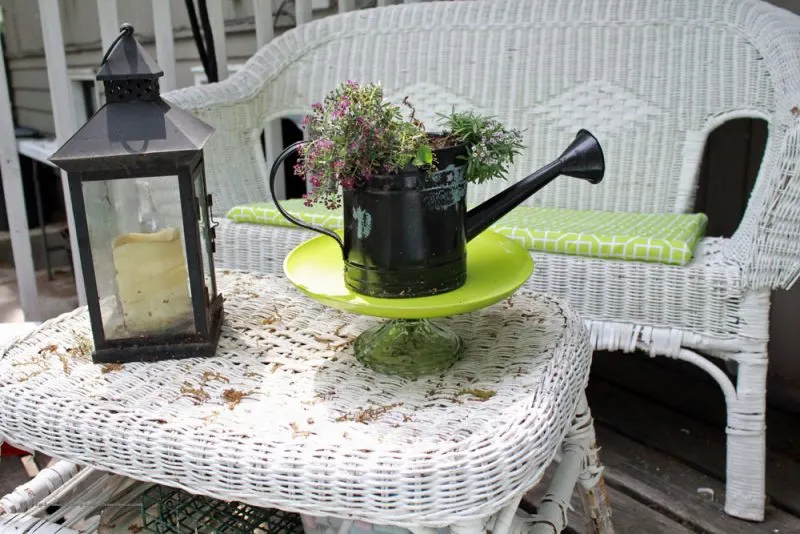 I have always had an obsession with cake stands, I have several of them that never get used and this seemed like the perfect way to get a new use out of them.
I used one to collect excess water from my watering can planter and the other as a bird feeder.
I love how easy it is to pour seed into the dish and how fast the birds swoop down to get some of it.
I sprayed a vase with green and a flower pattern dish with pink, glued them together, filled it with water, and watched the birds use their new birdbath!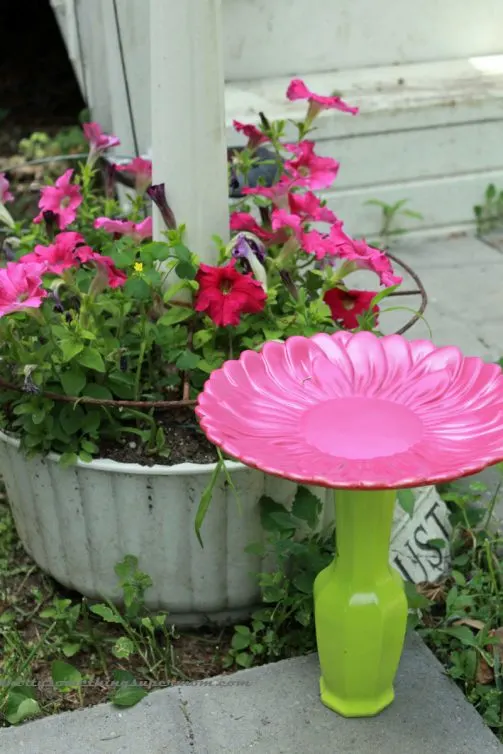 This can also be used as a feeder, a drip tray for a planter, or anything you can think of.
I have quite a lot of vases because they are hard to pass up at just 5 cents at a garage sale, so it was nice when creativity struck and I had the idea to use them as garden mushrooms.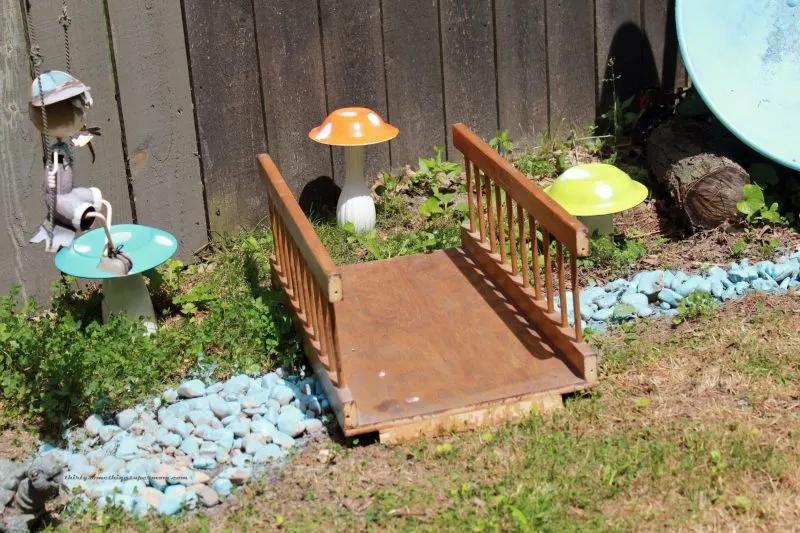 I sprayed the vases and milk bottles white to create the bottom and alternated with bright colors for the mushroom tops.
A quick spray here and there with white will create spots, the more unique the better.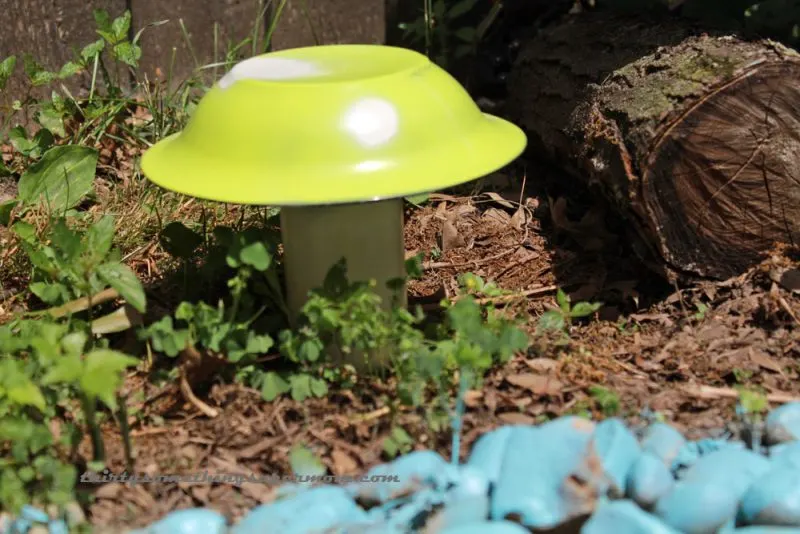 I bet the wizard would like these mushrooms.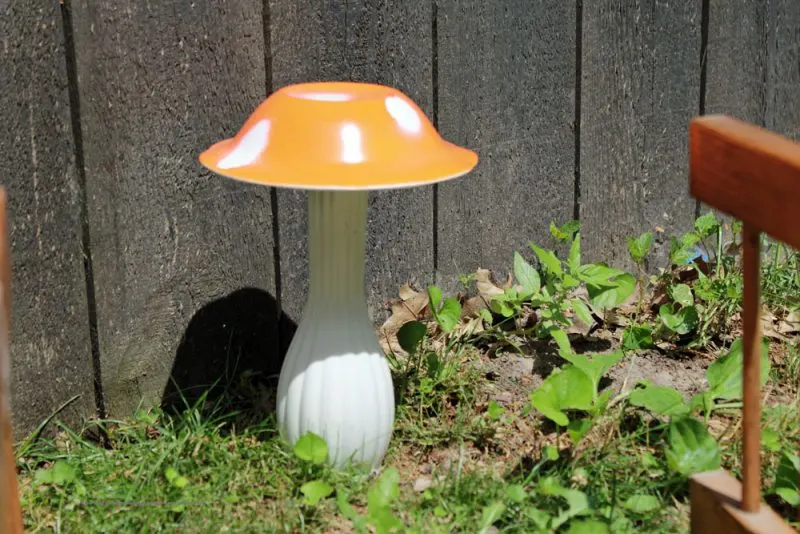 It has been so hot out here lately so I decided to create a few bird baths to place throughout my garden.
I used a ramekin and a plate to create a simple but very pretty bird bath to sit on the edge of my patio overlooking my garden.
Keep in mind that you can not use just any glue for outdoor projects like this because the weather will change it's adhesive properties so it is best to use an outdoor glue like this one that works for me.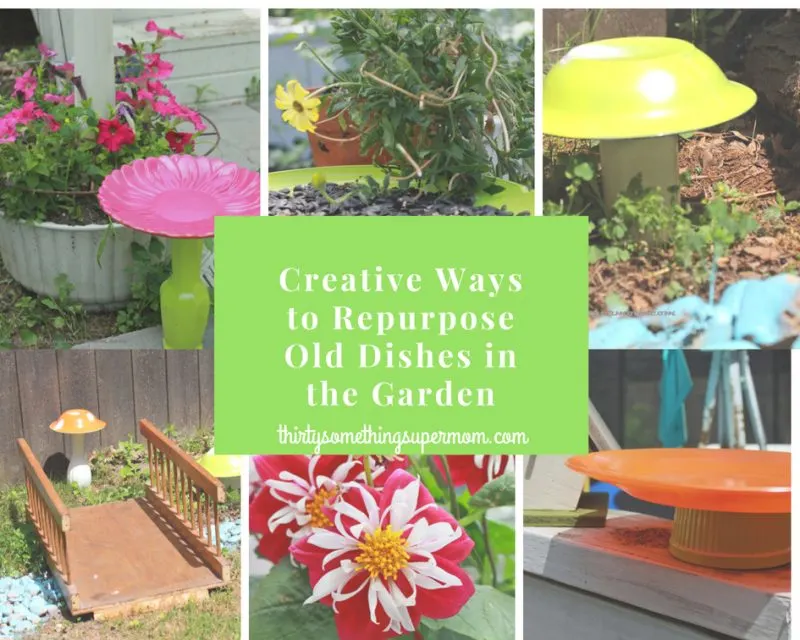 If you enjoyed this post, you should check out my post sharing 7 Creative Planter Ideas for your Garden and share with your friends on social media as well as follow along with me on your favorite social media channels so you never miss a post.