These 20 Useful Activities for Adults to do During Quarantine contain affiliate links which means that if you make a purchase after clicking a link, I will receive a small portion of the sale at no additional cost to you.
I have heard a lot of complaints from people lately, on social media and in my own family. Everyone is bored and they just can not seem to figure out what to do with this time on their hands. This has been hard to understand because I have always been busy and whenever I actually do find some time to myself, I have about thirty projects in the back of mind that I know need to be done.
Finding something to keep busy has never been an issue for me, which is why I was surprised by how many people are painfully bored during this quarantine. I can understand the initial adjustment to change, but don't even get me started on the people who would rather post about how bored they are on social media than do anything about it. Times are weird for sure but once you accept that this is something that we can not change, accept that it is really happening no matter how much you wish it weren't, it's time to do something productive with the time on your hands.
Start a Garden
Starting a garden indoors or out, whichever works for where you live, is a great use of your time. This hobby is not only going to keep you busy during quarantine but it will reward you in food, flowers, and even medicine, depending on what you grow. This is a great time to learn how to grow your own food and if garden centers are closed in your area, save the seeds from the fruits and vegetables you buy, and plant them.
Paint a Room or a Canvas
Paint a room in your home or paint a canvas to hang up as a reminder of this crazy time.
Decorate a Room in Your Home
Redecorating can be a great way to take inventory of what you have and what you actually use. Plus, moving furniture around is the best way to really get underneath and clean those hard to reach places in your home. Move some furniture from one room to the next, or order some new pieces online to accent your new homemade wall art.
Make a Bucket List for when the Quarantine is Over
There are so many things in life that we really don't appreciate as we should, this is a good time to remember all of those things that we are missing out on right now. Simple things like pushing our kids on a swing at the park or getting the whole family together to hang out at a local restaurant or even more extravagant things like going on a trip. These are the things we can plan to do more of when the quarantine is over.
Make a list of what you are grateful for
This weird time in our lives has taught me that anything can be taken from us, at any time. That fact has really helped me to put some things into perspective. I have taken so many things for granted. From the smallest of things like opening a door without worrying about touching my face before being able to wash my hands to the biggest things like not being able to go on our planned trips. When the quarantine is over, I am going to thoroughly enjoy all of these things, big or small, and hope that I never forget how terrible it is when they aren't available to me.
Start Learning a New Language
The app Duolingo will help you learn a new language, on your phone, for free! It's fun and easy to learn, any language you want, they even have the language from Game of Thrones, High Valyrian.

Learn to Play an Instrument
This is easier said than done but if you have a lot of time on your hands and have always wanted to learn to play an instrument, there has never been a better time to do it.
Try Meditation
I have always been interested in the benefits of meditation but have never really been able to get myself into the deep state of relaxation that I hear about so I always gave up. This may be the time to give a real try, then maybe I will take a trip back to Maharishi Patanjali Golden Dome of Pure Knowledge in Fairfield, Iowa when this is all over.
Work Out
Start a new workout routine. If motivation is all that you are lacking, check out a few David Goggins videos, or read his book, Can't Hurt Me. This guy helped me change my life and I bet he could help you change yours too.
Learn Calligraphy
You can pick up this cool calligraphy set here for less than $25. Fun fact, I throw away most cards almost immediately after getting them but my husband's Aunt Mary writes in calligraphy on her Christmas cards every year, guess whose cards are still floating around my house? It's just a cool skill to have and you won't regret the time you spent learning it.
Clean out Your Closets
This is something that all of us put off, there really is no reason to have all of those clothes in your closet when you haven't changed out of those leggings in three days Karen!
Get Rid of Unneeded Items in Your House
Once we are able to donate items again, it will be nice to remove the clutter from our homes with a simple trip to the donation center. It wouldn't hurt to get those items ready now, so when we are free to roam about the Earth, it doesn't get put off.

Read a Book
I never make time to read books even though I thoroughly enjoy doing it. I even did a year-long Reading Resolution last year where I made sure that I got to read at least 12 books last year. It's the only way I was able to actually make it a priority and get it done. So if you are looking for a good list of books to read, check out my Reading Resolution picks here.
This list includes books like Finding Fortune which is an adventure for all ages as well as books to make the most of your time like one sharing how to help your kids become reading champs.
Organize the Refrigerator/Deep Freezer and Cabinets
I took the time to clean out my refrigerator recently and it has really helped me with meal plans. Now a simple glance in the fridge and I know what we are out of and what we need more of, instead of moving everything around first. I made use of bins and put them on different shelves in the fridge to separate items and after cleaning out my cabinets, I found old storage containers that became useful dividers in the fridge.
Find and match all of the Tupperware lids
This is a fun project to pass off on a kid but if you don't feel like torturing them, give it a try all by yourself. It's nice when this job is done but it is quite tedious work so play some music and try to get through it without having a meltdown.
Teach Your Dog a New Trick
Our pets are bored too. This is a great time to stimulate their mind and enjoy some bonding time with your pet.

Learn to Change a Tire and/or Oil in your car.
This is a very useful set of skills to have. If you don't know how to already, learn to change a tire and the oil in your car. If you do know how, share how to do this with your spouse, kid, or even create a video to upload so your friends can learn how to.
Write a Book
If you are anything like me, you probably have a million ideas in your head for a good book. Write them down, get those ideas out, and write a book.
Home Improvement Projects
With an abundance of youtube and blog tutorials, it seems like there isn't anything too difficult to do when you have enough time to learn a new skill. Check out this post that teaches you how to build a retaining wall the right way.
Go Over Past Finances and Try to Trim the Excess Spending
How much money would you save if you were to skip that morning coffee every Friday for a month? Do you know how much money you have been spending on school lunches despite the fact that your kids hate them? Would it be cheaper to make lunch at home? Figure out your finances and see where your money is really going, then make the necessary changes to save some money.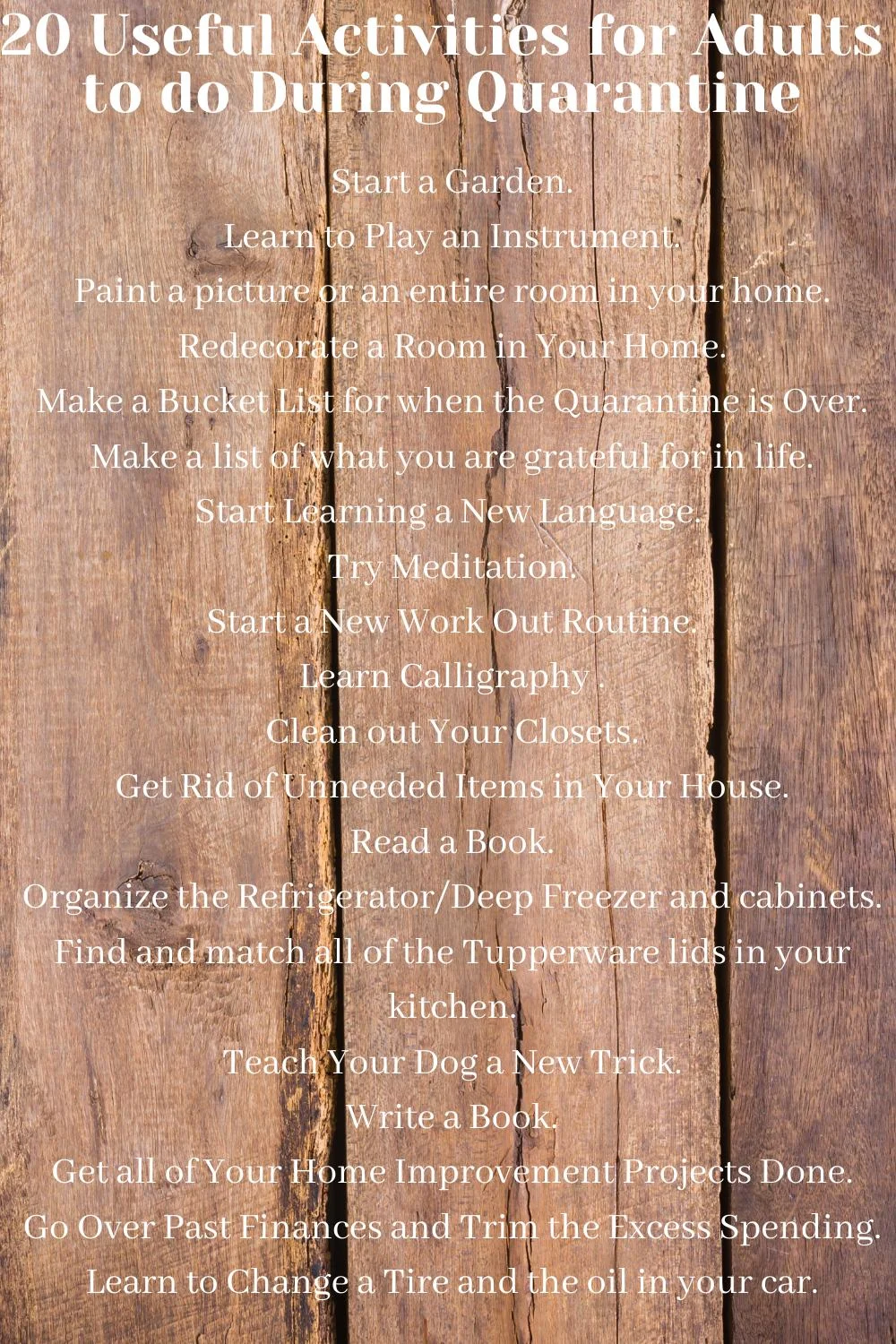 Start checking off these items from your Quarantine To-Do list and you will be glad you did once the quarantine is over. Don't forget to share this post on your favorite social media so everyone can make the most of their time in quarantine.
What have you been doing to pass the time?