This Keto Lemon Cake recipe is made of simple ingredients that are sure to satisfy your sweet tooth while on a keto diet.
If you seek a low carb lemon cake that stands head and shoulders above other lemon desserts, this will soon be one of your favorite keto desserts.
This Keto lemon cake recipe includes affiliate links which means that I receive a small commission on purchases made with no additional cost to you.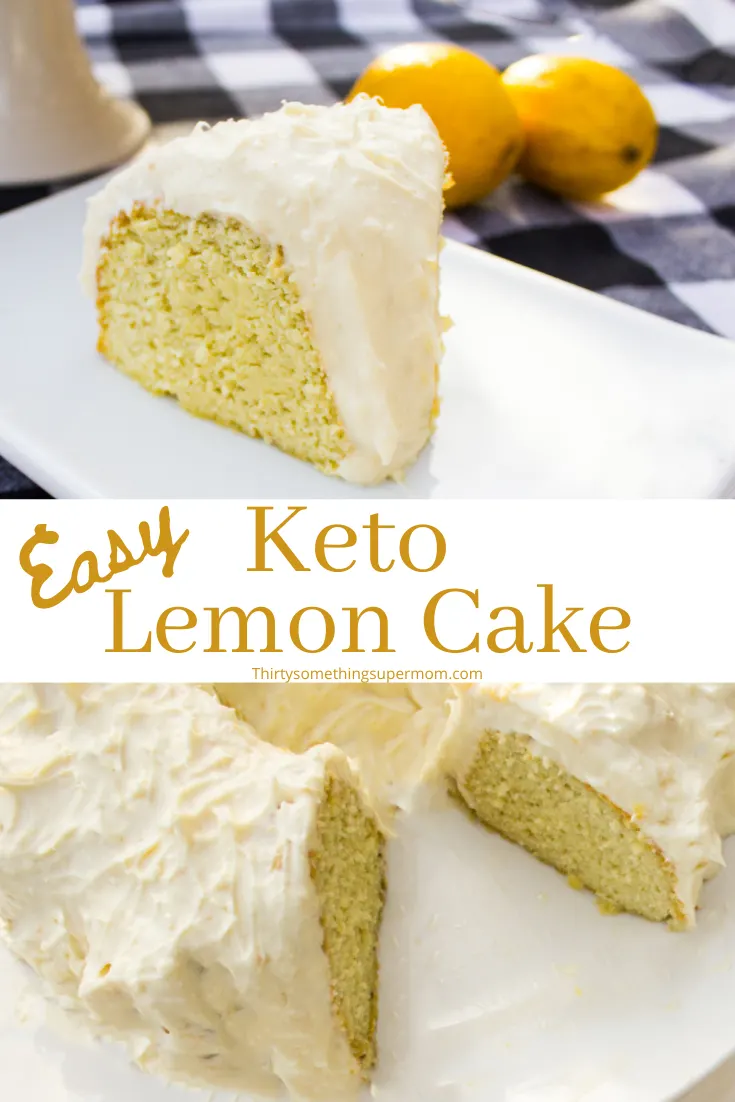 Why You'll Love This Keto Lemon Cake
Lemon lovers are in for a treat with this exquisite recipe that expertly marries the delicate essence of a low carb lemon pound cake with a delightful texture reminiscent of a classic birthday cake.
Topped with a delectable lemon cream cheese frosting, this almond flour lemon cake offers a truly exceptional experience for those who are on the ketogenic diet.
Imagine indulging in the delicate crumb of a keto lemon pound cake recipe, infused with a tangy burst of lemon flavor in every bite.
This culinary masterpiece brings together the zesty essence of a classic lemon cake while not exceeding your daily net carbs.
The next time you are scrolling through your stockpile of keto cake recipes be sure to give this great recipe for sugar-free lemon cake a try.
Head to the bottom of the page for the recipe card to get the full printable recipe.
Keto Lemon Cake Recipe Ingredients
This Keto Lemon Cake recipe includes an array of delectable keto-friendly ingredients to make this recipe fit into a low-carb diet.
Keto Lemon Cake Frosting Ingredients
This frosting is also great when made with other keto desserts like a keto lemon loaf recipe, a keto lemon bread recipe, and even a keto pound cake recipe.
If you are making a chocolate cake recipe or keto carrot cake recipe your best option may be to leave the lemon flavor out.
Cream Cheese & Butter- The dynamic duo of cream cheese and butter form the luscious base of the frosting, contributing a velvety richness that's both indulgent and irresistible.
Stevia & Vanilla: These enchanting ingredients lend their magic to the mixture, infusing a touch of sweetness and depth that perfectly complements the tangy allure of the cake beneath.
Heavy Cream: The addition of heavy cream brings an opulent creaminess, resulting in a sumptuous mouthfeel that elevates each forkful to sheer decadence.
Lemon Flavor: The frosting's secret weapon, adds a burst of that lemon zest without the addition of a lemon glaze or lemon curd.
Tips for Making the Best Keto Lemon Cake
The first step is to preheat your oven and prepare your pans for baking.
I grease a bundt pan with melted butter to make this cake easier to remove once it is done baking.
I made a low carb lemon bundt cake but you could make this in a variety of cake pans to prepare the cake layers just be sure to adjust the cooking time to suit the pan or pans you use.
I personally like the way this cake turned out when using a star bundt cake pan but you can use any kind of prepared loaf pan you want.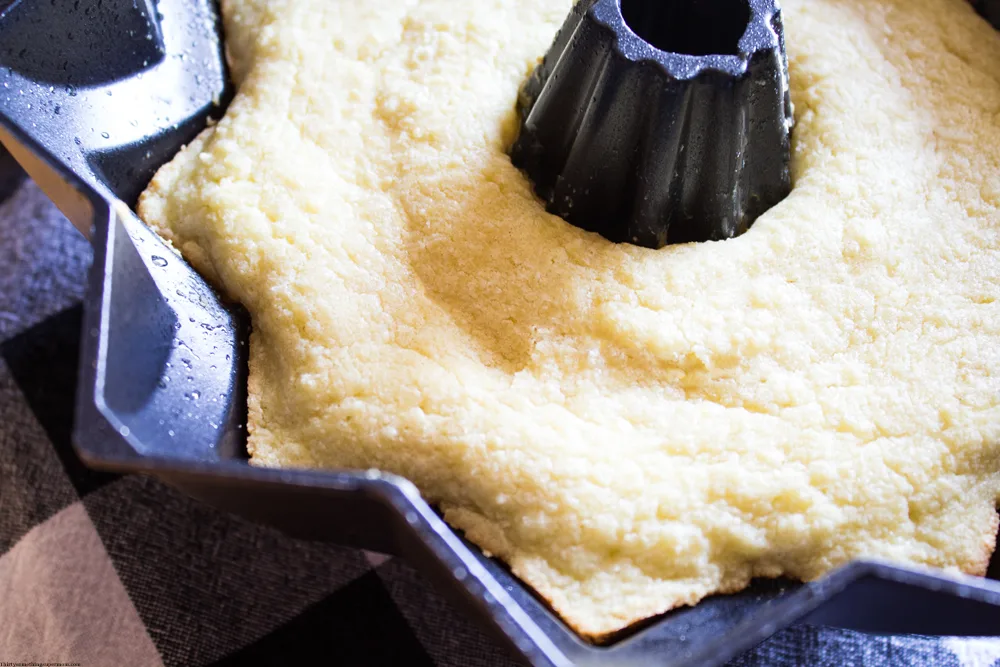 How to Make a Keto Lemon Cake
Although my usual approach involves tossing everything into the mixing bowl and hitting the mixer switch, I've come to recognize that this technique can lead to an unnecessary mess.
Mixing the wet ingredients in a large mixing bowl and the dry ingredients separately in a large bowl seems to be the way to go with this recipe.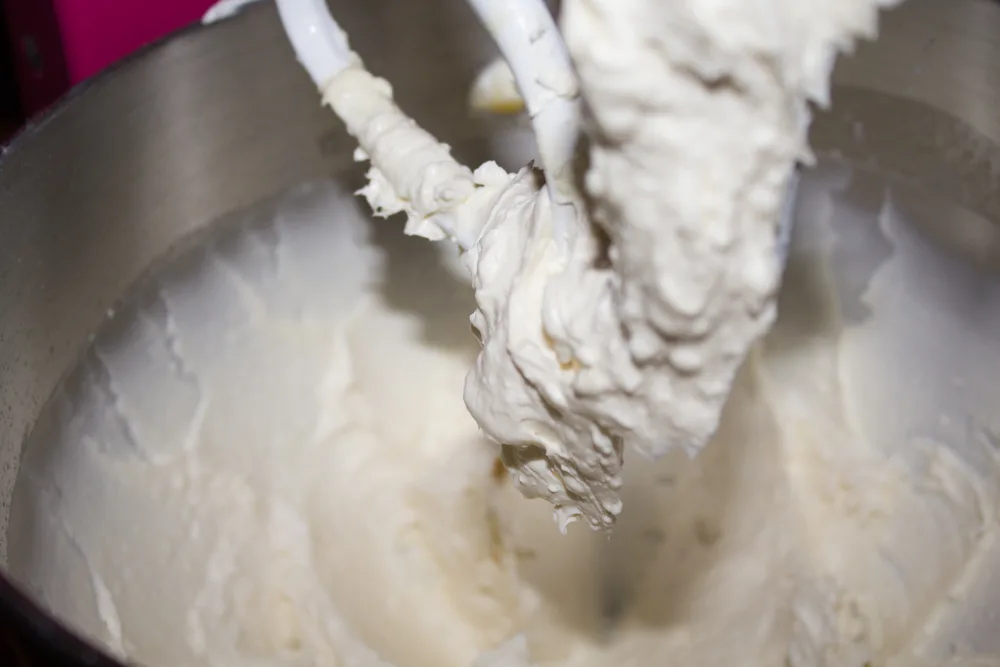 I usually keep the mixer engaged, gradually introducing the dry components into the wet mixture.
It's vital to exercise caution, as the dry elements are prone to forming a powdery cloud that may disperse across the kitchen if not handled mindfully.
Once the almond flour mixture has become a delicious cake batter, pour it into the pans of your choice and bake for 30-35 minutes.
Be sure to spread out the top of the cake batter to make it smooth before baking time.
How to Make Keto Frosting
Mix all of the ingredients in a mixing bowl and whip to combine the ingredients in a small bowl or food processor to achieve the perfect consistency.
You can also use a hand mixer or a stand mixer for this step.
Set aside the frosting until the cake cools.
This recipe makes plenty of frosting to completely cover a star Bundt cake or two circle cakes.
Tips for the Perfect Keto Lemon Cake
Allow the cake to cool completely before removing it from the pan.
Place the cooled cake on a flat surface before frosting, a plate works well but you can set it on a piece of parchment paper for easy cleanup.
Refrigerating the cake seems to be the trick to locking the moisture in but be sure to store this keto cake in an airtight container.
The combination of the lemon flavor and the creamy frosting is best enjoyed when chilled in my opinion.
If you prefer a room-temperature cake, remove this dessert from the refrigerator 20 minutes before serving.
Can I Freeze this Keto Lemon Cake?
Yes! This cake can be frozen but keep in mind as with most baked goods, it is always better when served fresh.
If you choose to freeze this low carb dessert, be sure to thaw out at room temperature for about half an hour before serving.
Another way to ensure that this keto cake is as delicious once frozen is to store it without frosting and wrap the entire cake with press and seal or plastic wrap then another layer of aluminum foil on top.
Since this cake isn't made with regular sugar, I would suggest eating the cake within 3 months and whipping up fresh frosting before serving.
Is this Keto Cake Diabetic Friendly?
Yes! This cake is diabetic-friendly and perfect for those of us who are following a low-carb diet.
Instead of using traditional all-purpose flour and sugar, this cake is made with low-carb ingredients so it's great for diabetics. (This is not medical advice)
This cake was inspired by mom who requested a lemon cake for her birthday but since she is diabetic, I wanted to make something that she could enjoy without compromising her health and spiking her blood sugar.
Is this Dessert Gluten-Free?
Yes! Since this low carb cake is made with almond flour and coconut flour instead of traditional flour, it is also gluten-free.
As with any recipe, be sure to make sure that your ingredients are produced in a gluten-free environment if you have a gluten intolerance.
Don't forget to check out all of my gluten-free recipes which can be found under the SCD or Keto tab at the top of this page.
Variations on this Keto Cake Recipe
You can swap out the sweeteners if you prefer to use monk fruit sweetener or powdered erythritol but be sure to test the batter before going overboard on the sweeteners.
You could also add lemon extract if you want another burst of lemon flavor or add some fresh berries to the top of the cake for a new look and taste.
I wouldn't suggest using an almond meal in place of almond flour for making this cake recipe because it may have a coarser texture.
If you prefer to leave out the egg yolks and replace them with avocado oil or avocados I would suggest pairing it with xanthan gum to mimic the texture of this recipe.
Any alterations to this recipe will change the nutrition facts so be sure to read the nutritional information on your ingredients to know the g carbs your finished recipe will contain.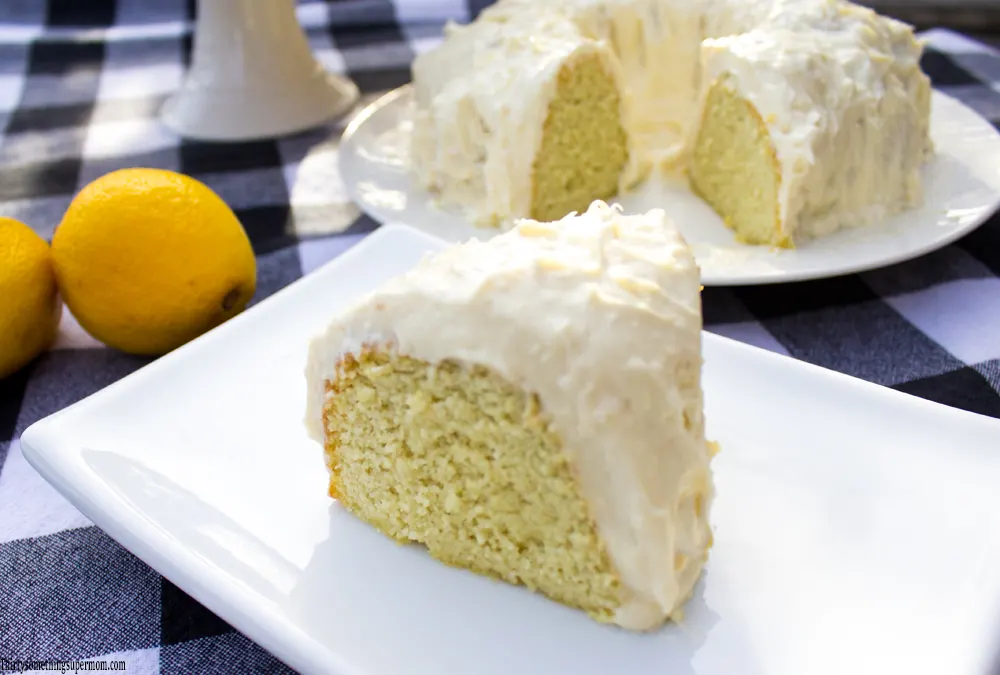 Want more Keto Recipes?
Don't forget to sign up for the newsletter so you never miss another keto recipe.
Ingredients
2 Cups of Almond Flour
1/3 Cup of Coconut Flour
1 Teaspoon of Baking Soda
1 Teaspoon of Baking Powder
Dash of Salt
1 Tablespoon of Vinegar
1/2 Cup of Sour Cream
4 Eggs
2/3 Cup of Stevia
2/3 Cup of Melted Coconut Oil
1 Tablespoon of Vanilla
3 Tablespoons of Lemon Flavor
3 Tablespoons of Lemon Juice
2 Tablespoons of Mayonaise
Keto Buttercream Frosting Ingredients
8 ounces of cream cheese
4 Tablespoons of butter
3/4 cup of Stevia
2 Tablespoons of Vanilla
3 Tablespoons of Heavy Cream
1 Tablespoon of Lemon Flavor
Instructions
Mix the dry ingredients and then mix the wet ingredients, separately.
Slowly add the dry ingredients to the wet ingredients.
Mix all ingredients in a mixing bowl until completely combined.
Add the mixture to a bundt pan greased with butter.
Bake for 30-35 minutes or until a toothpick inserted into the center comes out clean.
For the frosting:
Mix all of the frosting ingredients together until you reach the desired consistency.