I received this product for free from Moms Meet (momsmeet.com) to use and share my honest opinions. It was the inspiration behind the Stove Top Chicken Parmesan Recipe. Compensation for this post was provided and this page may contain affiliate links.
I love experimenting in the kitchen and one of my favorite things to do is find easier ways to make my favorite dishes. My latest experiment was with Chicken Parmesan, a family favorite around here so it was only a matter of time before I simplified this recipe.
It is so nice to save dishes and time so when I was experimenting that was a big part of the process for me, cutting out unnecessary dishes as well as doing everything in as little time as possible without sacrificing flavor.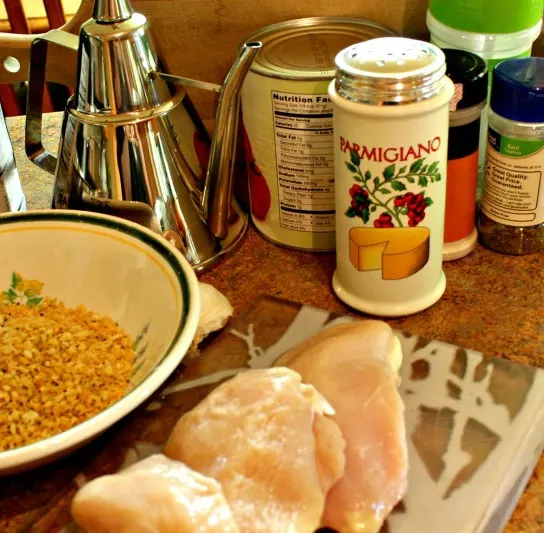 I really enjoy spending time in the kitchen but I have little time some days for enjoyable things so I need to make my time count. I try to plan everything out and always get all of my ingredients out to make sure that they are well within reach when needed during the cooking process.
To make this easy stove top chicken parmesan recipe you will need:
Chicken Breasts (about 1 pound)
1 can of crushed tomato's
about 2 cups of panko bread crumbs
1/2 cup of parmesan cheese
1/4 cup of mozzerella cheese
1 clove of garlic
2 Teaspoons of basil
1 Teaspoon of garlic powder
1/2 Teaspoon of onion powder
1/4 Cup of Zucchi Extra Virgin Olive Oil
The first step is always to get all of your ingredients out and ready to use mainly because there have been many times that I am cooking dinner and almost done when I realize I am missing an important ingredient. Like the cheese for Chicken Parmesan or the olive oil to prevent the chicken from sticking to the pan.
I can't stand running to the nearest store only to overpay for inferior products due to my poor planning so I just make sure I have my stuff together before I begin.
This next step is important as your cooking time will depend on how thick your chicken is. I like to slice my chicken pieces as thin as I can before cooking, that way I can bring up the breadcrumb to chicken ratio.
Using a different knife and cutting board of course, chop up that garlic!
Add some of the Extra Virgin Olive Oil to a frying pan, turn on medium heat and let the wonderful smells begin.
Let the garlic cook for about 3-5 minutes or until softened.
Add a little more olive oil and then after rolling your chicken in the breadcrumbs, add them to the frying pan right on top of that garlic.
Cook each breast until the sides are crispy and browned, this takes about 4-6 minutes depending on the thickness of your chicken.
Flip the chicken half way through the cooking time and let both sides brown. Add the can of crushed tomatoes on top.
Cook the sauce until it is thoroughly heated through and add in the spices. Sprinkle the cheeses on top and cook until melted.
Serve and enjoy! My family enjoys this meal with a side of salad, green beans, or even pasta (my daughter's favorite).
I am so excited to hear any feedback on this recipe as it is one of my husbands favorites! Please leave comments below with your thoughts and opinions on how it turned out and don't forget to pin it for later!
I am excited to also use this opportunity to share with you a little information about the Flavor Your Life campaign, supported by the European Union, Unaprol, and the Italian Ministry of Agriculture. It's all about sharing the latest in industry news on European Extra Virgin Olive Oil. I don't know about you but I am excited to learn more about where my food comes and this lets me know all about Extra Virgin Olive Oil, one of my favorites!
For more information please visit flavor-your-life.com.