This post sharing How to Clean Hard Water Stains from Glass Shower Doors contains affiliate links which means that if you make a purchase after clicking a link, I will receive a small portion of the sale at no additional cost to you.
Installing glass shower doors is a great way to open up the space in a small bathroom and let light flow throughout the area. Most people love the look of glass in their bathroom but it can be difficult to clean glass shower doors.
Unfortunately, hard water stains, mineral deposits, and soap scum will take over the glass surface so finding the best way to keep them clean is essential.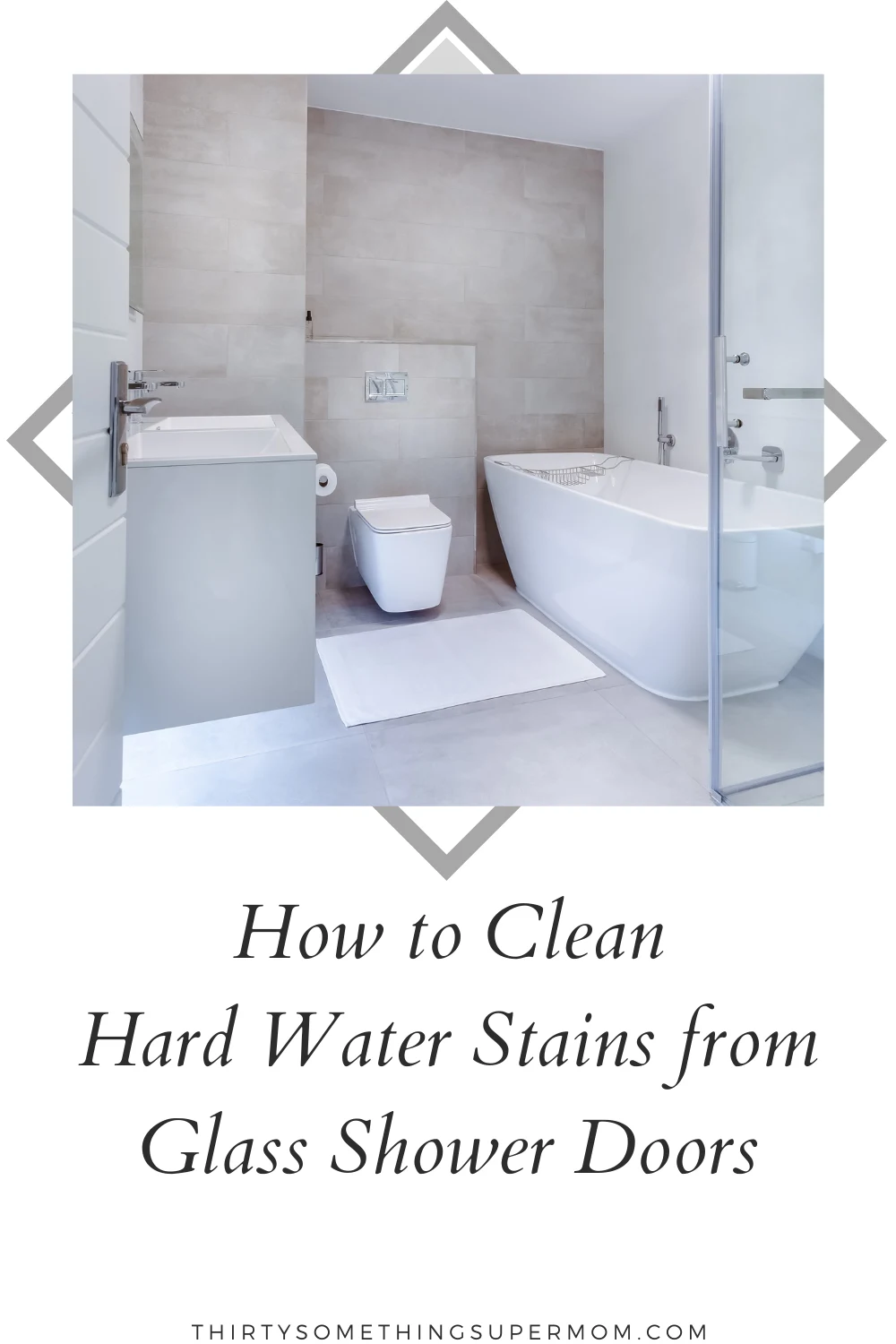 Finding a Cleaning Solution that Works
There are many commercial cleaners designed to get rid of hard water spots and mineral deposits that are available at your local hardware store. If you choose to go this route and use items that may contain harsh chemicals, I have a few suggestions for products that have worked for me.
Invisible Glass- While this product appears to be marketed toward those looking for automobile glass cleaners, it works great for household jobs too. Unlike a lot of glass cleaners I have tried in the past, this product really lives up to its streak-free claim.
For best results, I usually pair this with another shower cleaner (bar keepers friend) to tackle both the hard water minerals and to leave a streak-free shine on the glass surface.
Barkeepers Friend– This product does a great job at removing the hard water deposits. A great way to get the most out of the cleaning power of this product is to pair it with the Invisible Glass as it tends to leave a film on some glass surfaces.
Magic Eraser – There is no denying the cleaning power of the magic eraser. It's a great way to tackle many household jobs, including a hard water area. This may not be the product that comes to mind when you think of a shower cleaner but it has proven to be effective in cleaning the whole house.
Be sure to add enough water to get the magic eraser to remove scum.
DIY Cleaners for Removing Hard Water Stains from Glass Shower Doors
Avoid the toxic fumes and make your own DIY cleaners. Homemade products are a great way to keep your home safe from chemicals as well as save money on pricey products.
Making your own homemade cleaners means that you will always know what goes into these products and you can make as much or as little as you need.
Vinegar Solution-
Mix 1 part vinegar to 3 parts water in a spray bottle. My go-to recipe is would be one cup of white vinegar and 3 cups of bottled water. Sometimes I add a bit of lemon juice for scent and extra cleaning power.
Spray this mixture on glass shower doors for light cleaning.
To tackle tough hard water stains, you may need to try adding baking soda for extra cleaning power.
If your shower doors have stuck-on messes that the vinegar won't penetrate, you can add in baking soda and cut back on the water. Create a thick paste and use steel wool for extra hard-to-clean areas.
Hydrogen Peroxide Solution-
Mix equal parts of hydrogen peroxide with warm water and add in a couple of drops of your favorite dish soap. Allow the mixture to work for a few minutes before wiping it down with a clean cloth. You can add a few drops of essential oils to improve the scent.
These are both great ways to naturally get rid of build-up left behind from bar soap, body wash, soap residue, mineral buildup, hard water, or other scum buildups. Plus, these cleaning mixtures will tackle other jobs in the bathroom like cleaning natural stone tiles.
Using hot water and elbow grease can sometimes make the biggest difference on stubborn stains.
Homemade Glass Cleaner with Alcohol
Mix together 3 tablespoons of white vinegar with 2 tablespoons of rubbing alcohol. Add in about 1 and a 1/2 cups of water. I use purified water from my reverse osmosis machine and before having this luxury, I used bottled water.
If you have a water softener you can feel free to use that water as well although this will not remove all of the impurities and may leave a bit of a streak when done cleaning. Mix this solution well, I usually pour it into a spray bottle and shake it before using it.
Spray the solution on glass and wipe it away with a clean cloth. If you have a lot of dog hair in your home a coffee filter or dry lint sheet may be a good way to collect the random hairs.
I have found that microfiber cloths gather the dog hair and leave bits of it randomly on each surface I wipe down. So I have tried these other methods when my home is especially hairy.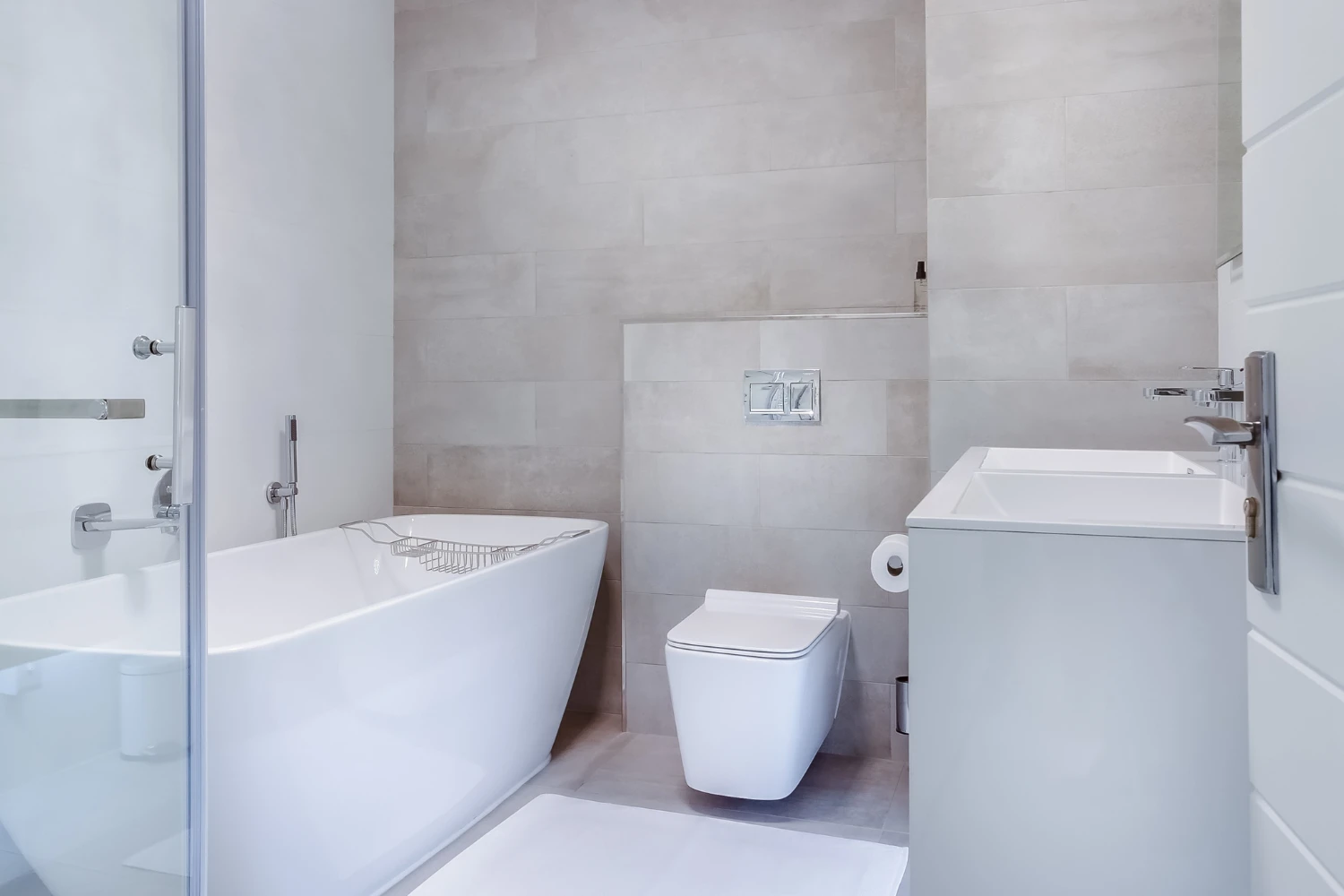 The Best Tools for Cleaning Glass Shower Doors
When cleaning a glass surface, the cleaning tools are just as important as the cleaning products. I have found that using the proper tool for the job saves a surprising amount of time.
Using the wrong tools can prevent the cleaners from doing their best work and sometimes the tools are what leave the streaks on glass surfaces.
When cleaning glass there are many options for which tools to use. Some of my favorites to use are paper towels, soft cloths, dryer sheets, or a damp sponge. These tools work for the entire bathroom and leave a clean shower door.
Choosing which tools work for you depends on the job you are trying to tackle.
Stock Up on Items to Help Keep Your Home Clean
I always keep a good stock of microfiber cleaning cloths, paper towels, sponges, and scouring pads just in case a job calls for a deep clean. These items are easy to stock up on because they don't take up too much space and are they never expire.
most cleaners, I stock up. If you have the space to store these items, you will find a use for them soon enough. Most of the homemade cleaners I use in my home contain these basic ingredients.
When I come across a good deal on baking soda, vinegar, essential oils, and other products I use to make most cleaners, I stock up. If you have the space to store these items, you will find a use for them soon enough. Most of the homemade cleaners I use in my home contain these basic ingredients.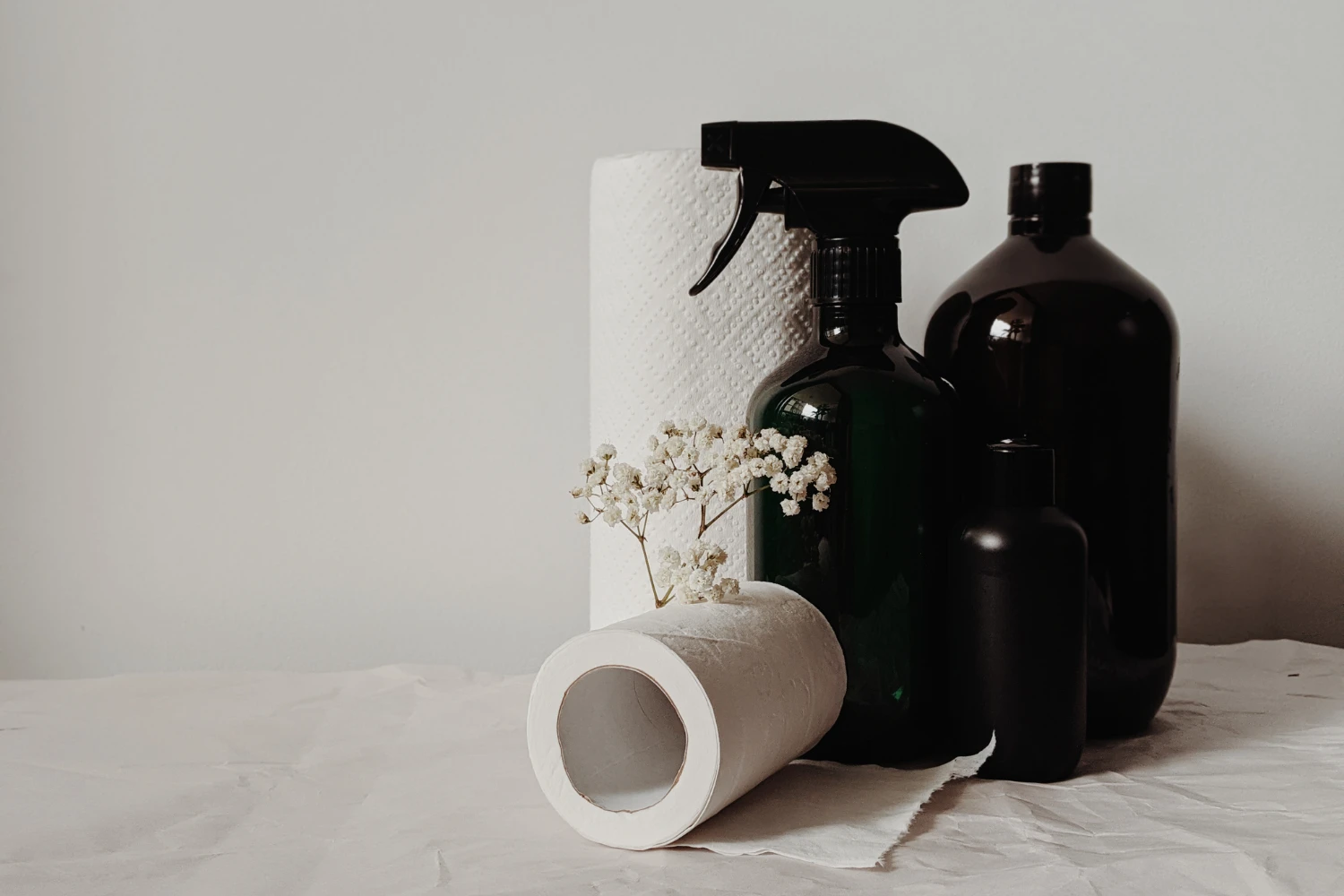 Can You Prevent Hard Water Stains from Forming On Glass Shower Doors?
The best advice I have been given about preventing hard water stains is to get a water softener. Having soft water makes a huge difference in the number of spots left behind after a shower, preventing the hard water in the first place is a great way to cut down on the mess.
This doesn't mean that once you get a water softener, you will never have to clean glass shower doors again, it will just decrease the amount of build-up on a shower screen.
Good luck with your cleaning and be sure to leave me a comment letting me know which one of these methods helped you to clean the hard water stains from glass shower doors.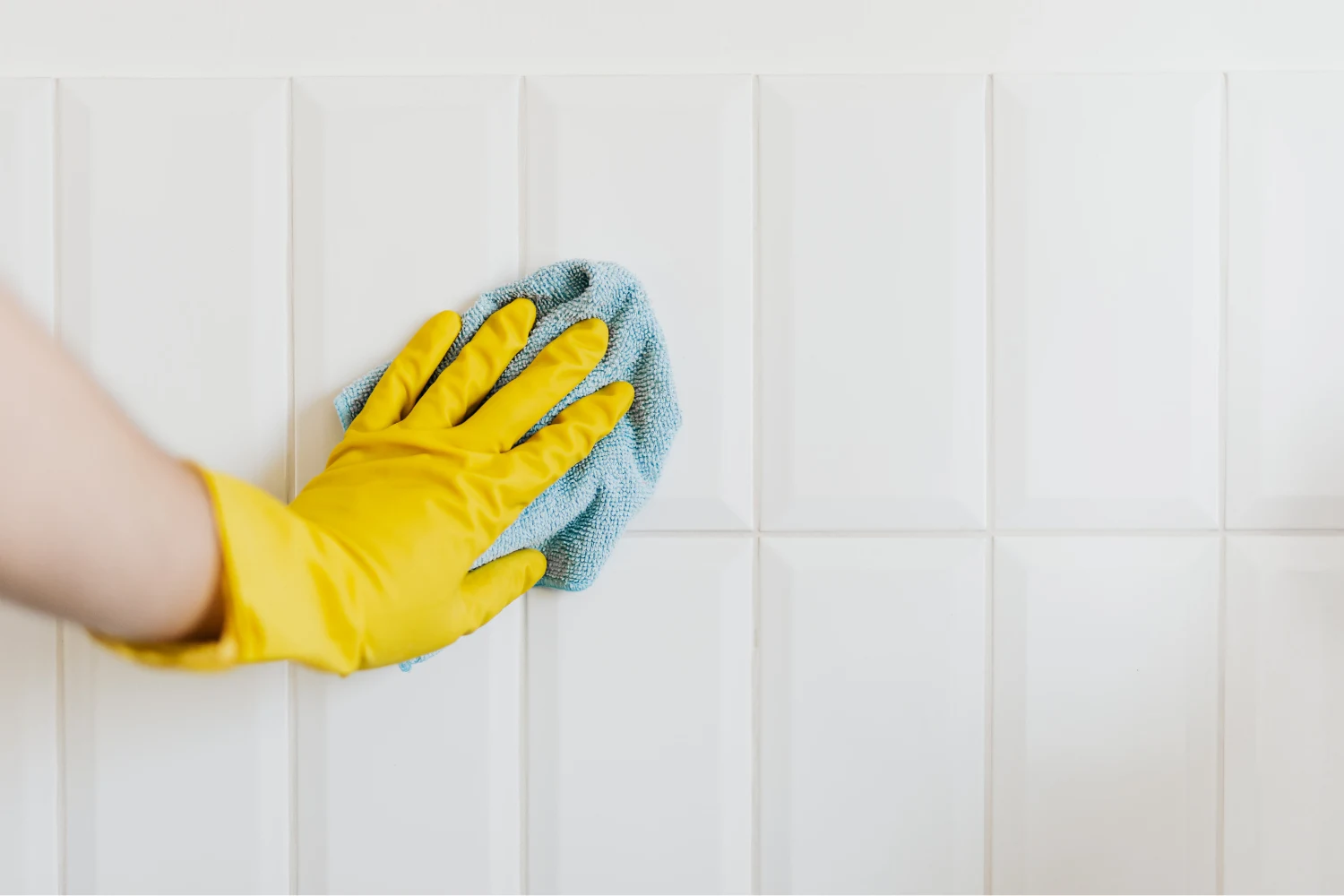 Looking for More Cleaning Help?
Check out these useful posts for getting your home spotless and be sure to print out this free checklist for a super clean home.
Learn about the many benefits of making your own DIY cleaning products and try some of my favorite recipes for homemade cleaners. Check out these 9 Kitchen Cleaning Hacks to Help You Save Time and Money.
This homemade carpet freshener can be made with ingredients you probably already have around the house. To freshen the scent in your whole home nothing beats this homemade air freshener recipe.
Get even the dirtiest of microwaves clean easily with this simple trick that shows you how to clean a microwave in minutes. Learn how to clean battery corrosion and save your remote control with this tutorial.
I hope you have enjoyed this post sharing how to clean hard water stains from glass shower doors. Be sure to sign up for the free newsletter and follow along on social media so that you never miss a post again. Leave a comment below letting me know which of these methods worked best for you.