This post sharing reasons for playing fetch is sponsored by Chuckit! but the content and opinions expressed here are my own.
My family fell in love with this tiny white puppy with floppy brown ears and a belly full of worms just under two years ago.
This lemon foxhound mix was our first attempt at fostering pets, the local rescue even delivered her with some basic items in early May of 2017. We had just recently decided to start fostering after losing our beagle earlier in the year to gastrointestinal disease.
When looking into the options we had the choice of a male or female or even taking on both if we really wanted to shake things up. My husband and daughter thought having a girl dog would be great since we have always had boys, I was a little hesitant though.
Since I have always had boys, and loved them so much, I didn't think it was possible to get so attached to a female, oh boy was I wrong!
It was pretty clear that she wasn't going anywhere from the moment I first laid eyes on her. I pulled her out of the kennel stuffed in the back of a local animal rescuer's car and carried her across the street to my house with the best intentions.
I was going to give this dog a temporary home until the rescue I was working with found a permanent situation for her, a family that wanted to adopt a puppy. This really was the original intention but I'm not even sure if I made it across the street before I started doubting myself.
Fast forward to about two years later and our days are filled with face lickings, snuggling in a chair barely big enough to fit us both, crawling under furniture to retrieve whichever toy she has lost this time, and one of our favorites, playing fetch, on the trampoline.
That's right, Daisy loves the trampoline, she jumps up there whenever she feels like it, which is often. She brings her toys up there for fetch time and even bounces around in an attempt to fling her furry little body up higher to make impressive catches.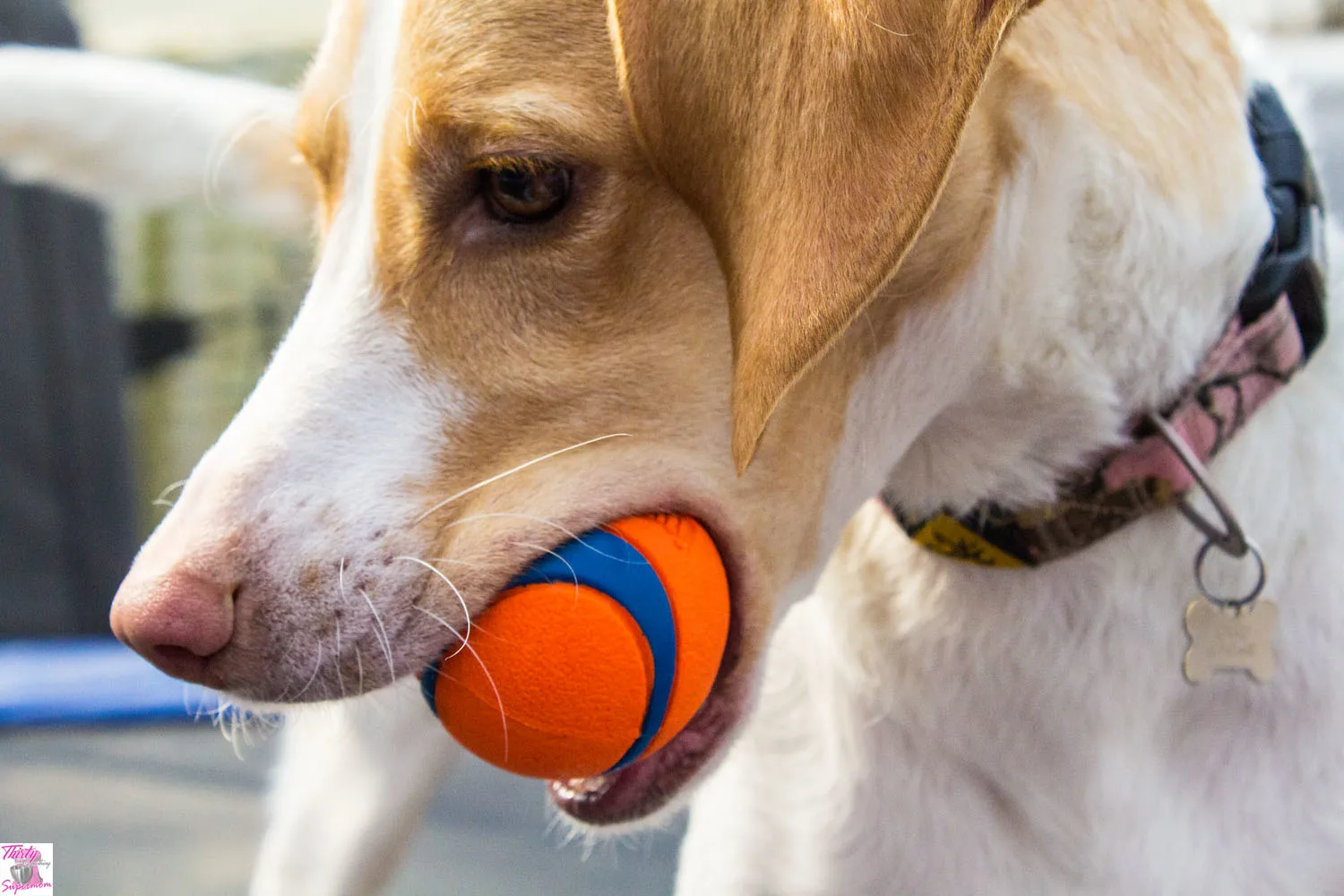 It has been such a wonderful experience getting to know this silly high energy dog and the bond has grown even stronger over time, thanks to activities like playing fetch.
That's why I am so excited to share these 7 Reasons Why Playing Fetch Bonds You with Your Dog.
Spending Time Together
Making your fetch time a priority will not go unnoticed by your furry friend. Daisy reminds me constantly to play fetch with her and when the time comes she is always so happy to have the focus be on our time together rather than the millions of other things that take the attention off of her throughout my day.
Getting Exercise
Much like our furry friends, we need exercise too. What better way to make sure you carve out the necessary time to get in shape than to make it a team effort? Playing fetch with your dog is a great way to work off some calories and get yourself off of the couch. There are so many different types of fetching toys available at ChuckIt! that you are sure to find the perfect way to pique your pup's interest.
Let them Tap into their Natural Instincts
This behavior branches from the need to bring hunted prey back to the family. Allowing your dog to bring this "prize" back to you each time is quite a rewarding experience. This is more than just a repetitive job to them, it can make them feel like they are serving a greater purpose.
Select the right toy from ChuckIt! to suit your dog's playstyle, take a look and pick up a special toy so you can begin to bond with your pet right away.
Relieve Stress
Burning off that excess energy is a great way to relieve anxiety and stress. If we miss a day of play and the weather is kind of crummy for a while, Daisy will begin to act really anxious.
She paces, whines, and even bites her nails obsessively. Getting in that playtime is so very important, daily fetch time is key in having a stress-free dog.
Teaching Your Pet
Not every dog is born with a natural ability to catch. Daisy has been practicing for a very long time and still has quite the impressive blooper reel of sports follies that are nothing short of entertaining. Check out this video of us playing fetch on the trampoline, enjoying the nice weather, and getting a few giggles in with the silliest most loveable dog I know. I think you will quickly see how we have all fallen so hard for this dog, and why we love playing fetch with her so much.
Be sure to check out Chuckit! and start bonding with your dog through the rewarding game of fetch, today!
Check out these 10 Tips for Raising a Healthy Dog and be sure to sign up for the free newsletter so that you never miss a post again.
You may enjoy these other pet-related posts.